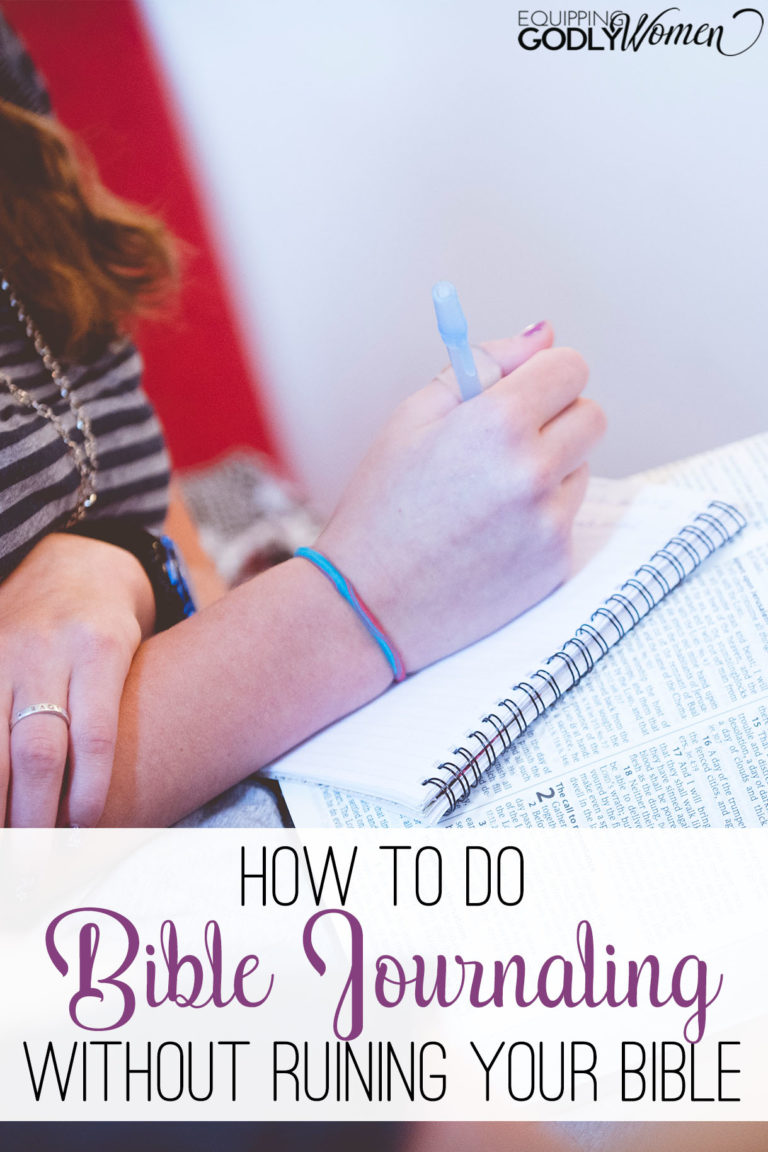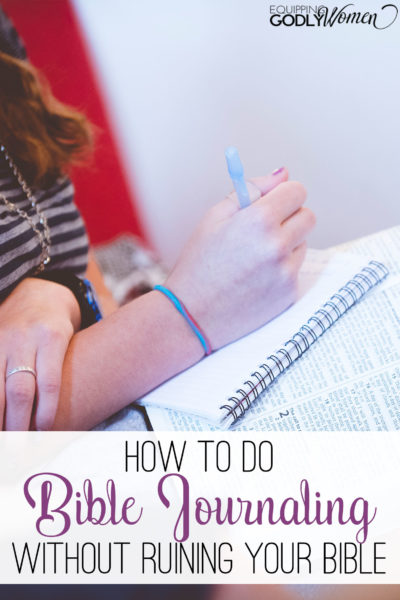 In my last post, "How to Get Started with Bible Journaling," I mentioned I am not an avid Bible journaler.
But the reason may not be what you think.
It's not that I don't think it's valuable (I do), or that I feel like I'm not creative enough (with this awesome Bible Journaling kit, you really don't have to be) …
Instead, it was because I was scared of ruining my Bible. 
*This post contains affiliate links. Please see my full disclosure policy for additional information. 
You see, I was in late elementary school when I learned that it was okay to write in your Bible for the first time. I thought that was so cool! So I wrote in it regularly.
I underlined important verses. I made notes in the margins. I drew little pictures… I loved it.
It helped me pay more attention to church, get more out of the sermons, and remember what I learned after the fact.
But… there was just one problem…
Ten+ years later, I have a Bible full of notes… and I don't know what to do with it.
I don't read it anymore (I've gotten lots of other Bibles since then) … I don't feel like I can just give it away (Who wants a Bible with writing in it?) … and I definitely can't just throw it away!
So it just sits on my shelf, collecting dust. (Still!) So sad.
Well, the good news is, if you're interested in trying Bible Journaling too but you're worried about ruining your Bible, there is a really good solution — Just write in a companion journal instead! 
I actually adopted this method all throughout high school, and it worked REALLY well.
I could journal all of my thoughts and the things I was learning. I could jot down important passages and make note of verses I wanted to remember.
But I never had to worry about ruining my Bible because I didn't write in it anymore. And if I ever made a mistake — no worries! — I could just tear that page on and continue on with the next one.
Now, there are a few different ways this could work. You could:
Use a companion journal and keep your journaling completely separate from your Bible.
Journal in a separate notebook, remove the pages once your artwork is done, and place them in your Bible next to the verses you want to remember.
Cut blank paper into thinner strips like bookmarks. Journal on them and place them in your Bible.
Journal on removable Post-It Notes.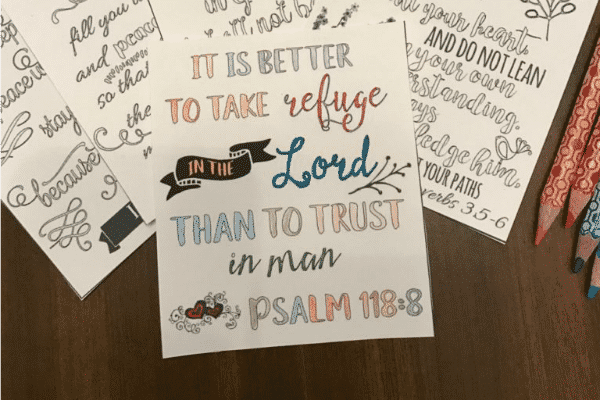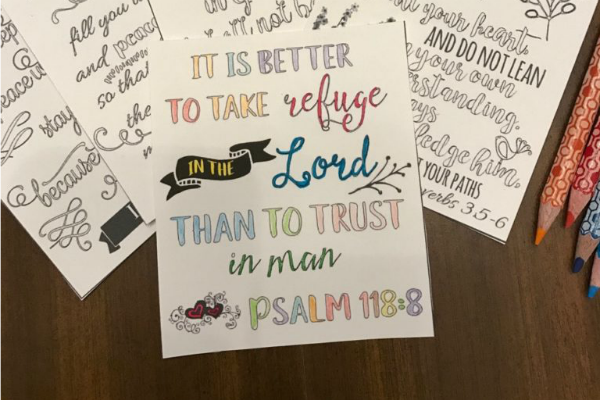 (How pretty are these designs? They're from the "Trust in the Lord" Bible Journaling Kit)
And this method isn't just good for your Bible. It provides a ton of other benefits as well: 
It encourages you to really meditate on the Scriptures as you draw, color, doodle or write — not just rush right through them.
It creates a great chronological record of your spiritual progress, and it's REALLY interesting to look back on what God has brought you through, the lessons He has taught you along the way, and how He worked it all together perfectly.
It helps you better remember the important lessons you're learning.
It's fun and relaxing.
Thinking about trying Bible Journaling but not sure where to start? This post about How to Get Started with Bible Journaling gives some good basic instructions and recommended materials for beginners.
I do want to mention, though, if you're thinking about getting started but worried that you're maybe not creative enough, I would absolutely recommend the "Trust in the Lord" Bible Journaling Kit.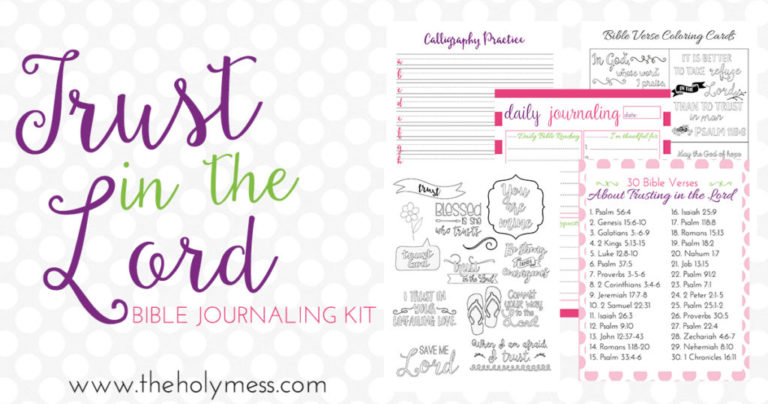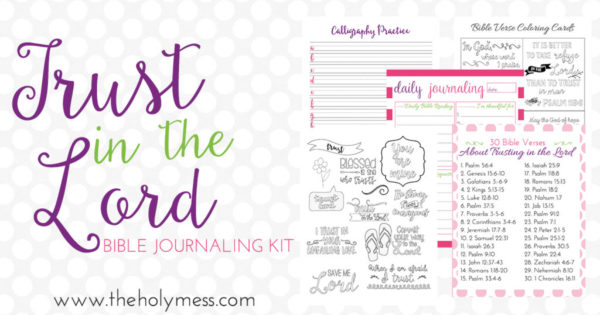 The "Trust in the Lord" Bible Journaling Kit is specifically designed to help take the stress out of Bible journaling, so if you don't know what to draw, you don't think you're that artistic, or you're scared of making a mistake, you really don't have to be.
Just choose a verse, choose a doodle, and all you have to do is trace and color. No advanced artistic skills needed!
The kit includes: 
A 30-Day Bible reading plan
8 Bible verse coloring cards
4 Traceable margin strips/bookmarks
2 pages of Quotes & Doodles
2 Calligraphy practice pages
2 Instructions sheets
1 Printable Daily Journaling page
And it's 100% digital, so you can download it, save it to your computer, and print out new tracing sheets, journaling sheets and practice papers as much as you like!
Have you done any Bible Journaling before — either in your Bible or in a companion notebook? What did you think of it? Would you recommend it to others?