Interested in prayer journaling with God but need some ideas for how to start? In this article, Gina M Poirier offers several great beginner tips for women, including 20 prayer journal prompts and examples perfect for a daily prayer notebook!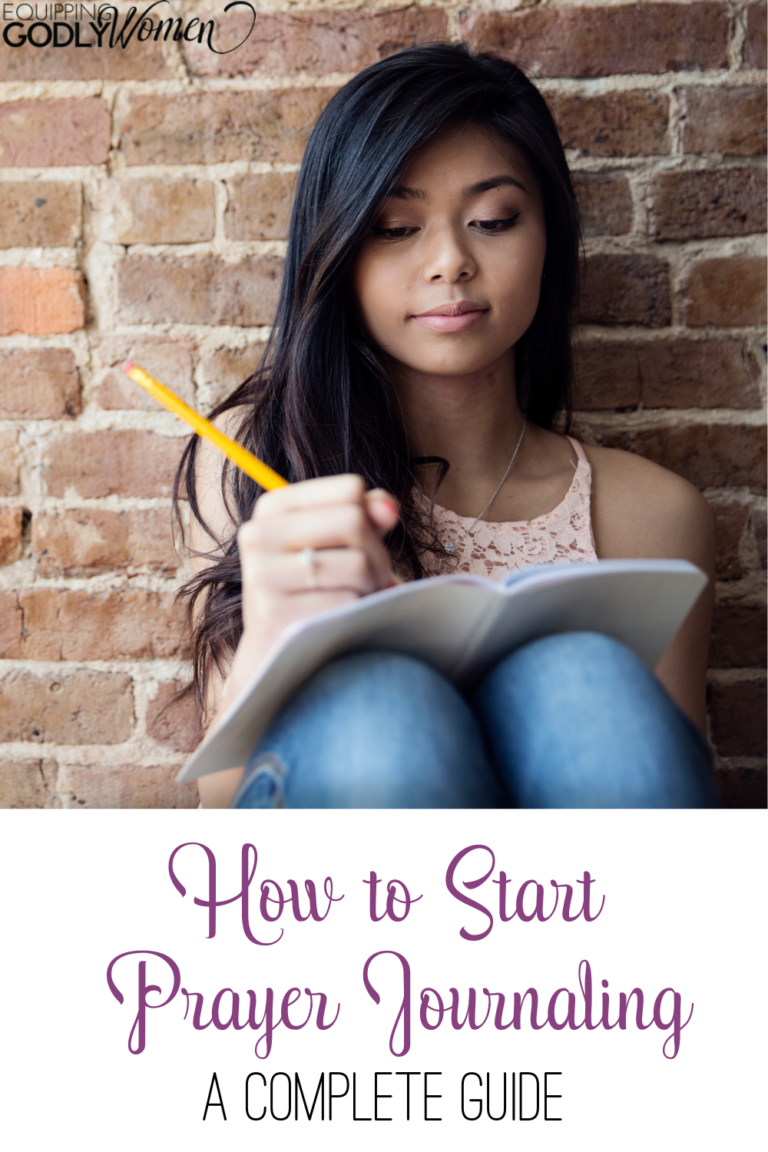 I've been a Christian for about 20 years, but if I'm super honest, I have always struggled with praying consistently.
My mind is busy. As hard as I try to stay focused when I pray, my mind inevitably starts to wander. I can be praising God in one moment and thinking about my grocery list about half a second later.
A few years ago, I got serious about a spiritual discipline that has helped tremendously: prayer journaling in a dedicated notebook.
Not only does this spiritual discipline help me stay focused during prayer, but it also helps me to slow down and really think about what I'm praying about.
I also love that my prayer journal provides a written record of my conversations with God I can look back on again and again.
There are many ways to approach prayer journaling—so many, in fact, that it can be a bit overwhelming.
This guide to daily prayer journaling for women can help you get started.
Related Reading: How to Stop Getting So Distracted During Prayer and Bible Study
Can You Really Pray to God Through Journaling?
Let's back up a minute… Is prayer journaling really a legit way to communicate with the Creator of the universe? Depending on the faith tradition you've been exposed to, it may not seem like it's the "real" way to pray. Maybe you've only seen people praying out loud or in a specific ritual.
We can turn to the Bible to find out. The answer is: Yes! Prayer journaling (i.e. written prayer) is found throughout the Scriptures.
The most robust examples are the Psalms and the prophets (you know, that huge chunk of the Old Testament you probably don't turn to all that often). In these passages, the writers pour out their hearts to God in a variety of ways, including praise, lament, and petition.
In fact, writing out prayers directly from the Bible is a great way to add to your daily prayer journaling practice, which I'll discuss below.
The Purpose of a Prayer Journal
The purpose of prayer journaling is simply to give you an outlet to have conversations with God. It's that simple.
When I reflect on the Scriptures as well as my own experience, the goal of prayer in any form is to cultivate a relationship with God. It is not so that you can check it off your list or make yourself righteous. Prayer is an essential part of a lifelong journey of faith.
Conversation with God can be messy. The Psalms and prophets are examples of what brutally honest, sometimes ugly prayer can look like.
Prayer journaling (whether in a dedicated daily prayer journal you purchase or a spiral notebook you set aside for this purpose) can be helpful in your walk with God because it helps you focus and put thoughts and ideas into words that you might not be able to articulate otherwise. It's similar to writing a letter; I sometimes find I can write more clearly than I can speak.
*This post contains affiliate links, which means if you make a purchase, I may make a small commission at no additional cost to you. This helps cover the many costs of running this site and allows me to help provide for my growing family. Thank you!
What Is a Prayer Journal and How Do You Use It?
A prayer journal can be as simple or as involved as you want it to be.
While a basic spiral notebook can be just fine for prayer journaling, many women—especially those who love art and beautiful things—will prefer something more visually appealing, like one of these daily prayer journals specifically for women.
Either way, a physical notebook (rather than an electronic device) is often best for prayer journaling, because the act of writing out your thoughts by hand helps you slow down, focus, and process what you're saying without getting distracted by your devices.
I recommend having a dedicated notebook that you use exclusively for daily prayer journaling, rather than jotting your prayers, thoughts, and ideas on random pieces of loose leaf paper or in with a notebook alongside other lists.
While ultimately God probably doesn't care where you write out your thoughts, keeping them all in the same place is helpful in keeping you focused. You can also more easily refer back to your prayers, which can be very encouraging.
As far as how to use a prayer journal, try to set aside the same time every day to develop a daily prayer journaling habit.
Routine is tremendously helpful in keeping you motivated and focused. I've often combined my daily prayer journaling routine with my Bible reading each day, but during busy seasons I'll sometimes set it aside as a separate habit.
It's okay if you write a lot or you only write a little. Record the date of your prayer, and then start writing!
Related Reading: National Day of Prayer Prayer Guide
How to Start Prayer Journaling with God
If you're not sure how to start prayer journaling, the easiest thing to do is simply to write out what's on your heart.
Talk to God like you would talk to a friend and write Him a letter. I find that once I start a few words, the rest start to come more easily. Don't worry about the perfect words to say or your style and grammar.
If your mind draws a blank when you sit to down to do your daily prayer journaling, here are a few ideas you can use to prompt you:
Gratitude: keep a list of what you're thankful for and write them out.
Confession: talk to God about your weaknesses and shortcomings.
Praise: write to God about how awesome He is!
Requests: also known as supplication, humbly ask God for what's on your heart.
Writing the Word: Sometimes you might not have the words to say, and that's okay. As I mentioned above, you can turn to the Bible for help. Simply copy verses from your Bible into your prayer journal and meditate on them as you go. I recommend using the Psalms for this purpose.
Additionally, if you need more guidance, these seven days of prayer prompts based on Jesus' teachings can get you started.
What Should Be Included in a Prayer Journal?
The basics of what to include in your prayer journal are, obviously, the words you write down.
I also highly recommend that you date each entry.
While it's not necessary, many women love to use their creativity in prayer journaling. Here are a few ideas:
Sketching: If you love to worship through artistic expression, you might want to supplement your prayer journaling with your art.
Hand lettering: Label your favorite verses or other prayer points with more detailed lettering.
Stickers, cutouts, etc: If you like scrapbooking you might also put some elements like this in your journal, including photos or mementos that mean something to you.
In addition to these creative prayer ideas, you might also enjoy organizing your prayer journal in a particular way:
Color coding: Go back over your prayers with different color highlighters or pens and indicate which types of prayers they are, such as requests, praise, etc. (see above). You could also highlight different kinds of requests, like those for your family, those for your marriage, those for your community, etc.
Dividing by section: Similar to color coding, this prayer journaling approach would include writing out specific prayers in sections of your journal. This takes a bit more forethought upfront. You can divide sections with paper clips or even subject dividers if you put your prayers on loose-leaf paper in a binder.
Tracking answered prayers: Go over your prayers periodically and make a note of which ones were answered. You could do this with a simple checkmark, highlight, sticky note, or sticker, or make a note in the margin.
Prayer journaling in your daily planner: Depending on what you like to use to organize your life, you might enjoy writing short prayers where they fit in your planner or calendar.
Using bullet points: If you have a hard time flowing in your writing, you might find it beneficial to write down bullet points, especially if you have a list of requests you'd like to track.
None of these examples are required for prayer journaling, but they are different ways that you can communicate with God in a personal way. Do what you find more inspiring and helpful!
Related Reading: Too Busy to Pray? 3 Creative Solutions You Have to Try
20 Prayer Journaling Prompts and Examples
If you've never tried prayer journaling before, it may be difficult to know what to write. Alternately, perhaps there may come a time when you've kept up with your daily prayer journaling practice for so long that you run out of ideas for what to write.
If you ever feel stuck or in need of inspiration, try one of these 20 prayer journaling prompts and examples for men or women:
Who or what are you grateful for today?
What's a recent memory you can praise God for?
What are you worried about right now?
Name your feelings in a situation that's bothering you.
What do you love about God?
Pray through your schedule today, or your week/month/year.
What are situations in your family or community on your heart?
What is a sin or temptation you can confess, for yourself or for your family/community?
Pray about someone in your household or immediate family.
Pray about someone in your extended family or local community.
Pray about someone far away.
Pray about a leader or government official.
Pray for someone who has hurt you.
What is a big dream or goal you have?
What's something hurting your heart right now?
What's something you need help with?
Where do you see what is beautiful, good, and true right now?
Pray for contentment, discernment, or wisdom regarding a situation that's bothering you.
Ask how God's kingdom come and will may be done.
What inspires you about Jesus returning and making everything right?
This is not an exhaustive list of prayer journaling prompts or examples, but hopefully these ideas will be just enough to help you keep up with your daily prayer journaling practice. (Alternately, here are 40 more prayer ideas if you need them!)
Related Reading:  How to Get Closer to God When You're Feeling Distant
My Favorite Guided Prayer Journaling Resources
If opening a blank notebook feels daunting to you, you might find one of these beautiful daily prayer journals for women helpful.
Not only are these beautiful notebooks motivating and inspiring, but they are full of helpful prayer journaling prompts, ideas, and examples to help guide you as you prayer journal to God.
1. My Prayer Journal: A 3 Month Guide To Prayer, Praise and Thanks: Modern Calligraphy and Lettering 
If you like have a simple template to write in with open space rather than lines (perfect for creative lettering), this 3-month prayer journal for women provides space and simple prompts for writing Bible verses, gratitude, and requests.
2. Prayer Journal for Women: An Inspirational Christian Bible Journal, Prayer Notebook & Devotional
This spiral-bound notebook made for daily prayer journaling includes dated pages with space for prayer requests and gratitude. This is a great option for women who need to carry their prayer journal around and need a sturdier notebook.
3. Prayer Journal for Women: 52 Week Scripture, Devotional & Guided Prayer Journal
If you want a full year of prayer prompts and examples, this prayer journal offers a block layout with verses organized by theme, short reflections, and a variety of prayer journaling prompts. It's full of ideas to get you thinking!
4. Prayer Journal for Women with 100 PCS Christian Sticker Inspirational Gratitude Journal Notebook Devotional for Bible Study
This daily prayer journal is for you sticker lovers! Each page provides journaling space for confession, things on your heart, prayer requests, highlights from your life, and reflections. These prayer journaling prompts can be super helpful for busy days when you don't know what to write!
5. Prayer Request Journal: A Notebook for Women to Record Prayer Requests and God's Answers
This simple prayer journal provides a convenient place to write out all of your prayer requests and label them by date, with accompanying space to write when requests are answered. This notebook is a great option for women who don't plan to keep up with daily prayer journaling prompts but who do want to keep a written record of their answered prayers.
6. The Daily Kairos Journal: Christian Bible Journaling Devotional Notebook
If you're wanting to work on making prayer a consistent habit, this daily prayer journal is designed to help you with just that. The prayer prompts encourage you to reflect on what you're learning, listen to what God is teaching you, record your gratitude, and meditate on Scripture. Plus, the gender-neutral design is perfect for both men and women.
I hope this guide to prayer journaling gives you lots of ideas so that you can create a daily prayer journaling practice you love that helps you walk closely with God.
Leave a comment below: Have you tried prayer journaling before? What tips or ideas would you recommend for women wanting to get started? Which of these suggestions do you want to try in your own daily prayer journal?