If you've ever felt distant from God, you're not alone! In today's post, Gina M Poirier is sharing 20 practical tips for how to get closer to God, backed with Scriptures.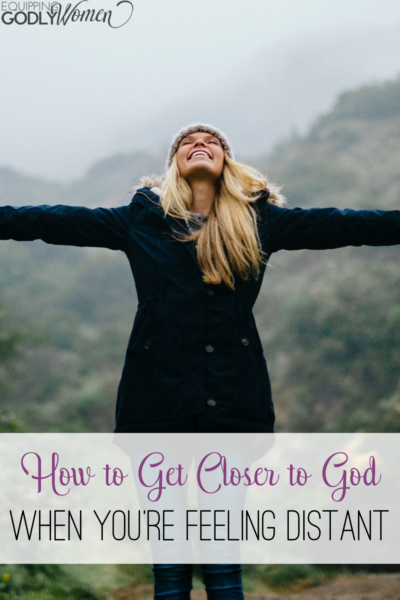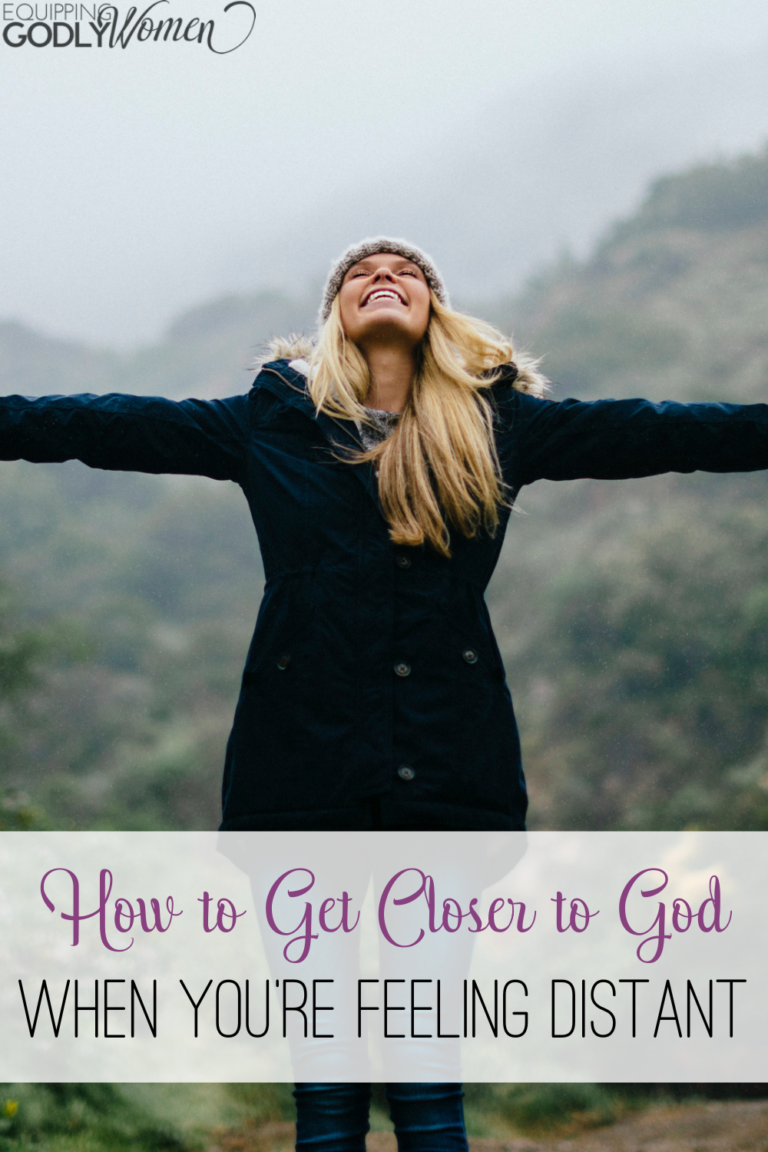 Have you ever given God the silent treatment?
I have.
It wasn't intentional. But prayer, worship, and Bible reading just felt forced and unnatural. I was feeling distant from God and didn't know what to say or do. So I did nothing.
Yet by not going to him in prayer or spending time with Him, I was essentially ignoring Him.
There are a lot of reasons why you might be feeling distant and want to know how to get closer to God, including:
Being hurt, disappointed, or angry
Avoiding your feelings
Being out of spiritual daily habits
Feeling ashamed or guilty
The good news is that just because you're feeling distant from God, it doesn't mean that He actually is distant.
The Lord wants to be close to you, and there are many ways you can grow closer to God so you feel the connection and unity you desire.
Related Reading: How to Put on the Full Armor of God (Women only!)
*This post contains affiliate links, which means if you make a purchase, I may make a small commission at no additional cost to you. This helps cover the many costs of running this site and allows me to help provide for my growing family. Thank you!
What Does the Bible Say About How to Get Closer to God?
Before we jump into the practical tips about how to get closer to God, let's turn to the Word of God and see what it says.
There are SO many Scriptures on how to get closer to God that I think it's helpful to first step back and look at the big picture.
The Bible is a story about a God who created human beings in his image with a desire for a relationship with them. Even though they rebel, starting in the opening chapters of Genesis, God has a plan to restore all that is broken.
The rest of the Bible is about His pursuit of humans, who have become sinners, and his plan to redeem the whole world and make everything right again for eternity—ultimately through Christ's death and resurrection.
This is the gospel message and ultimately how to get closer to God again!
But now in Christ Jesus you who once were far away have been brought near by the blood of Christ.
– Ephesians 2:13, NIV
Any time you're exploring how to get closer to God, remember that you're able to because of Jesus, the Son of God. That promise doesn't change based on the whims of your emotions.
Thankfully, when we're actively learning how to get closer to God, there are many things we can do as we respond to his incredible love and grace.
Here are several tips to help you get closer to God, along with Bible verses for each.
How to Get Closer to God: 20 Powerful Ways (with Scriptures)
If you're feeling distant from God, maybe it's time to try something fresh in your relationship with Him. There's no one-size-fits-all approach when learning how to get closer to God, so if what you're doing isn't working, try something else!
Here are 20 powerful, practical ways to get closer to God in quiet times and other practices, Bible verses included.
1. Spending Time in Nature
The heavens declare the glory of God;
the skies proclaim the work of his hands.

–Psalm 19:1
Being in nature can show us how to get closer to God by helping us appreciate the beauty and power of God's creation and to recognize His presence in our lives. Taking time to disconnect from the distractions of everyday life can open us up to a deeper connection with Him.
Whether it's the mighty expanse of the stars or the ocean, or the small intricacies you find in your backyard, nature can provide us with a sense of peace, stillness, and contentment that draw us closer to God and understand His immense power, beauty, and love.
These commandments that I give you today are to be on your hearts. Impress them on your children. Talk about them when you sit at home and when you walk along the road, when you lie down and when you get up. Tie them as symbols on your hands and bind them on your foreheads. Write them on the doorframes of your houses and on your gates.

–Deuteronomy 6:6–9
Have you read through the entire Bible before? Bible reading guides us in how to get closer to God by showing us who He is and what He is like. God commanded his people in Deuteronomy to know his words inside and out—and the same principles apply today. I recommend setting aside daily time for this practice.
If you haven't read it before, start with a Gospel like John or Mark, then slowly work your way through the Old Testament and Psalms. As you read, ask the Holy Spirit to guide your understanding of the text and how to get closer to God so that you can apply it to your life.
3. Bible Study
Now the Berean Jews were of more noble character than those in Thessalonica, for they received the message with great eagerness and examined the Scriptures every day to see if what Paul said was true.

–Acts 17:11
If you want to know how to get closer to God past the surface level of Scripture, try going deeper. Bible study is different from simply reading the Bible. It involves taking the time to really study a passage or book of the Bible in order to understand it more deeply, as the Bereans demonstrate in Acts.
Bible study can involve using commentaries and other resources to gain a better understanding. It can also include studying the original languages of the Bible, or using specific Bible study methods such as inductive bible study or word studies.
Related Reading: 10 Best Bible Studies for Women to Help You Grow in Faith
4. Bible Memorization
I have hidden your word in my heart
that I might not sin against you.

–Psalm 119:11
Bible memorization allows us to get closer to God by hiding His Word in our hearts, just like you might remember the words of a parent or teacher who impacted you.
Memorizing Scripture can help you meditate on the Bible and internalize it. It can also be helpful during times of temptation or confusion, as you'll be able to recall what it says about a certain situation. To get started, try writing the passage down multiple times or making flashcards that you can carry with you (try these lists of Bible verses if you need suggestions).
Related Reading:  How to Memorize Scripture (Quickly and Easily!)
5. Bible Journaling
Your statutes are wonderful;
therefore I obey them.
The unfolding of your words gives light;
it gives understanding to the simple.

–Psalm 119:129-130
Try writing down your thoughts, reflections, and prayers in a journal as you read the Bible, or even write out verses word for word. Just as the Psalmist found light in the unfolding of God's word, you might uncover new insights and delights.
Bible journaling allows us to get closer to God by helping us reflect on God's Word and expressing our personal journey with Him. It also allows you to combine the spiritual practice of Bible reading with creativity by incorporating drawings, collages, and other artistic elements into your journal.
6. Prayer Journaling
Rejoice always, pray continually, give thanks in all circumstances; for this is God's will for you in Christ Jesus.

–1 Thessalonians 5:16–18
Prayer journaling allows us to get closer to God by focusing our thoughts when we talk with Him. By taking the time to record our conversations, thoughts, and feelings with God in a prayer journal, we can create space for reflection and growth.
This can be a powerful tool for getting closer to God as we deepen our understanding of His character and will for our lives. (If you're not sure what to write in your notebook, the Teach Me to Pray Journal can teach you how to get closer to God through prayer.)
Related Reading:  How to Pray When You Feel Distant to God
7. Christian Meditation and Contemplation
Blessed is the one
who does not walk in step with the wicked
or stand in the way that sinners take
or sit in the company of mockers,
but whose delight is in the law of the Lord,
and who meditates on his law day and night.
That person is like a tree planted by streams of water,
which yields its fruit in season
and whose leaf does not wither—
whatever they do prospers.

–Psalm 1:1–3
When you're feeling distant from God, Christian meditation and contemplation are practices that can help you draw closer to God simply by being in His presence.
Christian meditation involves being still and listening to God, while Christian contemplation involves reflecting on God and the Scriptures. Both practices lead to a deeper understanding of God and help to build a relationship with Him that is based on trust and intimacy. They can teach us how to get closer to God by being reminded of His presence, faithfulness, and love.
Related Reading: Want to Take Every Thought Captive? (It's Easier Than You Think!)
8. Confession
Therefore confess your sins to each other and pray for each other so that you may be healed. The prayer of a righteous person is powerful and effective.

–James 5:16
Christian confession is how to grow closer to God by being real and honest. We don't need to put on a front with Him—and this practice is made more powerful when it involves being vulnerable with other believers.
Confession involves asking for God's forgiveness and allowing Him to heal and restore us while we pursue repentance. As we confess our sins and shortcomings, we become more aware of our need for Him and our dependence on Him. In turn, this helps us to better practice humility and understand His grace, mercy, and love for us.
9. Praying Your Requests
Do not be anxious about anything, but in every situation, by prayer and petition, with thanksgiving, present your requests to God.

–Philippians 4:6
Praying your requests is another way to get closer to God — by presenting him with your needs and desires. By bringing your requests before the Lord, you can open up to Him in a deeper way.
While it is important to thank God for His provision and goodness, it is also important to be honest with Him about your struggles, fears, and doubts. Doing so can help you to build a stronger relationship with Him and release burdens that only He can carry.
10. Lament
Listen to my words, Lord,
consider my lament.
Hear my cry for help,
my King and my God,
for to you I pray.

–Psalm 5:1–2
Lament, while not a fun concept, is a great way to get closer to God when you feel hopeless, hurt, or in despair.
Through prayerful lament, we can cry out to God and express our pain, sorrows, and hardships. As we bring our sorrows to Him, He will meet us in our brokenness and offer us healing. While lamenting can be difficult, it is how to connect with God on a deeper level and express our innermost thoughts and feelings.
11. Gratitude
Enter his gates with thanksgiving
and his courts with praise;
give thanks to him and praise his name.
For the Lord is good and his love endures forever;
his faithfulness continues through all generations.

–Psalm 100:4–5
Being thankful shows us how to get closer to God because it reminds us of His goodness, His blessings, and His promises no matter what is happening.
Even secular science recognizes the power of gratitude in living a meaningful life. By making gratitude a regular part of our daily lives, we gain perspective and hope, even when we're hurting.
12. Singing and Christian Music
Let the message of Christ dwell among you richly as you teach and admonish one another with all wisdom through psalms, hymns, and songs from the Spirit, singing to God with gratitude in your hearts.

–Colossians 3:16
There's something about music that stirs the human heart. Worship music is how to get closer to God in a powerful way by engaging your emotions and building intimacy with him.
Different people connect throughout worship in different ways. Whether it's classic hymns, contemporary, or soulful gospel, try to find what helps you personally grow closer to God.
13. Practicing Hospitality
Share with the Lord's people who are in need. Practice hospitality.

–Romans 12:13
Practicing hospitality is one way we can get closer to God — by focusing outward instead of inward. Hospitality is about valuing and including others in our lives and our homes.
When we open our doors to others, we open them to God as well—and in turn, we can feel closer to Him as He works through us. Practicing hospitality is an act of love and kindness that can bring us closer to God as we learn to show His love to those around us.
14. Generosity and Serving Others
You will be enriched in every way so that you can be generous on every occasion, and through us your generosity will result in thanksgiving to God.

–2 Corinthians 9:11
Like hospitality, generosity and serving others are ways to draw closer to God by loving others. When we use our resources to help those who are in need, we are showing God's love in a tangible way.
Serving others can open us up to new experiences, teach us humility, and inspire us to put God's love into action. Through acts of generosity and service are to get closer to God by experiencing His love more deeply in us and through us.
15. Corporate Worship
And let us consider how we may spur one another on toward love and good deeds, not giving up meeting together, as some are in the habit of doing, but encouraging one another—and all the more as you see the Day approaching.

–Hebrews 10:24–25
Gathering with other believers in a shared celebration of God's love and faithfulness can be a powerful experience that can help to deepen your relationship with Him. Through worshipping together, we can receive the encouragement and support of the community. Sharing our faith stories, singing, and praying together are ways we can get closer to God collectively.
Corporate worship can also help us to remember that we are part of something much larger than ourselves and that we are united in our love for God.
16. Discipleship
Therefore go and make disciples of all nations, baptizing them in the name of the Father and of the Son and of the Holy Spirit, and teaching them to obey everything I have commanded you. And surely I am with you always, to the very end of the age.

–Matthew 18:19–20
Discipleship is about following Jesus' example and learning from Him. It teaches us how to get closer to God by helping us walk as Jesus walked.
Studying the Bible with a mentor and discussing and living out its teachings can help us to learn more about God and His character, enabling us to deepen our relationship with Him. As we go through the process of discipleship, we can learn to trust God more, develop our faith, and discover new ways to serve Him.
17. Christian Relationships
Dear friends, let us love one another, for love comes from God. Everyone who loves has been born of God and knows God.

–1 John 4:7
By surrounding ourselves with other believers and connecting with them on a spiritual level, we can grow closer to God. Love shows us how to get closer to God and know him, as 1 John describes.
Through fellowship with other believers, whether through small groups or informal relationships, we can encourage one another in our faith, share our own experiences, and develop a deeper understanding of what it means to live a life devoted to God. Christian relationships can also show us how to get closer to God by opening us up to new perspectives and helping us to stay focused on the things that matter most.
18. Creative Expression
So God created mankind in his own image,
in the image of God he created them;
male and female he created them.

–Genesis 1:27
God is creative by nature, and since we are made in His image, we are too. A creative outlet like art, music, and writing can help us get closer to God when we might be feeling uninspired or have a hard time focusing in prayer and Bible study.
When we use the talents and gifts God gives us to honor Him, we can create something beautiful and lasting that can be used to bring glory to His name. Creative expression can be a powerful tool for connecting with God, leading to a deeper relationship with Him and building up the church as we share our creativity with the world.
19. Sacraments
Peter replied, "Repent and be baptized, every one of you, in the name of Jesus Christ for the forgiveness of your sins. And you will receive the gift of the Holy Spirit. The promise is for you and your children and for all who are far off—for all whom the Lord our God will call."

–Acts 2:38–39
"Sacrament" is a word you might not use often, depending on your faith tradition. However, traditions such as baptism and communion are great ways to get closer to God through real and tangible expressions of faith.
Through these special acts of worship, we can remember God's promises and His love for us while engaging in His presence.
20. Liturgy
Keep my Sabbaths holy, that they may be a sign between us. Then you will know that I am the Lord your God.

–Ezekiel 20:20
Liturgy allows us to get closer to God through the rhythms of worship in the local church.
Just as the Israelites drew closer to God by honoring the Sabbath and celebrating festivals throughout the year, through liturgy, we can reflect on our faith and remember the great things that God has done for us.
By paying attention to the words and actions that are part of liturgy, we become more mindful of God's presence, enabling us to experience Him in a deeper and more meaningful way.
What are some other ways you've learned how to get closer to God? What's one thing you can do today to connect with him?