Wondering how to put God first in your life despite the many things demanding your attention? We understand completely. Keep reading to learn more about putting God first even when your plate is full.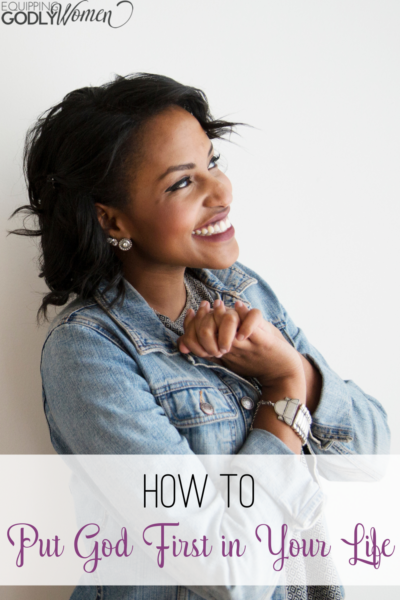 As women, busy wives, moms, and more, if there's one thing that we are, it's BUSY.
We're busy shuttling the kids to and from soccer practice…
Trying to keep a tidy house and fold the never-ending piles of laundry…
Working, exercising, putting food on the table, spending time with our spouse, and much more…
And throughout that never-ending state of being busy, sometimes an entire day can pass without us stopping to talk to God… without us reading our Bibles… without us even taking a moment to praise Him for the many blessings He has bestowed upon us.
Sometimes, our plates become so full of things that we accidentally put God on the back burner.
We don't mean to, but the distraction of life tears us away from putting God first in our lives as He wants us to do.
What Does Putting God First Mean?
Putting God first means loving Him more than anyone else – more than our kids, our spouses, and our extended families. He is the most valued relationship in our lives.
Not only that, but when we put God first, we seek His advice for our lives. Before making decisions we ask Him what aligns with His will for our lives.
God doesn't just become someone we turn to only for prayer requests or celebrations. Instead, He becomes someone who guides our every step. He becomes our top priority, which means we let nothing stand in the way of our relationship with Him.
Did you know that we were actually God's first love? It's true! And in fact, He put us first. He sent his son Jesus Christ in the flesh to die for us on the cross in order to cover our sins and shame. What a beautiful and sacrificing love He has for us. If He can do the unthinkable to His son for us, surely we can put God first in our lives too.
Why Should You Put God First in Everything You Do?
If you're a Christian, you know that God is important. You love Him and value His opinion, but maybe you've never really thought about putting Him above everything else in your life. Why should you anyway?
First and foremost, He commands it. Look at the Scripture below to see what the Bible says,
You shall not make for yourself an image in the form of anything in heaven above or on the earth beneath or in the waters below. You shall not bow down to them or worship them; for I, the Lord your God, am a jealous God. –Deuteronomy 5:8-9
God's greatest commandment is that we worship or idolize NOTHING but Him. This Scripture shows us just how serious God is about wanting us to put Him first in our lives.
Although following God's commands are extremely important, there are other reasons that we should put God first in our lives as well.
When we invite God into our lives as our leader, we give Him the opportunity to provide his guidance and ultimately bless our lives.
Thus, our lives become filled with more joy and more love. That doesn't mean that our lives will always be easy, but it does mean that we have someone to direct our steps when life feels heavy or when we feel hurt and alone.
So why wouldn't we put God first?
Powerful Bible Verses About Putting God First
In the Deuteronomy Scripture above, we see one reason that God commands us to put Him first, but what else does the Bible say on the topic?
Check out some other "put God first" Scriptures below to see what it is that God requires of us.
Matthew 6:31-33
"So do not worry, saying, 'What shall we eat?' or 'What shall we drink?' or 'What shall we wear?' For the pagans run after all these things, and your heavenly Father knows that you need them. But seek first his kingdom and his righteousness, and all these things will be given to you as well."
Matthew 10:38-39
"Whoever does not take up their cross and follow me is not worthy of me. Whoever finds their life will lose it, and whoever loses their life for my sake will find it."
Colossians 3:17
"And whatever you do, whether in word or deed, do it all in the name of the Lord Jesus, giving thanks to God the Father through him."
Proverbs 3:5-6
"Trust in the Lord with all your heart and lean not on your own understanding; in all your ways submit to him, and he will make your paths straight."
Galatians 2:20
"I have been crucified with Christ and I no longer live, but Christ lives in me. The life I now live in the body, I live by faith in the Son of God, who loves me and gave himself for me."
Matthew 6:24
"No one can serve two masters. Either you will hate the one and love the other, or you will be devoted to the one and despise the other. You cannot serve both God and money."
Colossians 3:1-4
Since then, you have been raised with Christ, set your hearts on things above, where Christ is, seated at the right hand of God. Set your minds on things above, not on earthly things. For you died, and your life is now hidden with Christ in God. When Christ, who is your life, appears, then you also will appear with him in glory."
Exodus 20:3
"You shall have no others gods before me."
Proverbs 3:5-6
"Trust in the Lord with all your heart and lean not on your own understanding; in all your ways submit to him, and he will make your paths straight."
Proverbs 3:9-10
"Honor the Lord with your wealth, with the firstfruits of all your crops; then your barns will be filled to overflowing, and your vats will brim over with new wine."
John 15:5
"Yes, I am the vine; you are the branches. If you remain in me and I in you, you will bear much fruit. Apart from me you can do nothing."
How to Put God First in Your Life
Putting God first in your life can seem overwhelming. Whether you're a busy mom or just don't know where to start, take a look at the list below to learn how you can put God first in your own life.
1. Seek the Kingdom of God
First, we must seek the kingdom of God, as He asks us to in Matthew 6:33. To do that, we must trust in Him and His plan for our lives. We must follow Him and allow Him to lead our lives.
Related Reading: How to Seek the Kingdom of God First (Matthew 6:33)
2. Follow and Dive into God's Word
The Bible is our reference tool for what God expects of us. All we have to do is read it!
Whether you spend time reading on your own, following a Bible study, or choosing a plan to follow on an app, taking a moment to dive into God's word is a great way to continue putting God first in your life.
As you learn more about Him, His wants, and plans for your life, following Him will be a no-brainer!
3. Pray About Everything
Sometimes we tend to only pray when things are wrong. We've all been guilty of it. But God wants us to come to Him about everything.
The more we are in contact with Him, the better He can help us to live out the life he so desperately wants for us.
4. Get to Know Other Christians
As we talk about God more, we learn about Him more too! This can be at church, in a Bible study group, or just in your community.
Surround yourself with others who can help teach you and guide you on your journey to putting God first.
5. Ask God How He Can Use You
This can be a scary one, I know, but did you know that we have talents that can serve God by furthering His kingdom? Even when we feel like we don't, we do!
Take the time to ask God how He wants you to use your talents to best serve His kingdom.
6. Obey Him
If you're a mom, there are undoubtedly times when your kids don't obey you. You know what's best for them if only they would ask you or listen when you tell them.
Did you know that God feels this way too? He knows what's best for our lives too. Sometimes He tells us, but we may find ourselves turning the other way and refusing to follow His commands.
As you're attempting to put God first in your life, I challenge you to obey Him.
Watch and see the knowledge that He already has about your life and the upcoming situations you will face.
7. Listen for God
Sometimes God is speaking to us, but we can't hear Him over the noise of everything else. Whether it's because we're so busy or because we've forgotten to listen, sometimes we may not feel like God is speaking to us.
I assure you, God is always speaking to us. All you need to do is listen for Him.
Related Reading: How Do I Hear God's Voice Clearly?
How to Put God First When Life is Busy
For the busy ladies, moms, and more, maybe the steps above don't feel possible for you right now as you juggle multiple things – your kids, a job, your spouse, and even more. If that's you, take a look at how to put God first even when your life is busy.

1. Find an Accountability Buddy
Just like when you promise yourself you'll exercise tomorrow but don't actually follow through, having an accountability buddy helps you stay on track for your goals.
You and your accountability buddy can read the same Bible study on an app and then discuss it or share the ways that God is working in your lives.
2. Dedicate 5 Minutes of Your Day to Reading the Bible
Being busy means that you may not have time to snuggle up under a blanket and read God's word. But what you do have is small windows of time.
Can you take a moment to read after putting the kids to bed? While using the bathroom? Instead of scrolling through social media?
I encourage you to set aside 5 minutes of your time at some point during the day and know that those 5 minutes belong to God.
3. Find Time to Pray
Finding time to pray can also feel like one more thing to do, but just as you can with finding time to read God's word, you can do the same with praying!
I recommend starting your morning off first thing by praying to God.
Ask Him to guide your steps and be a part of your day. From there, search for those small moments to check in with Him. Some of my favorite times are when I'm driving, taking a shower, or even putting my kids to bed.
Praying doesn't always have to be kneeling beside the bed with your hands clasped. Find the time to talk to God, I promise you that it's there!
4. Make Lists on Your Phone
Open up your notes app and start typing when you have a moment.
What are you thankful for? What prayer requests are circling in your community? What are some of the ways that you can continue to strengthen your relationship so that you can put God first?
Even if you only add to the list when you have a moment, think of all of the information that you could add over time.
These lists are perfect to reference as you're praying and studying God's word.
5. Show Love to Others
As God says in John 15:12, "My command is this: love each other as I have loved you."
We can show love to others by sending a quick text telling someone we're thinking of them, helping others during their hard seasons, and just providing encouragement to those around us.
The great thing about showing love to others is that we can do it in big ways or small ways.
6. Talk About God
Whether we're out with friends, enjoying one of our hobbies, or just doing something that's good for our soul, it's important for us to take the time to talk about God to those around us.
How will they know we are believers if we don't tell them? How can we put God first if we are closet Christians?
Start slowly having conversations with those around you by talking about attending church or by offering up a prayer.
As you slowly begin opening that door, it will get easier and easier to talk about Him in your day-to-day life.
Related Reading: Making Time for God When You Barely Have Time to Pee!
Leave a comment: Do you put God first in your life? If you don't, which part of this seems like it will be the most difficult? Don't forget that we're always here to encourage and help you along the way!