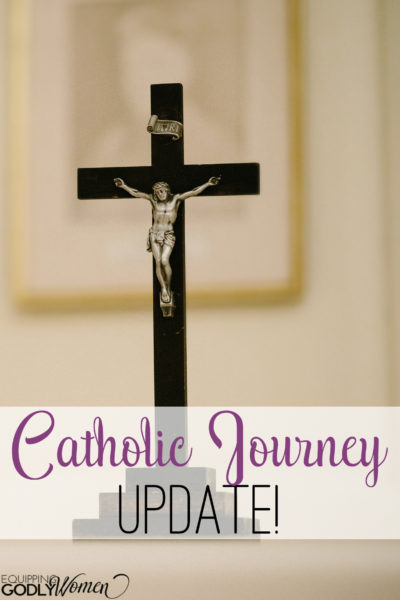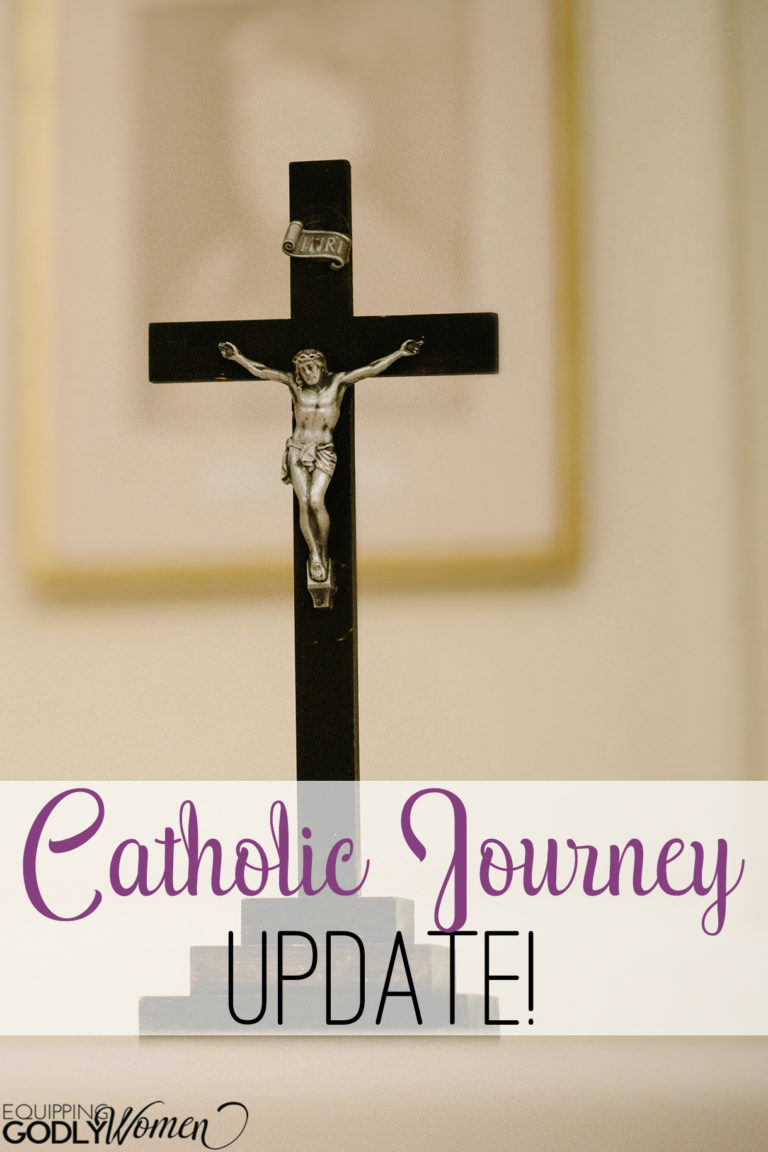 It's hard to believe it's been almost THREE years now since I first starting sharing my journey through Protestant and Catholic Belief with you!
At the time, I was just beginning to realize how much of the religion I was taught as a child was wrong, and I was just beginning to look into the claims of the Catholic Church to see how much merit they held, if any.
I did a LOT of research during this time, and I learned a TON.
And over the course of a few months, you journeyed with me as I really dove into Scripture to see what the Bible REALLY had to say about issues such as whether or not faith alone is enough, whether the church or the Bible has the ultimate authority and whether we should be baptized as infants or adults.
Not only did these posts really help me think through some very important issues, but I've heard from several of you that they've really helped you too!
In fact, my post on 10 Common Catholic Church Myths that Critics Believe is STILL one of the most highly trafficked posts on this site, and it continues to bring in new readers all the time!
Well, now that it's been almost three years since I wrote the last article in the series, I thought it was high time that I give everyone who is curious an update — especially since so many of you have been emailing me asking for one.
Hopefully this post will answer your questions!
Did I End Up Converting to Catholicism? (And why not?)
No, I never ended up converting.
I went through almost all of RCIA* until the week when they wanted me to stand up in front of God and the entire church and say that I believe that 100% of everything the Catholic Church teaches is 100% correct.
And well… I can't say that. 
*Note: For those of you who are unfamiliar, RCIA stands for "Rite of Christian Initiation of Adults" — It's a class taught by Catholic churches for anyone interested in Catholicism or considering converting.
I do believe that there is a "100% Truth" out there, but in order for me to be able to determine if the Catholic Church is 100% correct, I'd have to know what that 100% Truth is AND every single thing the Catholic Church teaches so that I can compare the two and see if they match up.
And seeing as how I'm not God… how could I possibly know for 100% sure what that 100% Truth is?
Honestly, it would feel pretty arrogant for me to say "I know the 100% Truth" — as if I were soo smart and could somehow figure it all out.
There are some seriously, seriously SMART Catholics, Protestants (and even Atheists!) out there who all debate and still can't figure things out. They all have great arguments, and still land on every different side of the debate. If they can't figure it out, how could I possibly?
And I know, I know. This is where my Catholic husband and the priest tell me "Well, you have to have faith." And they're right. We'll never know for sure and there does need to be some measure of faith. BUT — I just don't have that kind of faith in the Catholic Church (or any particular church, for that matter).
So… that's where I'm stuck with that.
There's nothing in particular that I really object to (though there are several things that aren't my personal preference). I'm just not convinced. 
I do continue to pray and plan to do much more research though – especially into the early church fathers – so who knows… maybe there's still hope for me yet 🙂
So… How Does That Work? If You and Your Husband Believe Different Things?
Well, what you have to understand is that despite my husband and I having different "labels" (he's Catholic, I'm not) 98% of what we believe and the way we practice our faith is the same, and the parts that are different really don't make a huge difference in day-to-day life.
We both pray, read our Bibles and attend church regularly. We both seek to live God-honoring lives and pretty much agree on what that looks like. We both care a great deal about raising our children in the faith.
And for the things we differ on, we tend to be pretty accepting of each other's beliefs. We find ways to make it work and to incorporate the best of both worlds.
For example:
We go to Catholic Mass on Sundays. He tried my church for a while. Now we regularly attend his. It isn't my first choice personally, but his church is important to him and going to church together is important to me.
Our kids go to a Protestant preschool and a Catholic elementary school. They've also attended Protestant Sunday School and Catholic Vacation Bible School. Not to keep things 50/50, but because we both felt those were the best schools/programs for our children in our area.
Our kids learn both Catholic and Protestant songs and prayers – just depending on whoever happens to be singing or praying with them at the time. I may not care to pray the rosary personally, but will it harm my children if they learn it? Hardly.
I'm totally supportive of my husband going to confession, praying the rosary or wanting to display a cross in our home – even though those aren't the ways I typically worship. And he's totally fine with me reading Protestant books, listening to Protestant music and teaching our kids all the songs and Bible stories I grew up learning.
My husband and I aren't two enemies competing to get our own way. We're two Christian adults each trying to grow in faith personally and do what's best for our families as a whole. And when we disagree, we find a way to work together to find a solution we can all agree with.
What Advice Do You Have for Couples Who…?
Of course, this is just what has worked best for MY marriage. Your marriage might need something different.
If you and your spouse are also trying to navigate a marriage in which you believe two different things (or one or both of you is considering changing beliefs), you might find one of these articles helpful instead: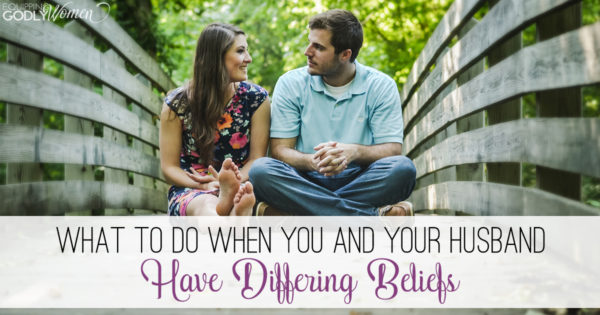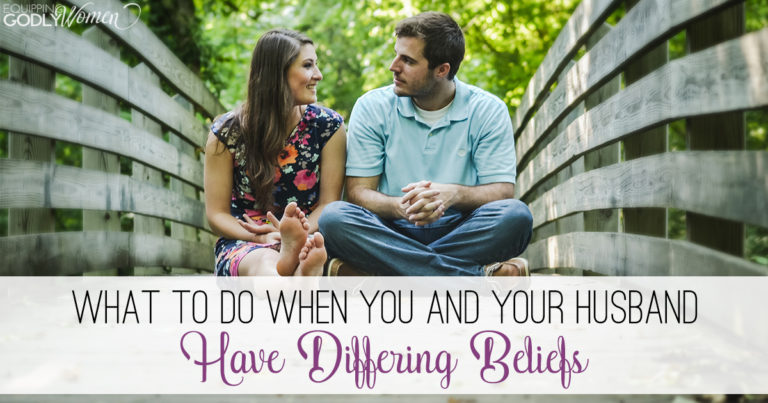 What to Do When You And Your Husband Have Differing Beliefs (For differing denominations)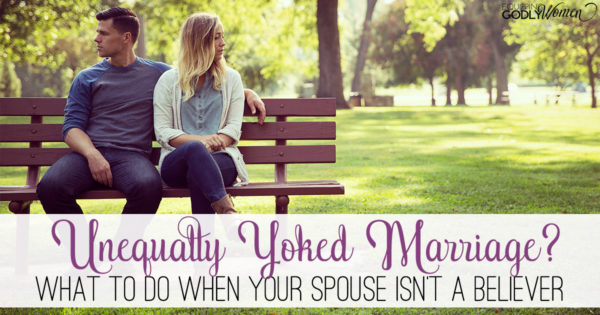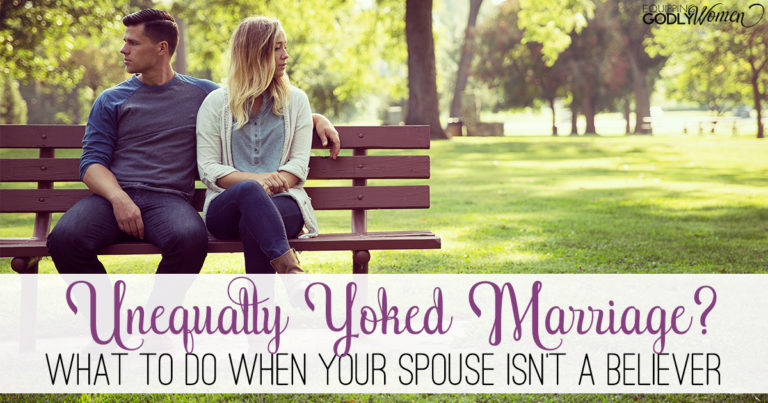 Unequally Yoked Marriage? What to Do When Your Spouse Isn't a Believer
So hopefully that answers some of your questions…
Still have more questions for me about my journey or how my husband and I make it work? Leave them in the comment section below!