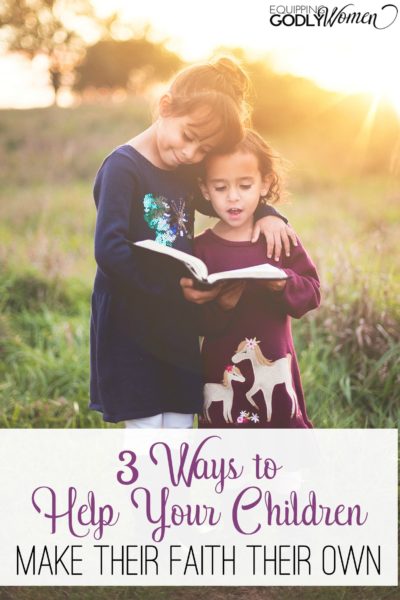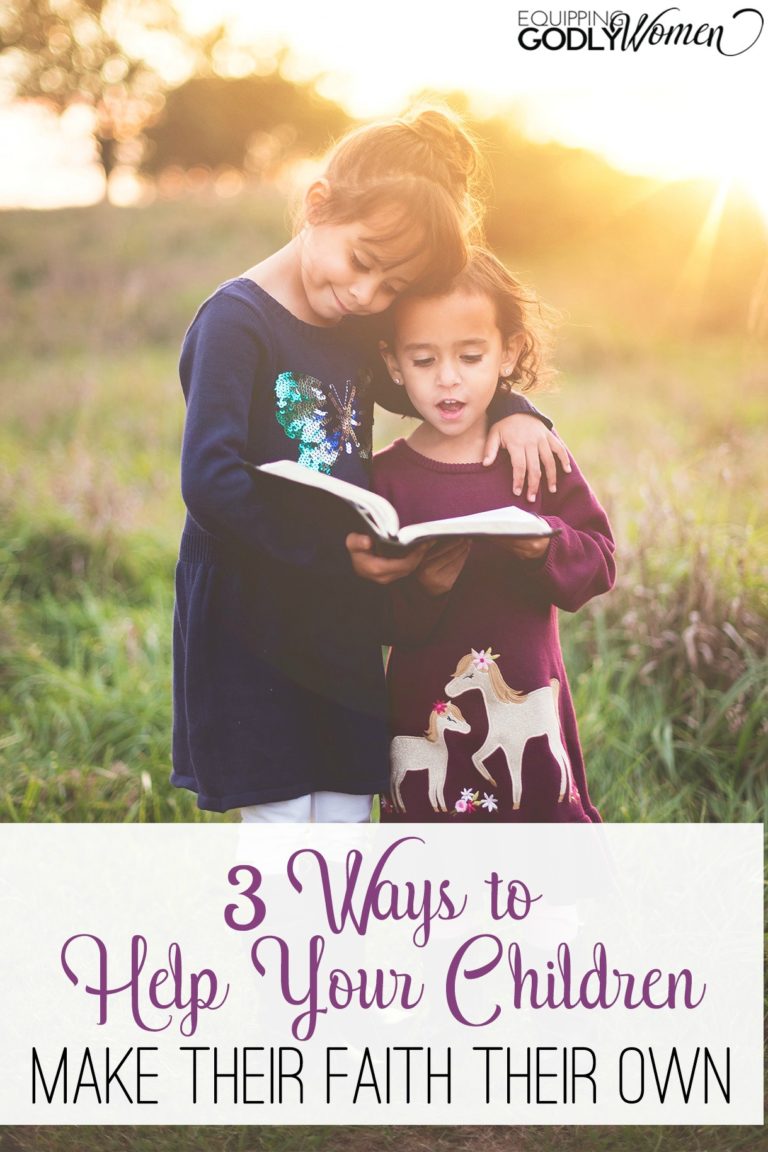 If I had a dollar for every time I saw some alarming headline about how today's youth is leaving the Christian faith in droves…I'd have my kids' college paid for.
But it's true, and it's alarming.
I don't have to read the latest statistic to know it. I can see what happened to many of my friends who said they were Christians in high school and college. And I can see what's happening with some of my friends' older children now.
They don't need or want church, the Bible or anything related to it.
The faith of their parents didn't stick; the kids never fully made it their own.
If you're a Christian with kids in the home, you are almost certainly asking yourself in this climate, "What can I do to help them choose their faith over the world when they're grown?"
Related Video: How to Give Your Kids a Faith That Lasts
I have a somewhat unique perspective on this question, as I was not raised in church. I chose to follow Jesus when I was 19, over 300 miles away from home, in an urban university climate that was somewhat hostile to the idea.
So when I think about how I want my kids to make the same choice, I don't have the childhood experience to rely on.
My husband is quite the opposite in his experience. His journey began at a much younger age and he grew up immersed in a vibrant culture of faith in his extended family, homeschooling community and church.
In him I have the unique opportunity to observe the full picture of raising godly kids, as someone who never had that experience herself. As my husband leads our family spiritually, he explains why we do what we do, and I can see the fruit of those choices in his relationship with his own parents.
*Related: Five Things Your Kids Need to Be Spiritually Healthy
Our kids are going to make their own choices, and as it is clear in the Bible, they can choose to leave the faith even if we do everything right. (Likewise, as in my case, kids can have little to no biblical instruction in the home growing up and still turn out all right!)
But at the same time, I believe there are several things we can do that will help our kids make their faith their own—for the long term.
Here are three:
1. Start with your own faith.
This seems obvious: If you want your kid to live like a Christian, your actions are going to speak much louder than your words. But how often do we follow through? And I'm not talking about showing up to church and Bible study so you've checked off the items on your list.
How's your marriage?
How's your prayer life?
How are you responding to stress?
What do your priorities about the way you spend your time and money?
How's your grace and humility in your parenting?
Your kids are going to see all of those things and identify where your actions might not measure up with the faith you profess.
This doesn't mean you have to be the perfect Christian and the perfect parent. Your children need to see you make mistakes. And when you're living humbly in God's grace, that will impact your children much more profoundly than running the Pinterest-perfect Christian home.
Related: Is Your Faith As Important As You Say It Is?
My husband shares stories about how his home growing up was always open for hospitality; whole families lived in their basement when they had nowhere else to go; they planted new churches; the hosted Bible studies continually with people seeking a relationship with God. His parents weren't perfect, but they were open about their struggles and continually sought personal growth in Christ.
It's a pretty tough but inspiring act to follow.
*See Also: Five Prayers Every Christian Momma Should Pray For Her Kids
2. Build multi-generational relationships.
What do your Sundays look like? Many parents (including us) drop off their kids in their respective classes, go to worship, and pick them up. And for some, that's that.
The problem with this model is that kids are only worshiping and building spiritual relationships with their peer group.
For most of their childhood they get sectioned off to be spoon-fed the gospel, albeit through some really fun children's ministry classes, youth groups and camps. It's natural for kids in this environment to go to each other with their deepest questions (or perhaps a mentor just a couple of years older), rather than someone mature and full of wisdom.
These aren't bad experiences, but if they are all your child is getting, what happens when they get to the real world?
Perhaps their childhood friends move away or start drifting spiritually. All of a sudden, they have to hang out with all the old people at church. And it feels awkward. Cross-generational discipleship isn't happening. And there's not really a connection between the grown-up life these young adults are living outside of church and what they're experiencing on Sundays. So they eventually stop going.
I see a different model in the Bible. Kids aren't sectioned off by age group. Whole families and groups of families work together to build a community of faith.
One generation commends your works to another;
    they tell of your mighty acts.
—Psalm 145:4
I personally don't have a problem with kids going to Sunday school, but it's just one aspect of their Christian experience.
Periodically our church has family worship services. We have relationships with other Christian families and individuals of various ages so our kids are personally connected with many other people who guide them in their faith (not just their peers).
This is what my husband experienced growing up, and as a result there are multiple generations of faith still going strong.
Related: The Destructive Lie That Almost Derailed My Motherhood.
3. Be their first instructor.
Another problem with the drop-off Sunday school model is that it's easy to slip into the expectation that church volunteers will be responsible for helping your kids learn about Christianity.
Hopefully by now it's clear that parents have the responsibility to teach their kids about the Christian faith.
I am astounded with my husband's Bible knowledge sometimes. And I'm talking weird, obscure Old Testament trivia. It's not because he's this studious scholar. It's because night after night, throughout his childhood, his family studied the Bible together.
Only be careful, and watch yourselves closely so that you do not forget the things your eyes have seen or let them fade from your heart as long as you live. Teach them to your children and to their children after them.
—Deuteronomy 4:9
When it comes to teaching your kids, some places to start are doing family devotionals, memorizing scriptures, and studying Biblical history. But equally as important is being someone your child can talk to when they have tough questions.
*Be sure to check out these 10 simple Bible verses kids can memorize!
I've had a three-year-old ask me this head-scratcher: "Is God bigger than the sky?" And older kids ask things like "Why does God let me get hurt?"
As they get older, be prepared for those tough questions, and be equally prepared to not just give a rote answer. Talk about apologetics and philosophy; let your kids find their own answers, especially as they are mature enough to figure it out.
 **By the way (Brittany here) "Keeping Your Kids on God's Side" is an excellent resource to help you prepare for and navigate these tricky conversations with your kids. I would absolutely recommend to every Christian parent who wants their kids to grow up with a strong faith of their own.
*This post contains affiliate links, which means if you make a purchase, I may make a small commission at no additional cost to you. This helps cover the many costs of running this site and allows me to help provide for my growing family. Thank you!
As a believing adult, my husband continues to have a strong relationship with his parents. They don't agree on everything (in fact, they don't go to the same church anymore). But because they had such an open, nurturing relationship throughout my husband's childhood, I see a man with a solid foundation of faith that he has never turned from.
Start children off on the way they should go, and even when they are old they will not turn from it.

—Proverbs 22:6
Are you equipping your kids to make their faith their own in these ways? What other suggestions would you add?