Want to help your children memorize Bible scripture? Start here for 10 Bible verses for kids to memorize!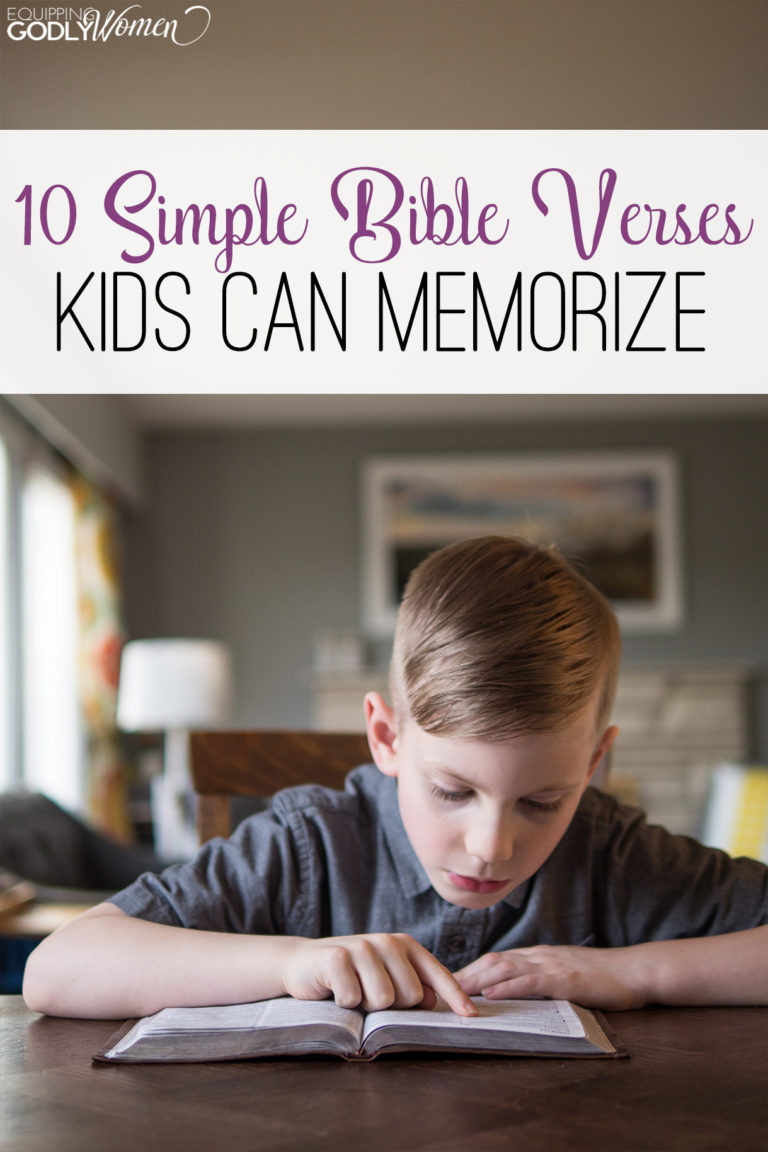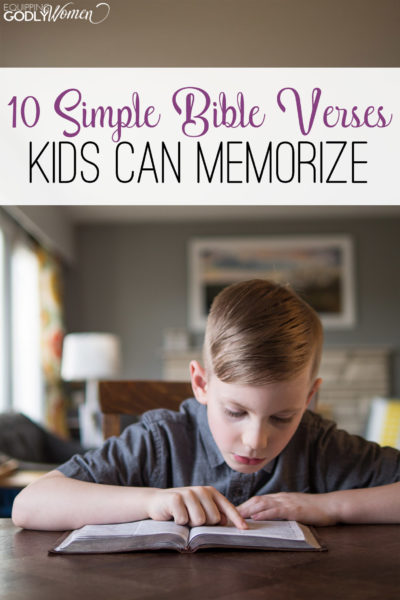 Guest Post by Gina of GinaMPoirier.com
The high-pitched wailing of my five-year-old daughter pierced my ears one morning.
(I was resting and trying to fend off a nasty chest cold, but of course, mamas don't get sick days when the kids are at home.)
She burst through my bedroom door with tears flowing freely, pleading her case before me about how her brother was treating her unjustly.
I did not have the energy or the will to be judge and jury at that moment of which Legos go where. But it was either suffer through that or suffer through screaming, so I trudged down to the playroom.
God must have been feeling for me at that moment.
While it was tempting to yell at the offending parties and just shut down the whole operation, I opened my Bible and read a scripture instead:
Therefore, as God's chosen people, holy and dearly loved, clothe yourselves with compassion, kindness, humility, gentleness and patience. –Colossians 3:12
I talked about each of the words and asked my kids if they knew what they meant. They quietly listened and thought about it. Then we calmly talked through the situation and resolved the argument quickly with very few tears.
The passage came to mind because it's one of the Bible memory verses for kids that they and I memorized last month, so it was very familiar to us.
This was just an opportunity to show them how to put what they had learned into practice.
That's one of the reasons I think there's so much value in practicing Bible memory verses with your kids.
When they've already stored biblical truths in their memories, it makes your job easier as a parent when you're teaching them how to live.
They already know the why (i.e. God's people treat others with kindness) so you can just show them the how (i.e. not screaming at your brother).
How to Help Your Kids Memorize Bible Verses
I think a lot of parents mistakenly believe that asking kids to memorize scripture is too much to ask or expect.
The truth is, kids can be more adept at memorizing than adults.
Their brains are literally little sponges, designed to retain a lot of information. Don't hold back; my kids have memorized whole chapters!
*Related: How Can I Get My Kids Excited About Church?
Another excuse for not memorizing Bible scripture with kids is the misconception that it takes a lot of effort. It does take some effort, but if you're serious about helping kids make their faith their own, it's well worth it.
Perhaps parents aren't sure which Bible scriptures for kids are best. Maybe they question where, EXACTLY, to find kids Bible verses to memorize.
I am here to help with that! Keep reading to see the list of Bible scriptures for kids to help you get started with your children.
It's honestly not as hard as you may think.
But first, here are some helpful tips I've found to help with the memory verses for kids:
1. Use music: There are tons of Bible verses for kids to put to song and they will never get out of your head! One of our personal favorites is the Fruit of the Spirit. Your kids will learn Galatians 5:22-23. What a fun way to learn Bible memory verses!
2. Join a group: We have a program, called Awana, through our church that encourages kids to learn Bible memory verses each month. It's more fun to do it with a group, and sometimes there are incentives. It's a fun way a lot of people I know like to find Bible verses for kids to learn.
3. Copywork: If your kids are old enough, copying Bible memory verses helps them retain the information (plus it's an opportunity to work on their handwriting). You can start with the Bible memory verses for kids from the list below.
4. Set a good example: You're not going to be able to help the kids put their Bible memory verses into practice if you don't know them yourself! Try memorizing verses as a family. Learning memory verses for kids is much for fun for them (and us too!) when tackling them together.
5. Make it part of your daily routine: The key to committing information to memory is seeing it frequently. Have your family practice Bible memory verses at the same time each day. We like to do it around breakfast.
6. Get creative: I was amazed the other day when a friend of mine shared on Facebook how her six-year-old is starting to do "Bible journaling" (at his own level of course). Let your kids explore their own interests and talents as they discover the Bible! See if you can use one of the Bible scriptures for kids from below to do a project.
7. Encourage sharing: Another great way to get involved with Bible memory verses for kids is to engage in something that will encourage sharing. This also teaches kids to share the Word of God with others in their homes or even in their communities. A great way to do that is with these adorable Bible Memory Verses for Kids coloring cards.
Now, let's get started with a list of some great scriptures for kids!
10 Best Bible Verses for Kids to Memorize
Okay, are you ready? This is obviously not an exhaustive list, but it is a great start in getting your kids in the habit.
These are all simple verses from the New Testament on basic topics that help lay the foundation of your kids' faith. Once you get through these, I highly encourage you to explore more memory verses for kids.
Want a printable list of these best Bible verses for kids to memorize? I (Gina) have these and many others in this collection.
1. John 3:16
For God so loved the world that he gave his one and only Son, that whoever believes in him shall not perish but have eternal life.
There's hardly a better place to start than how much God loves us and what he has done for us.
2. John 14:6
Jesus answered, "I am the way and the truth and the life. No one comes to the Father except through me.
This drives home a little deeper about the importance of Christ, specifically when we're seeking to know God.
3. John 1:1
In the beginning was the Word, and the Word was with God, and the Word was God.
This one is a little trickier for little ones to understand, but I think it's good to start introducing complex topics like the Trinity at a young age. I like this passage because it demonstrates how Jesus' teachings are authoritative because he (the Word) is God!
4. Luke 10:27
He answered, "'Love the Lord your God with all your heart and with all your soul and with all your strength and with all your mind'; and, 'Love your neighbor as yourself.'"
This basic command from Jesus is the foundation of all we do as Christians. It applies to pretty much every situation!
5. Colossians 3:12
Therefore, as God's chosen people, holy and dearly loved, clothe yourselves with compassion, kindness, humility, gentleness and patience.
Sound familiar? This is the verse I used with my kids recently. I found this one sentence to packed full of practical wisdom!
6. Ephesians 4:32
Be kind and compassionate to one another, forgiving each other, just as in Christ God forgave you.
This is another one I've referred to frequently that reminds kids how they are to treat others.
7. John 13:34-35
"A new command I give you: Love one another. As I have loved you, so you must love one another. By this everyone will know that you are my disciples, if you love one another."
That's three whole times it says "love one another." Just to help the point sink in a little bit.
8. Galatians 5:22-23
But the fruit of the Spirit is love, joy, peace, forbearance, kindness, goodness, faithfulness, gentleness and self-control. Against such things there is no law.
I've found it very helpful to use these words when I want to be positive in my parenting.
9. Ephesians 6:1
Children, obey your parents in the Lord, for this is right.
Well, that one's self-explanatory.
10. 1 Thessalonians 5:16-18
Rejoice always, pray continually, give thanks in all circumstances; for this is God's will for you in Christ Jesus.
This one is helpful for kids and adults, whenever we get bad attitudes!
That's it! I hope you feel equipped and ready to get started with a short list of Bible verses for kids to memorize!
You may also like 10 Easy Bible Verses for Kids to Improve Behavior.
Do you regularly enjoy sitting and doing some scriptures for kids? What are your favorite Bible verses for kids to memorize?
The following two tabs change content below.
Gina is a happily married mom of three, stress management coach and writer who helps overwhelmed, exhausted moms find peace and purpose in the everyday. Check out free resources for Christian moms at ginampoirier.com.