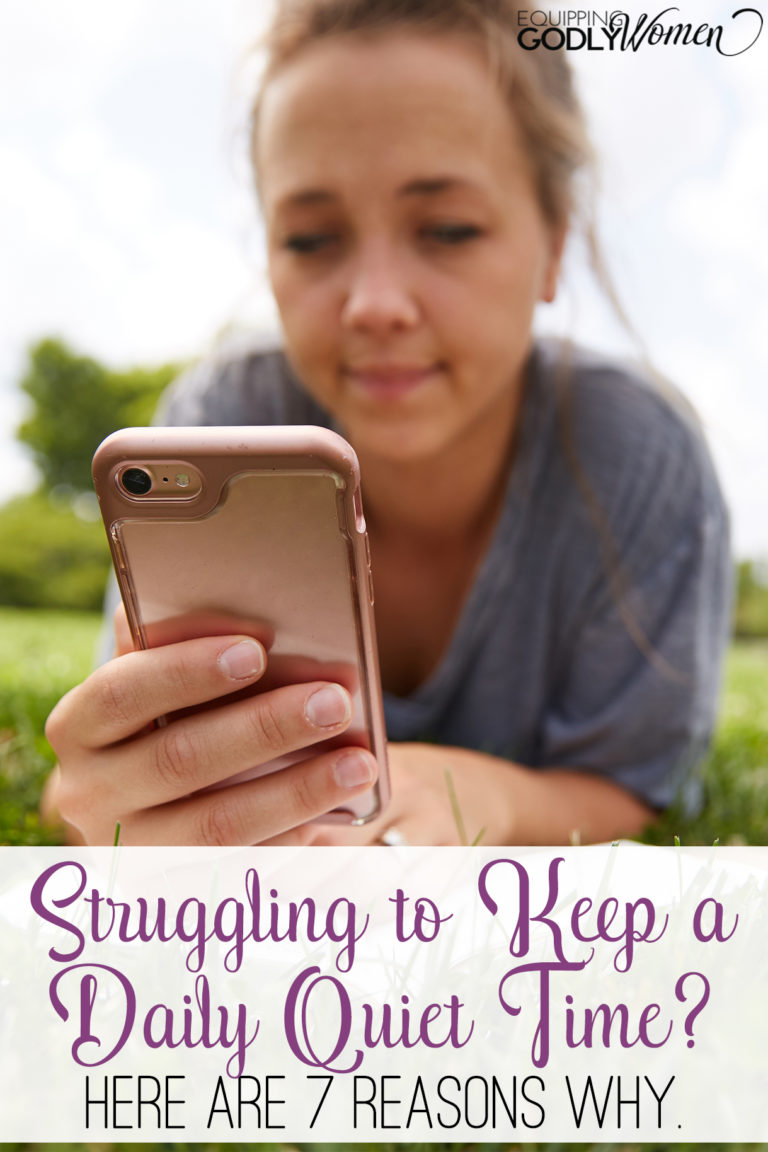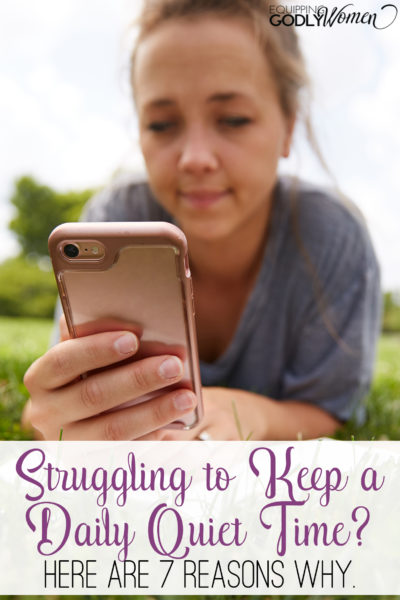 Do you ever feel like you're struggling to read the Bible consistently? 
Maybe you get so caught up in day-to-day life that you simply forget to read your Bible.
Or you tell yourself that you'll get around to it "later," but then you never do.
You find time for Facebook… Instagram… even for reading websites for Christian women or Christian blogs for women… all while your Bible sits forgotten on the shelf…
If that sounds all too familiar, you're definitely not alone. Keeping a consistent quiet time is something most Christians struggle with from time to time — including me!
So last week I came across the the 2017 State of the Bible Survey, and I thought the results were SO interesting, I just had to share.
For example, did you know:
58% of Americans wish they spent more time reading or listening to the Bible
Yet only 16% of American adults read the Bible daily — 37% if you count those who read the Bible once a week or more.
And although the majority of Americans say they wish they read the Bible more, 67% of Americans say their level of Bible reading is about the same as it was one year ago, and 10% of Americans actually reported reading their Bible LESS than they did last year!
So, most Americans say they want to read the Bible more, but most are still struggling to read the Bible consistently. Why is that? 
After all…
44% of American adults strongly believe that the Bible contains everything a person needs to know to live a meaningful life.
56% of those who did report an increase in Bible readership this year report that Bible reading is an important part of their faith journey
And nearly one-half (48%) of American adults believe the Bible should have more influence in American society today.
Plus, the vast majority of households (87%) do own at least one Bible. The most common number of Bibles people reported having in the home is three, and 20% of American families own more than 5 Bibles!
We know the Bible is important. We want it to have more influence in our lives and in our society. We have plenty of Bibles literally in our homes, at our fingertips… So why in the world are we struggling to read the Bible consistently???
After all, with all of the Bible study apps available today, I'd have to argue that reading the Bible is now easier than ever. And yet, we're still not reading it like we should!
The Real Reason You're Struggling to Read the Bible — It's NOT What You Think
According to the survey: The number one reason Americans report not reading their Bibles is because they're too busy. They simply don't have the time to learn how to read and study the Bible for themselves.
And it isn't just this particular survey that supports this, either. I've seen the exact same thing in my time here at EGW as well.
Well… today I'm actually going to call you out on that.
You're not too busy. You just have your priorities wrong. (And again, I'm speaking to myself here too, so please know that this is in love)
Are you reading this blog post right now? Then you have time to read your Bible.
Did you watch any TV today or yesterday? Then you had time to read your Bible.
Do you ever spend more than 30 seconds in the bathroom? That's time you could read your Bible.
Have you read any books in the last year? Do you listen to the radio in the car? Have you ever spent an hour on the phone with a friend? Yep, that's all time you could be reading your Bible. You have time.
Please understand — I'm not saying any of these things are bad. Not at all. And maybe you really are short on time.
But if you have done a single one of them (and I know for a fact you're doing the first one right now), then yes, you DO have time to read the Bible. You're just not using it wisely, and you're using "time" as an excuse.
You have time. You're just choosing to do other things instead. 
The good news is — once we stop hiding behind the lie that we're "too busy" (because we're not), we can truly get honest about the REAL reason we're all struggling to read the Bible consistently. And then we can do something about it.
And that's my hope for today.
So, ready to get honest? Let's do this.
7 Reasons You're Struggling to Read the Bible Consistently
p.s. Obviously not every one will apply to every person, but just get honest with yourself. Are you struggling to read the Bible consistently? Could one (or more) of these be part of the reason why? Let's figure out what's really going on, and then let's do something about it.
1. You're Reading Your Bible Out of "Duty" or "Obligation"
Okay, so you acknowledge you "should" read your Bible, but why? Have you ever thought about that?
Do you feel like you have to read the Bible because God will be mad if you don't? Or that "Well, that's what good Christian girls do, so I guess I should too if I want to be a good Christian…" Like you'll be a failure as a Christian if you don't?
If you are reading your Bible simply out of guilt, obligation or duty — it's probably not going to last. 
The Bible never actually commands us that we HAVE to read it every day, or for a certain amount of time each day or that we have to read a certain amount. Don't get me wrong — it's a great and very important practice — but it isn't a simple little checkbox to cross off each day that we did our duty as good little Christian girls.
Instead, we should read our Bibles:
To learn more about God and His character
To learn more about our spiritual ancestry and the many lessons we can glean from it
To find out God's will for our lives and make sure we are living in a way that is honoring and pleasing to Him
To examine our hearts in light of God's word so we can make corrections as needed
To guard our hearts against attacks from the enemy and the temptations and trials he sends our way
So that we can grow spiritually and increase in love, holiness and the fruits of the spirit (Galatians 5:22-23)
To be prepared to give a defense of all we believe and why
To keep God the central focus of our day
And to meet with Him in a very real way
Sure, you may not start out with the best of motives. You may start reading the Bible out of obligation or because you feel you "should." That's okay. But don't stay there.
Related Reading: Do You Truly Enjoy Reading the Bible? You Can!
2. You're Addicted to "Busy"
When most people think of addictions, they tend to think of drug addictions, drinking problems or even sexual addictions like pornography. But there's one very common addiction that often goes overlooked: The addiction to BUSY.
Now, I know, that probably sounds crazy. "Busy" isn't in the same class as drugs or alcohol. And maybe it's not. But it's definitely a significant problem among Christian women today.
We're so busy running around like chickens with our heads cut off, we're neglecting the things that matter most. Things like family, rest, recreation, and even God.
Even if you're busy listening to Christian podcasts for women or watching Christian Youtube Channels — if you're so addicted to BUSY that you can't stop long enough to read the Word and hear God's voice, that's a problem.
When you check in with Facebook more often than you check in with the Holy Spirit — that's a problem.
When you have time for "Game of Thrones," "The Walking Dead," "American Idol," or "The Bachelor," but you don't have time for God — that's a problem.
When you have time to drive your children to football games and dance lessons and the mall, but you don't have time to share the gospel with them — that's a problem.
When you have time to volunteer at school and church, but you don't have time for God himself — that's a serious problem.
What are you doing instead of spending time with God? What do you think you're going to miss out on if you didn't do all these things? What are they offering you that you think God won't provide?
"Too busy" isn't a badge of honor. It's a serious problem among Christian women today.
Related: How to Make Time for God When You Barely Have Time to Pee
3. You've Already Found Satisfaction Elsewhere
On a similar note, maybe you simply don't see your need for God because you're too busy "snacking" elsewhere.
We moms know we can't give our kids too many snacks too late in the afternoon. And why not? Because if their little bellies are full of snacks, they won't be hungry for their dinner later.
And yet, how often do we do the same thing to God?
We feel a little lonely, a little depressed, a little worried… But instead of taking our worries to God and letting HIM meet our needs, we "snack" on food, on Netflix, on shopping… anything to provide that comfort we need.
And then, when it's time to feast on God's Word — we're not hungry. We've already gotten the "comfort" we need elsewhere.
Sure, it's a "snacking" that won't last. It just fills us up for a minute, then leaves us feeling that much more empty inside. But for many of us — it's what gets us through.
Related: 6 Comforting Bible Verses for Hard Times (Plus free printable!)
4. You Have Unconfessed Sin in Your Life
Is there anything God has asked you to do that you've refused or neglected to obey Him on?
Are there any things you're doing right now that you know God would not approve of, but you haven't stopped?
It's so interesting that when I've had times like this in my own life and I've tried to read my Bible — it suddenly doesn't work. Passages I could read with ease before suddenly don't make sense to me. It just feels… different… empty.
You can't refuse to obey God's standing orders and expect Him to give you new ones. You can't refuse to listen to His voice and expect Him to continue speaking. 
God absolutely will sit right where you left Him and wait for you to come back. Then, once you've confessed and repented, you can continue walking together again. But often not before.
5. You're Disappointed by God
Have you ever heard the term "Prosperity Gospel?" Also known as the "Health and Wealth Gospel," the Prosperity Gospel is a pretty common belief held by many Christians that if they just have enough faith or do all the right things to make God happy — that God will bless them and all will be well.
Unfortunately, however, the Prosperity Gospel is simply not true.
While there is some correlation between our faith and our results, the Bible NEVER promises to make us happy or to give us everything we want. In fact, while the gospel can certainly give us hope, joy and peace, it also promises we will have heartache, suffering and pain.
"I have told you these things, so that in me you may have peace. In this world you will have trouble. But take heart! I have overcome the world." — John 16:33
So if you're currently feeling distant from God right now… maybe you're angry with God and reading the Bible is the last thing you feel like doing right now — it doesn't mean that something is wrong, that God has messed up, or that you can't trust him. It doesn't mean you're a horrible sinner either.
Hardships are normal. They're to be expected. Even (and sometimes especially) for Christians. And feelings of despair or disappointment (even disappointment in God) are completely normal too.
Don't let them drive you away from God — use them to draw you near.
Related Reading: Why Does God Allow Suffering?
6. You Lack Discipline
Honestly, this is a big one. As Christian, we simply have no trained ourselves or gotten in the habit of reading the Bible every day so… we just don't.
We understand that other things take discipline. Cleaning the house, going to work, eating our vegetables, going grocery shopping, paying the mortgage… There are TONS of things we do in life even when we don't feel like it. We know they are good for us, so we make ourselves do them until it becomes routine.
They are important, so we do them.
Well, your faith is important too. Really important. And if it takes discipline to get started until you make it a habit — then it's time to learn discipline. Not just give up.
Related: How to Read the Bible Daily (And Make it a Habit)
7. You Think the Bible is Boring
And lastly, despite all this talk of "well, you should be disciplined" etc etc, I just want to say: If you truly don't enjoy reading your Bible, it's totally okay to find ways to make it more enjoyable.
Definitely don't feel like you need to just suffer through it if reading the Bible feels mind-numbingly boring, you're not getting anything out of it, or you just can't focus.
For example, you could:
Related: How to Stop Getting So Distracted During Prayer and Bible Study

Do you ever struggle to read the Bible on a regular basis? What helps you stay on track?