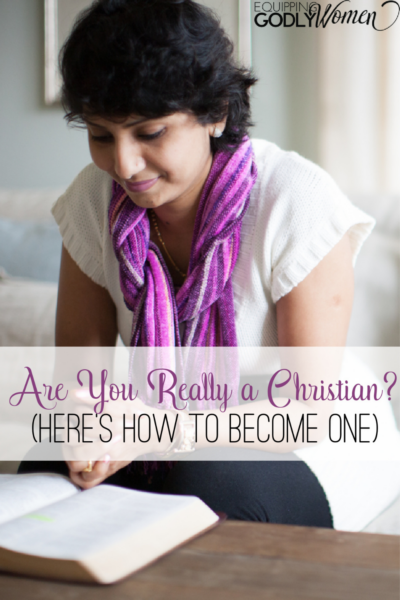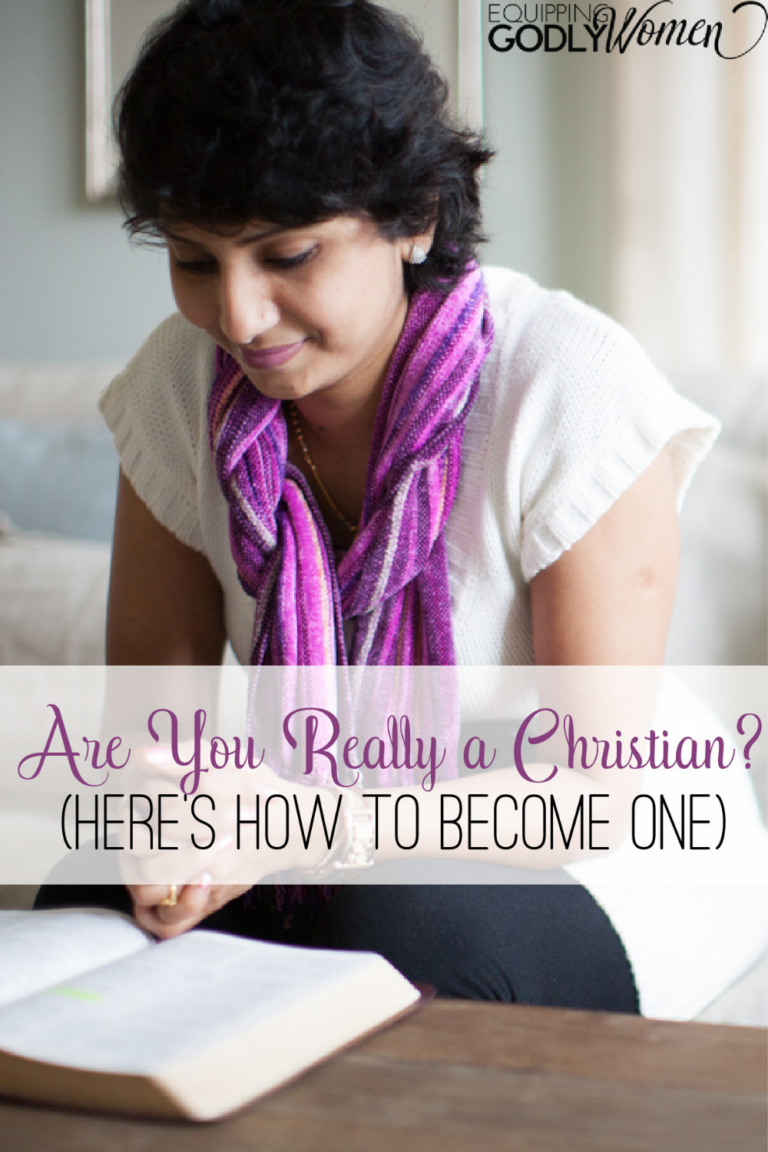 According to a study conducted by Pew Research Center, 65% of Americans consider themselves to be Christians.
This number has dropped significantly over the past decades. Yet, this isn't the statistic that worries me the most.
The fact that worries me the most is that: Many people who call themselves Christians… aren't.
You see, here in America, we have this idea that "being a Christian" has very few requirements.
If  you prayed a prayer as a child, if you attend church on occasion, or if you simply like Christianity better than other religions… you can call yourself a Christian.
(After all, it's not like anyone is doing background checks on this. Nor should they.)
Now, I'm not here to be judgmental. None of us are perfect, and we're all a work in progress–myself VERY much included.
But I'm legitimately concerned that many people have been taught an easy, simplified form of "salvation" that isn't actually salvation at all. And they're eternal salvation is at stake because of it.
Because it's one thing to KNOW you're not a Christian. But how many people THINK they ARE a Christian, but they're not? That's a very dangerous position to be in.
Matthew 7:13-14 tells us:
Enter through the narrow gate. For wide is the gate and broad is the road that leads to destruction, and many enter through it. But small is the gate and narrow the road that leads to life, and only a few find it.
Praying the Sinner's Prayer for Salvation
Growing up in a small, legalistic Baptist church, I was taught that being a Christian meant saying The Sinner's Prayer.
As long as you recited one simple prayer (and hopefully meant it), you were automatically and instantly saved. Your name was written in the Book of Life and your "get out of Hell free" card was irrevocable—no matter how you lived the rest of your life.
In fact, as sinners loved by God and saved by faith alone, there really was no compelling reason to change your life at all. At least, not as far as God was concerned.
Churches who teach The Sinner's Prayer typically base their teaching on Acts 2:21, which states that "everyone who calls on the name of the Lord will be saved" or on Romans 10:9, which promises, "If you declare with your mouth, "Jesus is Lord," and believe in your heart that God raised him from the dead, you will be saved." Seems simple enough.
Yet, we must be careful not to cherry pick one or two verses out of context.
Otherwise, we miss verses like Matthew 7:21, which tells us, "Not everyone who says to me, 'Lord, Lord,' will enter the kingdom of heaven, but only the one who does the will of my Father who is in heaven." Or James 2:17, which says, "In the same way, faith by itself, if it is not accompanied by action, is dead."
In fact, not once in the Gospels does Jesus lead his followers through a one-and-done, "now repeat after me" prayer for salvation. Rather, Jesus repeatedly makes it clear that if we are true followers of his, we will obey His teachings.
For example, Jesus tells us in John 8:31, "If you hold to my teaching, you are really my disciples." And in John 14:23-24a, Jesus tells us, "Anyone who loves me will obey my teaching. My Father will love them, and we will come to them and make our home with them. Anyone who does not love me will not obey my teaching."
When read in context, the Bible is clear. We can't put our faith in a prayer to save us. Rather, if we want to be followers of Jesus, we have to actually follow Jesus.
Matthew 7:21-23 has a haunting warning for all of us who consider ourselves Christians:
"Not everyone who says to me, 'Lord, Lord,' will enter the kingdom of heaven, but only the one who does the will of my Father who is in heaven. Many will say to me on that day, 'Lord, Lord, did we not prophesy in your name and in your name drive out demons and in your name perform many miracles?' Then I will tell them plainly, 'I never knew you. Away from me, you evildoers!'
These people were prophesying, driving our demons, and performing miracles! (Have you ever done any of these things?) They had every reason to think they were Christians. And yet, Jesus still said, "I never knew you."
What it Means to Be a Christian
While many people think of "Christian" as just a label or a choice on a checklist, Jesus asks so much more of us than that. Christianity isn't just a label. A Christian is someone who is a follower of Christ. Someone who has a relationship with Him. 
GotQuestions.org defines "Christian" this way:
The origin of the term "Christian" was in the city of Antioch in the first century A.D. (see Acts 11:26). It is possible that, at first, the term "Christian" was intended to be an insult. The word essentially means "little Christ." However, over the centuries, believers in Christ have adopted the term "Christian" and use it to identify themselves as followers of Jesus Christ. A simple definition of a Christian is a person who follows Jesus Christ.
And in the Biblical sense, "follow" means to follow Christ's example. To love like He loved, serve like He served, and live like He lived.
Christians have a relationship (close friendship) with God AND we also try to be like Him and live the way he would want us to live. (This last part is very important, but often overlooked.)
How to Become a Christian
Now, I'm not going to pretend to have it all figured out,  or presume that I know exactly what decisions God would make with our eternal destiny. That's up to Him and His forgiveness and His grace. But here is my understanding of the issue, based on my research and years in the church (both Protestant and Catholic).
Please feel more than free to look up each of these verses (and additional ones) for yourself as well.
1. Recognize You Have Sinned and Need a Savior
"For all have sinned and fall short of the glory of God." –Romans 3:23
"For the wages of sin is death, but the gift of God is eternal life in Christ Jesus our Lord." –Romans 6:23
While we all like to think of ourselves as generally good people, the Bible says that ALL have sinned and fall short of the glory of God. We've ALL messed up somewhere. We need Jesus to help make things right.
2. Believe that Jesus is Who He Says He is and Can do What He Says He Can Do
"But God demonstrates his own love for us in this: While we were still sinners, Christ died for us." –Romans 5:8
"For God so loved the world that he gave his one and only Son, that whoever believes in him shall not perish but have eternal life." –John 3:16
"For it is by grace you have been saved, through faith—and this is not from yourselves, it is the gift of God—not by works, so that no one can boast." –Ephesians 2:8-9
Thankfully, God didn't leave us in our sinful state. He sent Jesus to die for our sins (take the consequences of our sin), so we could have a restored relationship with Him.
Jesus offers us this relationship and eternal salvation as a free gift. There's NOTHING we can do to earn or deserve it. In fact, Isaiah 64:6 says, "all our righteous acts are like filthy rags." Even the MOST impressive/holy thing we could ever do isn't enough to make us right with God on our own.
But that's okay, because God LOVES us anyway. Romans 5:8 says that Jesus died for us while we were still sinners. God WANTS to have a restored relationship with you, and He sent Jesus to die for your sins to make that happen. All we have to do is believe and accept this free gift, and it's ours.
3. Seek to Follow God More Closely Every Day
"Then Jesus said to his disciples, "Whoever wants to be my disciple must deny themselves and take up their cross and follow me." –Matthew 16:24
"What good is it, my brothers, if someone says he has faith but does not have works? Can that faith save him?…

So also faith by itself, if it does not have works, is dead…

You believe that God is one; you do well. Even the demons believe—and shudder!…

Was not Abraham our father justified by works when he offered up his son Isaac on the altar? You see that faith was active along with his works, and faith was completed by his works; and the Scripture was fulfilled that says, "Abraham believed God, and it was counted to him as righteousness"—and he was called a friend of God.

You see that a person is justified by works and not by faith alone. And in the same way was not also Rahab the prostitute justified by works when she received the messengers and sent them out by another way? For as the body apart from the spirit is dead, so also faith apart from works is dead."

–James 2:14, 17, 19, 21-26
"But the LORD said to Samuel, 'Do not consider his appearance or his height, for I have rejected him. The LORD does not look at the things people look at. People look at the outward appearance, but the LORD looks at the heart.'" –1 Samuel 16:7
Now, just because we can't earn our salvation or a right relationship with Jesus doesn't mean we're off the hook altogether.
Jesus didn't just say, "Believe I existed." He said, "Follow me."
This means we should seek to be more and more like Jesus and follow his example every day. Not to earn our salvation – but because if we truly believe he is who he says he is and he can do what he says he can do, we should want to follow him in all things.
Obviously we're all a work in progress, and we will always have good days and bad days. That's fine. What matters is that we truly LOVE Jesus and want to be more like him–however long that takes.
What have you been taught about what it means to become a Christian? How has your understanding changed over time? Would you add or subtract anything from this description?