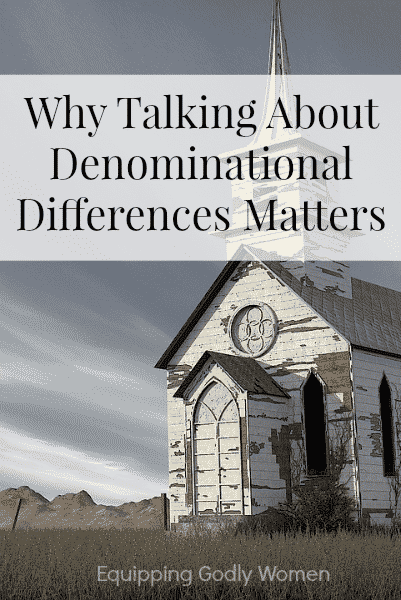 Pin
With thousands of different Christian denominations to choose from, it's pretty clear that "being a Christian" doesn't mean the same thing to everyone who would take that label.
Some Christians believe in the real presence of the Body and Blood in the the Eucharist, while others believe communion is just a symbol. Some believe that the Bible is our only authority on Earth, while others believe the Church is our authority here on Earth. Some Christians believe that faith is all we need, while others believe that faith alone is not enough.
There are a few things we pretty much all agree on, however: That there is only one God, and that He exists in the three persons of the Trinity–the Father, the Son, and the Holy Spirit. That we are all sinners and this sin separates us from God. That Jesus, being both fully God and man, came down to Earth. That he was born of the virgin Mary, and then suffered, died and rose again for the forgiveness of our sins. That we all have the potential to go to Heaven to be with Him someday if certain conditions are met… Honestly, I bet most of us agree far, far more than we disagree. 
So… why even talk about denominational differences at all? Why not just focus on the things we have in common and leave it at that? Why bother doing a whole entire series on Protestant and Catholic beliefs for people who are already believers and already probably going to Heaven anyways?
Because talking about our denominational differences matters. Here's five reasons why.
1. It Gives Us a Better Understanding of What the "Other Side" Believes
All too often, we become so set in and accustomed to our own beliefs that, when we hear other, contradictory beliefs, our initial reaction is to assume that the "other side" is wrong, ignorant or dangerous. Their ideas seem so strange to us and so we think they must have pulled them out of thin air, that they created them for no good reason or that they were "brainwashed."
Yet, for the vast majority of denominations, they didn't pull their beliefs out of thin air. Most actually have very logical, well-thought out reasons for what they believe (even if they are wrong). Talking about our beliefs helps us understand WHY the other side believes the things they do so we can better understand them and their beliefs without making faulty assumptions or jumping to conclusions.
(I say "the other side" and "them" as if it's an "us" vs "them" debate — it's not really that way and it shouldn't be. But all too often it becomes that way when we don't really understand.)
2. It Helps Us Better Understand What We Believe
When you grow up hearing the same beliefs being taught every single week and everyone else around you all believes them too, it can be really easy to take them for granted. In fact, I bet that before the recent series I did on Protestant and Catholic beliefs, many of us never really thought about many of the things we believed or why. We just believed them without question. (I know I always did.)
But as we take the time to talk to other Christians with differing beliefs, it gives us an opportunity to better define and understand exactly what we believe. How does the whole faith/works thing actually work? What happens after we die? Can we have assurance of our salvation? These are questions we don't often think about until we are called to take and defend a position.
3. It Helps Us Evaluate Our Beliefs to Make Sure They are Accurate
It's really easy to believe things when everyone around you believes the same thing. But what happens when someone with different beliefs starts giving you really solid arguments for a different position? That's when things get tricky. And that's exactly what happened to me.
I grew up believing that communion was only a symbol… until I heard some very convincing proofs about the Eucharist that made me change my mind. I grew up believing in Sola Scriptura and Sola Fide and Believer's Baptism… until I started researching them for myself.
If I hadn't had conversations with people who thought differently than me, I never would have thought to even research these issues for myself. I would have just continued to accept them as truth because it was all I'd ever been taught. But once I did look them up, I realized that I had been wrong all along. My beliefs were based on what I had been wrongly taught–not what the Bible actually says.
4. It Forces Us to Dig Deeper and Learn More
I don't know about you, but I learned a TON while researching and writing all of the posts in my Protestant and Catholic Beliefs series! While I didn't come to the conclusion that everyone was hoping for, I definitely know I am a stronger Christian because of all of the researching, writing, learning and discussing that I did.
5. It Allows Us to Help Others On Their Journey
Okay, so say you're completely set in your beliefs and have no want or desire to change. (Which may or may not be a good thing, depending on why and how you arrived those beliefs!) What happens when you meet someone who believes something different than you?
Do you just say "Okay, that's good for you; this is good for me." Or do you talk to them to help make sure they are on the right path too?
The biggest reason I never believed in the Real Presence in the Eucharist? Because no one could ever give me a convincing reason. The ONLY argument I'd ever heard was "Well, that's just what the text means." Well, I think it means something different… so that's not really an argument. It was only once I read Rome Sweet Home (*affiliate link) and several other sources and actually started uncovering several logical proofs and explanations that I was able to understand.
If you don't know WHY you believe what you believe, you're never going to be able to help others believe it as well. 
So yes, we could just focus on our similarities and stick to our own little churches with all of the other Christians who think and act just like us–but is that really what is best for us? or them? Not in my opinion it isn't.
So let's chat! No matter what you believe, I'd love to hear your thoughts below! Do you enjoy discussing denominational differences? Why or why not?