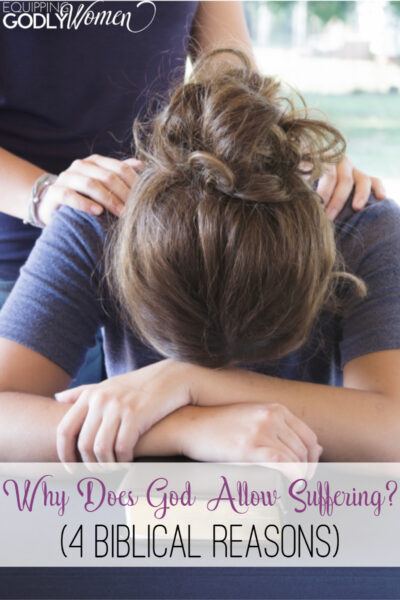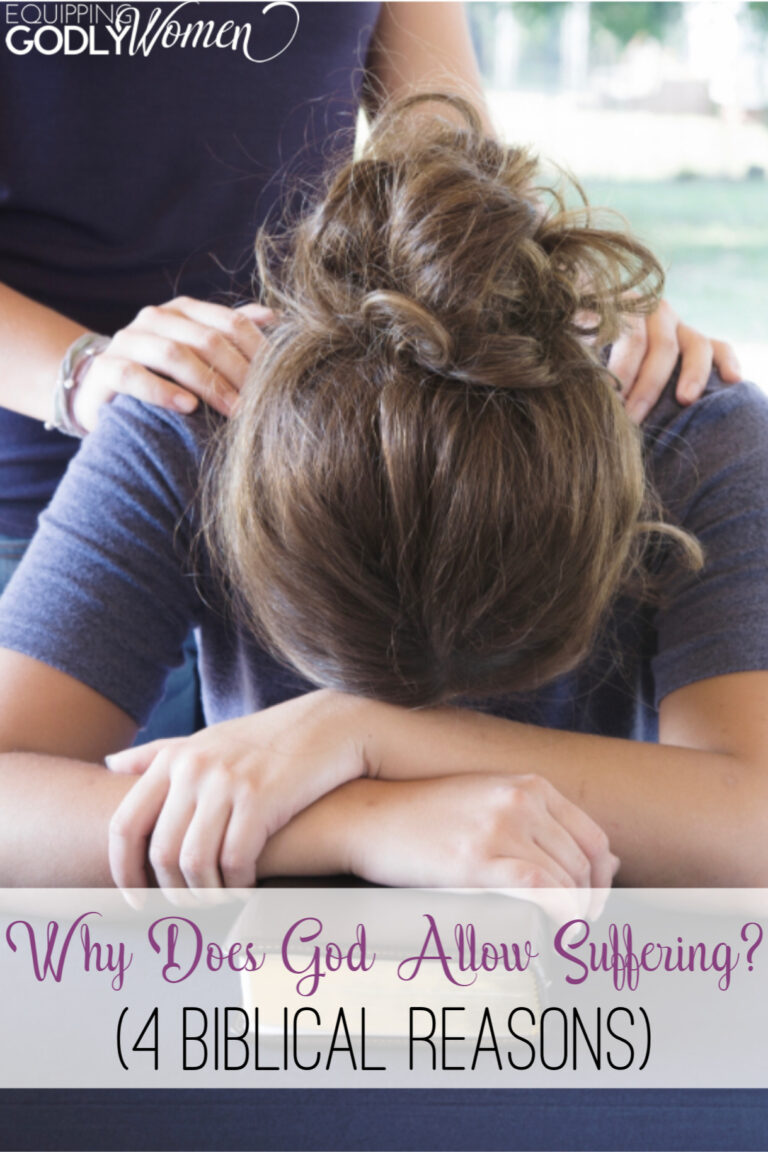 If you had the choice to end all human suffering, would you?
I imagine, for most of us, the answer would be a quick and easy "YES!"
After all, no one wants to suffer or watch someone they love suffer — especially with all the horrific things that we hear about on the news every day.
Bombings, natural disasters, abuse, murder, rape…
There's certainly no shortage of evil in this world, and unfortunately, some people seem to get more than their fair share of suffering in this life.
Yet, as awful and evil as the circumstances that cause our suffering can be, what if there's more to our suffering than just hurt?
In other words, as awful as it is, what if it's not ALL bad?
What if there is some good in there?
What if it's hiding, and we can only find it if we look closely?
After all, we KNOW God loves us. 
(John 3:16 tells us: "For God so loved the world that he gave his one and only Son, that whoever believes in him shall not perish but have eternal life.")
And we KNOW God is all powerful.
(Matthew 19:26 says, "Jesus looked at them and said, "With man this is impossible, but with God all things are possible."")
So if you are wondering, "Why does God allow suffering?" honestly, I don't blame you.
It doesn't make sense. 
It hurts. 
It's hard. 
But while we may never fully understand why God allows suffering on this side of Heaven, I hope this post does shed some light on the issue and offer some degree of comfort for you in your hurting today.
Suffering Was NOT Part of God's Original Plan
Before we even attempt to answer the question "Why does God allow suffering?" it's important to note that suffering was NOT part of God's original plan.
When God created the Garden of Eden, Adam and Eve, and all the plants and animals, everything was perfect and flawless.
There was no sin, no suffering, no sickness, no shame… 
This is why Genesis 1:31a reports: "God saw all that he had made, and it was very good." 
If Adam and Eve had simply accepted God's plan and obeyed, their life would have been perfect too. Unfortunately, however, they decided to take matters into their own hands and do things their own way.
How silly to think that they knew more than the God of the entire universe, who created everything! But that's what they did, and that's what all of us do every day.
You see, when God created us, He also gave us free will. 
Now, generally, we consider this to be a very good thing.
We aren't mindless robots, forced to do God's bidding. We have a choice in how we live our lives and who we follow.
Unfortunately, however, this means we can choose to turn our backs on God and His perfect plan for our lives. (to sin, basically)
And when we choose to sin, we naturally incur the consequences of this sin — both for ourselves and for others. 
It happens all the time. We ALL sin every day.
And, whether we realize it or like it or not, this sin has consequences.
Because to take away all sin and all of it's consequences would ALSO be to take away free will.
God Helps Us in Our Suffering
The good news is: God doesn't just leave us in our sin and suffering. 
Not only did He send His one and only son to take the eternal consequences for our sin, but He also provides a great deal of help and healing today —  if we will turn to Him, repent of our sins, and choose to do things HIS way.
Just consider these promises of Scripture:
"If my people, who are called by my name, will humble themselves and pray and seek my face and turn from their wicked ways, then I will hear from heaven, and I will forgive their sin and will heal their land." –2 Chronicles 7:14
"Come to me, all you who are weary and burdened, and I will give you rest. Take my yoke upon you and learn from me, for I am gentle and humble in heart, and you will find rest for your souls. For my yoke is easy and my burden is light." — Matthew 11:28-30
Sure, He may not heal you exactly the way you want when you want.
God is not a genie that grants 3 wishes or a magic vending machine in the sky.
But He DOES care, and He does offer healing to those who are willing to turn to Him and walk with Him.
Of course, this doesn't mean the Christian life is always easy peasy.
John 16:33 warns us: ""I have told you these things, so that in me you may have peace. In this world you will have trouble. But take heart! I have overcome the world.""
Being a Christian in a non-Christian, broken world IS hard. It just is.
We should expect some degree of hurt and brokenness, just because of the world we live in.
But we can rest assured that if you're wondering "Why does God allow suffering?" God DOES see you and He does care.
Unfortunately, this help doesn't always come the way we want. In fact, sometimes our suffering comes from God Himself…
Does God Cause Suffering?
Yes, God does cause suffering. 
Some people will tell you, "God doesn't cause suffering — He just allows it." And I used to believe the same.
But the more I've studied the Scriptures, the more I've found verse after verse that prove God does actually cause some of our suffering.
*Note: This does NOT mean God causes ALL suffering. Some suffering is just the inevitable result of sin and free will — People do have the free will to make decisions that hurt themselves and/or others. But there ARE times when God causes suffering as well. 
For example:
"Yet it was the LORD's will to crush him and cause him to suffer, and though the LORD makes his life an offering for sin, he will see his offspring and prolong his days, and the will of the LORD will prosper in his hand." — Isaiah 53:10
"If you refuse to let them go and continue to hold them back, the hand of the Lord will bring a terrible plague on your livestock in the field—on your horses, donkeys and camels and on your cattle, sheep and goats." — Exodus, 9:1-2
"When they fast, I will not hear their cry; and when they offer burnt offering and an oblation, I will not accept them: but I will consume them by the sword, and by the famine, and by the pestilence." — Jeremiah 14:12
"Then the Lord said to Satan, "Have you considered my servant Job? There is no one on earth like him; he is blameless and upright, a man who fears God and shuns evil."" — Job 1:8
"Then Jesus was led by the Spirit into the wilderness to be tempted by the devil." — Matthew 4:1
In all of these instances (and there are many, many more examples in the Bible), God did not turn a blind eye to the suffering people were already experiencing.
Rather, God caused the suffering.
And, of course, there are PLENTY of other times (both in the Bible and today) where God does/did not specifically cause human suffering, but only allows it to happen.
Which leaves the question: "WHY does God allow suffering??"
Why Does God Allow Suffering?
So whether God causes suffering or simply allows it — the question remains: Why??
While we may never know the WHOLE story on this side of Heaven, the Bible does give us a few possibilities:
1. God Created Us with Free Will; We Have the Ability to Reject God's Plan
Like I mentioned above, as humans with free will, we have the ability to make our own choices–even when those choices cause harm to ourselves or to others.
For example, you could abuse drugs or alcohol. You could overeat for years. You could take your husband for granted or neglect to care for your children. All of these actions have consequences.
Alternately, someone else could do something to hurt you. Your parents or other family members might have caused you significant harm. You may have had a past friend or boyfriend betray you. Maybe someone raped you, shot you, beat you or abused you… or someone you love.
Someone else used their free will to choose sin, and now you're paying the consequences.
It's NOT fair. It's not right. It will be made right on Judgement Day, and there are ways to minimize the damage going forward.
But unfortunately, it happens ALL the time.
2. God's Ultimate Goal is Different Than Yours
Have you ever sat down to write out a life goal or mission statement for your life?
For most of us, if we were being honest, we would have to admit that our life goal is probably something along the lines of "To have a easy, happy, comfortable life for me and my family."
And yet, if you ask God what HIS goal is for your life, I can PROMISE you it isn't to make you "comfortable."
What if God wants to use the very struggle you're going through right now to draw you closer to Him, or to use you to reach others in need?
God allows your suffering because He sees something even better on the other side.
I think back to the times of my life when I've been the MOST hurt, and honestly… looking back… I wouldn't trade a single one of them.
The deep depression I faced in high school gave me greater understanding and compassion for others today. 
The bad break-up I went through in college made space for the wonderful marriage I have to my amazing husband today.
The pain of childbirth brought me my three precious children.
If I had gotten the teaching job I wanted, I wouldn't be working in my dream job today.
NONE of these are things I would have asked for.
NONE of them are things I wanted.
And yet, now that I'm on the other side, I truly wouldn't have it any other way.
Of course, these are just a few examples that I feel comfortable sharing. Your experiences are likely different, and may be way worse.
But if you're not on the path you think you should be, it may be because God is STILL working on your story.
And that He's leading you somewhere way better than you could have ever hoped for or imagined.
Related Video: Finding God Through the Grief of Losing a Child
3. God's Perspective is Far Greater Than Yours
You have to remember, too, that God's perspective is far greater than yours.
This is why Isaiah 55:8-9 says:
"For my thoughts are not your thoughts,
neither are your ways my ways,"
declares the Lord.
As the heavens are higher than the earth,
so are my ways higher than your ways
and my thoughts than your thoughts."
And why, at the end of Job, God's only "reason" to Job for his suffering is "Were you there when I created the world? Are you in charge? Do you know everything?"
The truth is, we don't.
We can only see what's right in front of us. (and not always that)
We don't know what's coming two years down the road. We don't know what lessons we'll need to know before then, or who or where we'll need to be.
All too often, we only consider things only in the short term. 
We think about how inconvenient, expensive, time-consuming or hurtful our lives or others' actions can be.
But how often do we step back to see things from a bigger picture perspective?
How often do we stop asking "Why does God allow suffering?" and ask "God, how can I glorify You in this suffering?" instead?
Don't believe for a second that right now is all there is or that thing will never get better. 
Things always look dark when you're in the middle of them.
When you get to the other side, you'll realize God knew what He was doing all along. 
You just don't see it yet (and you may never).
For example, both my brother and two friends of mine died in car crashes in high school.
Why would God take them so young?
I honestly don't know.
But it's also not really my job to know.
I'm not God's boss. He doesn't report to me. I don't really need to know.
You see, my preferences, wants and opinions will always be based on my own very limited view of this world. I know what I want, but I don't really know or fully understand how the choices I make today will impact the world tomorrow–not really.
The truth is, we don't know what big plans God has in store right around the corner for us and for others. Only God does.
So, given the choice between choosing everything myself–based on my very limited understanding of the world–and letting God choose–based on His infinite wisdom, God's will is always going to be the best choice every. single. time.
We have to trust God even when we don't understand.
After all, Moses didn't know what God had up His sleeve when he was called to talk to Pharoah. Abram didn't know what God had up His sleeve when he was called to sacrifice his son. But God did.
And God knows the plans He has for you too–even if He hasn't showed you what they are yet.
4. God Corrects Us When We Sin
So this is a reason people don't talk about nearly enough. And it isn't always the reason, but it is definitely sometimes the reason.
And that is that: God loves us too much to let us continue in our sin. 
In fact, you see this over and over and over and over again in the Old Testament.
The Israelites get complacent and stop following God. He warns them. They don't listen. He punishes them. They all turn back to Him. 
Honestly, so many books of the Old Testament are literally this SAME story on repeat.
So why would we think God doesn't still do this today?
Of course, God's punishments aren't ALWAYS the result of our own personal sin.
In John 9, we read the story of a man born blind — through no fault of His own or His parents:
"As he went along, he saw a man blind from birth. His disciples asked him, "Rabbi, who sinned, this man or his parents, that he was born blind?"

"Neither this man nor his parents sinned," said Jesus, "but this happened so that the works of God might be displayed in him."
Sometimes it's just "bad luck" or "just life."
BUT sometimes, it absolutely is because we have sinned and brought consequences upon ourselves.
Which isn't fun, but at least, if you can figure out that's the problem, then you can repent and fix it.
So, if we are suffering, is it always one of these 4 reasons? 
No, there are other reasons as well.
And chances are, we may never know the full reason.
But, if you're wondering "Why Does God Allow Suffering?" one of these 4 reasons may just be the reason why…
Do you ever struggle with the question, "Why Does God Allow Suffering?" What additional answers have you come up with – if any?