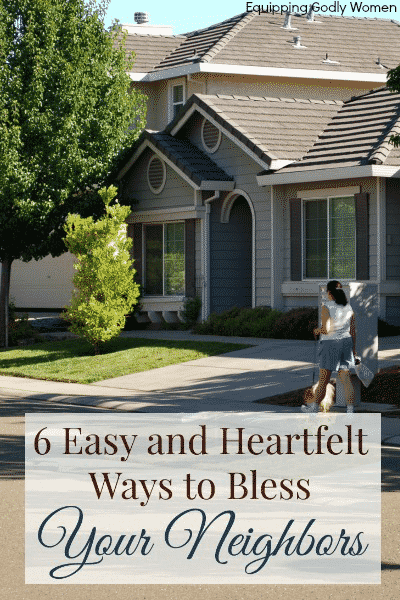 Love 'em or hate 'em, your neighbors are the people you're stuck sharing a fence with. They're also the perfect people to bless. After all, it's really easy to help people consistently, sacrificially and even anonymously when they're only a few feet away.
Jesus calls every one of us to help our neighbors, and while that includes other people in our city, it includes our actual next door neighbors as well. Here are a few ideas for what you could do.
1. Do Their Yard Work
Before we moved into the house we live in now, the person who used to live here moved down the street a few houses. Yet, he would still come over and do the yard work for the very sweet little old lady that lives next door. She has since passed on, but you would see him out there all the time raking her leaves, plowing her snow and bringing her trash cans up.
The neighbor who lives on the other side of us comes over with his four-wheeler every time it snows much in the winter to plow us out. We have a long driveway, and I've only ever had to shovel the walk. I always wake up to find it already done. I can't even say how much I appreciate that as the mother of two little ones.
2. Bring In Their Mail
If you have a neighbor who is getting older and can't walk so well, get in the habit of bringing up their mail for them. While you may want to get permission first, before you go riffling through peoples' mail, if your neighbors are older, this would be incredibly easy and incredibly appreciated.
3. Offer to Run an Errand for Them
Are you headed out to the store anyway? Drop by your neighbor's house and ask if there is anything you can pick up for them before you go. While many people will be polite and decline your offer, if you're headed out anyways, it's snowy and they need something, they just might take you up on it! Refuse to take their money if you can.
4. Bake Them a Casserole
Have your neighbors recently moved in or had a baby? Bake them a casserole! A traditional neighborly gesture, this one is still just as good today. After all, who wouldn't appreciate the night off from cooking?
5. Keep a Watchful Eye Over Their Home
Do your neighbors ever go on vacation or work late? Keep a watchful eye on their house while they're away. Our neighbors a few doors down went on vacation a few weeks ago. A few days into their trip, their dog got lose and someone called animal control. Thankfully, I was able to get a hold of the family so they could send their son out before animal control took their dog away.
6. Visit with Them
Whether your neighbors are older people who don't receive many visitors or stay-at-home moms who are cooped up in the house with kids all day long, sometimes the best thing you can do is simply to sit and visit with them. With Facebook and the Internet, people don't do this as much as they used to, but we should. It's a great way to really get to know people and their stories, and to find real, practical ways to get involved in their lives.
Whether you have great neighbors you love spending time with your you'd be happy to see them go, the truth is that Jesus has called us to love ALL of our neighbors, even the ones we don't care for. It's not always easy, but it is always right.
Related Reading:  Four Ways to Raise Children Who Are Truly Grateful
Do you live in a neighborhood of people who help each other? If not, how can you change that starting today?