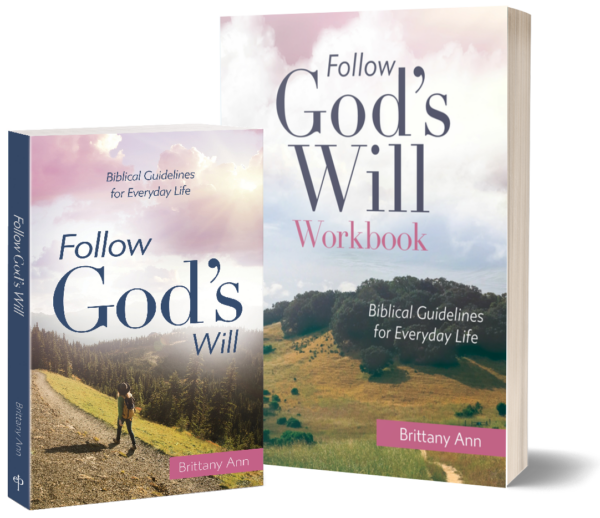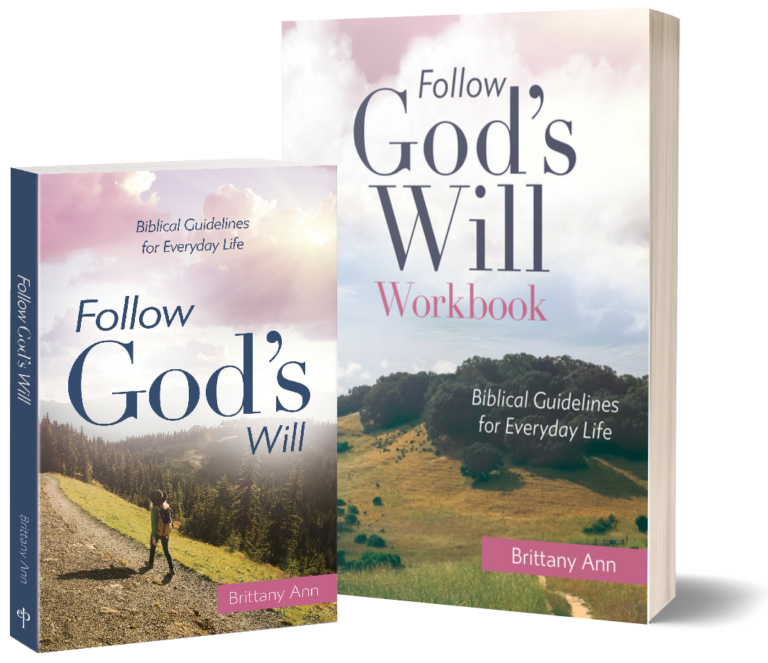 Do you ever wonder, What would God want me to do in this situation?
Whether you're seeking God's will in the big decisions (where to move, what job to take…) or in the small decisions (how to respond to coworkers, family, or friends…), the Bible is FULL of wisdom, direction, and encouragement to help us find and follow God's Will for our lives.
Unfortunately, it's not always easy to know how the Bible's words — written thousands of years ago — should apply to our lives today.
Thankfully, I have something that will help!
*This post contains affiliate links, which means if you make a purchase, I may make a small commission at no additional cost to you. This helps cover the many costs of running this site and allows me to help provide for my growing family. Thank you!
My latest book, Follow God's Will: Biblical Guidelines for Everyday Life was written specifically to help answer questions I hear Christian women asking every single day.
Questions like:
How do I apply the Bible's instructions to my life today?​
How can I make a difference right where I am?​
What would God want me to do in this situation?​
How do I live out my faith on a day-to-day basis?​
How do I live out my faith when others disagree?​
How should I navigate relationships with non-Christians?​
When should I confront others' sin and how?​
How can I follow God's will faithfully when life is hard?​
and more.
​
Chock full of Scripture, practical advice, and real life stories of Christian women just like you, this book won't give you the answers…
It's a proven, biblical framework that will teach you how to confidently hear God's voice, understand His Word, and determine His will for your life for yourself.
What if you WISH you could read "Follow God's Will," but the budget's just too tight right now, though??
No worries. I totally understand.
While I absolutely believe this book is WELL worth the $17.99 my publisher is charging, I also know that this year has been so hard on so many of us, and you simply may not have that money to spare right now.
Thankfully, you don't have to let a tight budget keep you from finding out how to follow God's will.
Here are several ways you can still get your hands on the book (or information from the book) for FREE or at a fraction of the price.

1. Borrow the Book from Your Local Library
Did you know that most libraries allow you to put in a purchase request for books that you want to read?  I have no way of knowing how many or which libraries are planning to purchase "Follow God's Will," BUT I do know that you may be able to request it from your library.
In other words: You can ask your local library to purchase "Follow God's Will" FOR you! (You just have to share!)
2. Listen to the Audiobook for Free with Audible
Audible is an audiobook service owned by Amazon, and they allow you to listen to your first two books for FREE when you sign up for a free trial.
Simply click to listen to "Follow God's Will" for free.
Then cancel your subscription before it charges you, if you don't want to renew.
3. Watch for a Good Sale
At the time I'm writing this:
I have no way of knowing if and when bookstores put the book on sale (I don't have any say in the pricing), but you can often find a good deal if you keep an eye out.
I've seen several instances where Amazon has run $1.99 e-book promotions without warning, so it's worth checking in from time to time. You might get lucky!
4. Read the Introduction and First Chapter Free
Simply want to find out if the book is a good fit for you before you purchase?
You can read the introduction and first chapter for free right here.
(After you click, scroll about halfway down the page to see how to get the first chapter free.)
5. Listen to Any of the MANY Podcast Episodes I've Recorded about the Book
I've been a guest on SO many podcasts lately, sharing all about "Follow God's Will," and I cover a LOT of material from the book in them.
Here are some that have released already: 
Coffee and Bible Time with Mentor Mama
Confident Woman Podcast with Amanda Pittman
Pardon the Mess with Cynthia Yanof
Fierce Calling with Doris Swift
Praying Christian Women with Alana Terry and Jaime Hampton
Stepping Into a Joy-Filled Life with Katie Hedrick 
Your Spiritual Game Plan with Cheri Fletcher
Purpose Driven Mom Show with Cara Harvey
Equipped to Be with Connie Albers
The Love Offering Podcast with Rachael Adams
The Perfectionist's Guide to Mothering with Andrea Fortenberry
She Lives Fearless with Holly Newton and Dina Deleasa-Consar
It's Time for Coffee with Jeanette Tapley
Best Day Ever with Katy McCown
The Art of Friendship with Kim Wier
Compared to Who? with Heather Creekmore
6. Ask for the Book for Your Birthday, Mother's Day, Christmas, Etc.
And last, but not least, if you have a birthday or other holiday coming up, why not ask for it as a gift?