Looking for easy (and fun!) Bible-themed Christian Halloween costumes that are cheap and family-friendly? Here are 20+ ideas you'll really love!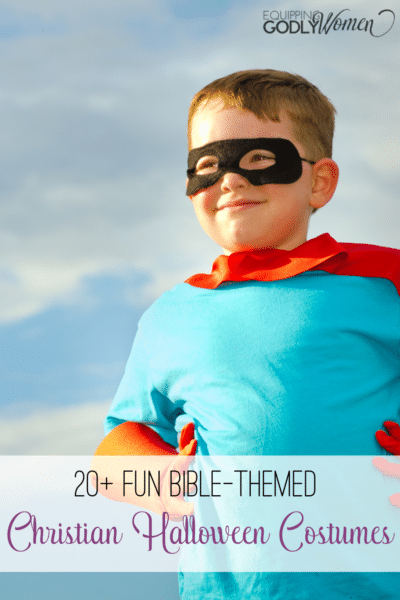 Halloween is an exciting time for kids and adults to dress up, be with friends, and eat waayyy too much candy!
But it can also be a very stressful time choosing a costume that is appropriate, affordable, and doesn't take forever to assemble.
While some costumes are inexpensive, they can be so detailed and time-consuming to assemble, especially if you're going to more than one Halloween event.
On the other hand, no one really wants to spend hundreds of dollars on a costume their kids will get super dirty and outgrow before the next year!
But most importantly, as Christians, we are called to shine God's light and be an example of Him to others.
That means, if you choose to celebrate Halloween, it's important that your costumes (and decorations) don't hinder your reputation or witness to non-Christians.
The good news is that it's 100% possible to create (or purchase) a costume that is God-honoring and inexpensive, even if you're running short on time!
That's why, in this post, we're sharing over 20 fun (and easy) Christian Halloween costume ideas for you to choose from.
Related: Should Christians Celebrate Halloween?
*This post contains affiliate links, which means if you make a purchase, we may make a small commission at no additional cost to you. A portion of all EGW profits go straight to supporting Christian charities we love.
DIY Christian Halloween Costumes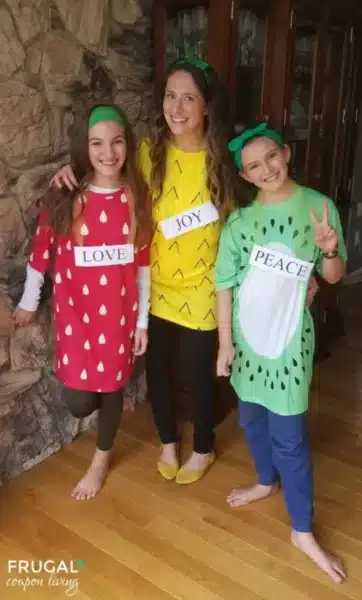 1. Fruits of the Spirit T-Shirts
This Fruit of the Spirit from Galatians 5:22-23 is the PERFECT quick Christian Halloween costume for friends or family. Can't you just see all of these Fruits of the Spirit together at your church's trunk-or-treat festival?
To make these costumes from Frugal Coupon Living, start by typing out and printing each of the fruits of the spirit (love, joy, peace, patience, kindness, faithfulness, gentleness, and self-control) in large uppercase letters.
Next, each person can choose a fruit they want to represent and wear a colored shirt that matches that fruit. (Think strawberries, grapes, bananas, kiwis, watermelons, oranges, peaches, cherries, or pineapples.)
You can either use a Sharpie and draw seeds, or use scissors and cut out the pattern of seeds (be sure to wear a white or black shirt underneath to highlight the seeds).
To finish these Christian Halloween costumes, grab a green headband, bow, or hat and you're all set!
Materials You'll Need: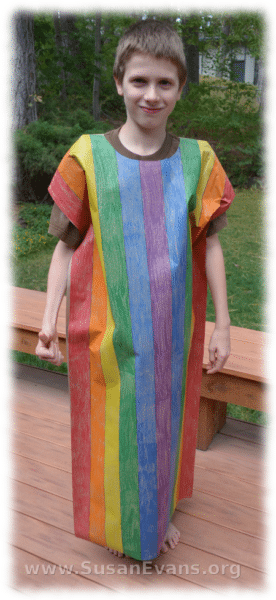 2. Joseph's Coat of Many Colors
This Christian Halloween costume idea from Susan's Homeschool Blog is a great opportunity for your older kids to get involved and create their own!
To make this costume, use a roll of brown packing paper or teacher's bulletin board paper – something durable enough to walk around in and not tear. You'll also need scissors, a Sharpie black marker, a ruler, crayons, and safety pins.
Next, measure the height of the person who will be wearing the coat by holding the paper up to their body and cutting the length close to their ankles.
Then, to make the hole at the top for the head, fold the paper in half and cut a semi-circle where the head will go through.
Now it's time to draw the stripes of the tunic. Measure 2-3 inches for each color strip, then color the stripes in a rainbow pattern, or however you want.
When you're ready, have the child put the coat on over their head and safety pin the sides of the poncho together creating a tunic.
Finally, fold the shoulders of the poncho down over the child so they form a tunic (and not a scarecrow costume.) 😁
Materials You'll Need: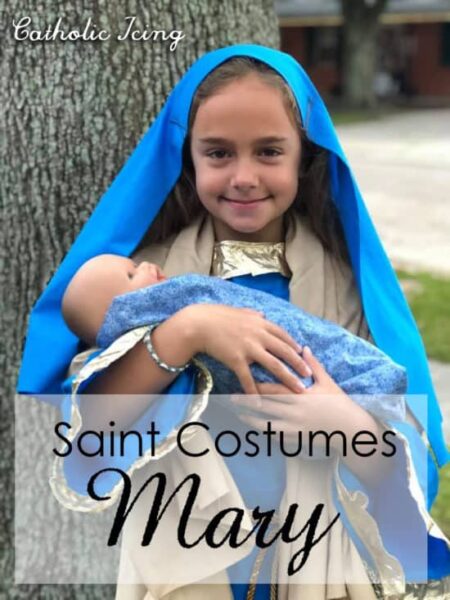 3.  Mary and Baby Jesus
If you celebrate All Saints' Day you'll want to keep this Christian Halloween costume idea in mind.
I especially love this idea for young girls who love playing with baby dolls. What little girl wouldn't want to carry her doll around all night AND get candy for it?
Making this costume can be as simple as wrapping fabric together, or as elaborate as sewing – it's up to you!
Start with a blue dress or wrap a section of blue fabric around the child and tie it at the waist with a gold rope belt.
Next, take taupe fabric and drape it over the child's shoulders like a shawl. Finally, place a blue fabric head covering over the child's head and pin it in place as a veil.
Adding gold fabric around the neck and sleeves of this Halloween Christian costume will really take it to the next level, but it's not necessary! Don't forget to wrap "baby Jesus" in a blue blanket!
Materials You'll Need: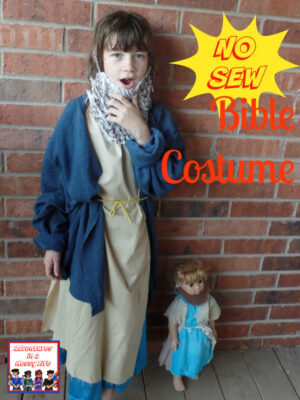 4.   No Sew Bible Patriarch Costume
This Christian Halloween costume idea from TiciaMessing.com is really unique because it provides an example of a doll and child size! If you have a kiddo who loves dressing up dolls, be sure to save this costume idea.
These household materials are inexpensive and easy to find. As an added bonus, your child can customize this Christian Halloween costume to fit a specific patriarch such as Moses, Abraham, Isaac, or Jacob with simple props!
Materials You'll Need: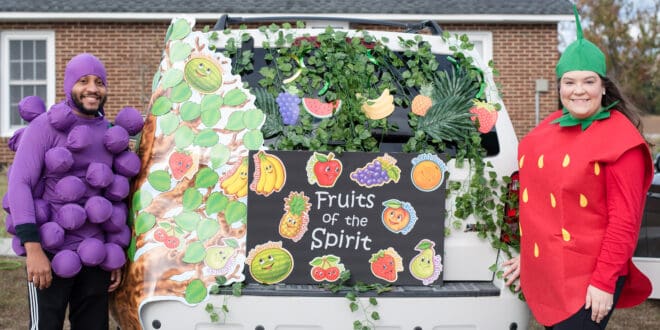 5. Fruits of the Spirit Costume
How adorable is this "Fruits of the Spirit" Christian Halloween costume idea? With a little creativity and craft supplies, you can create the perfect fruit costume for any of your Halloween events.
This design focuses on two fruits in particular, strawberries and grapes. For the DIY route, grab a red shirt, self-adhesive yellow felt, and green felt.
Cut out a large section of red felt into a poncho shape and pin the sides together to make a "shirt." Then apply yellow teardrop seeds onto the shirt (you might want to adhere them with a hot glue gun just to make sure they are secure.)
Finally, cut out triangles of green felt and pin them together to make the leaves of the strawberry around your neck. You can top off this design with any green hat, or cut out a hat shape from felt and bobby pin it to your hair.
The grape design is SO easy! Simply purchase a purple shirt and purple balloons. Next, blow up the balloons and safety pin them to your shirt. Finally, add a purple hat to complete your ensemble.
Materials You'll Need: 
If you're in a rush (or not feeling creative), you can order this adorable strawberry costume!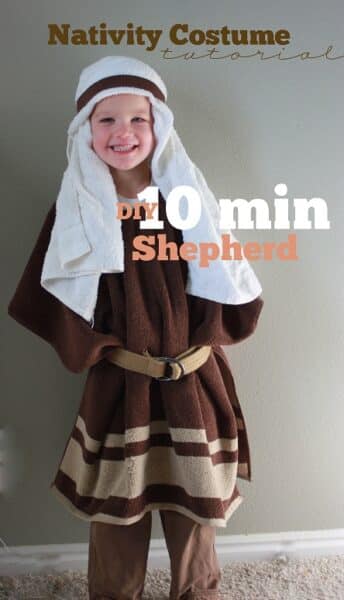 6. Shepherd
If you're pressed for time AND don't want to spend a fortune, you've got to try this shepherd boy Christian Halloween costume idea from Vanillajoy.com!
Just like the picture says, 10 minutes and a little DIY will have your kid ready for trick-or-treating…it's really that simple. All you need are a few towels of different sizes, a belt, and some brown elastic or a brown headband.
To start, take the brown towel and cut a semi-circle hole in the middle for the child's head, creating a poncho.
Use the woven belt to cinch the towel across the child's waist, then position the ivory hand towel as a head covering over the child and use the brown elastic or cotton ribbing to hold it in place. And that's it!
TIP – Add a hockey stick as a staff or a stuffed animal lamb to your shepherd boy Christian Halloween costume for even more fun!
Materials You'll Need

7.  Three Wise Men
Want a simple way to get dads involved in a Christian Halloween celebration? Look no further! The three Wise Men or Magi costume may look fancy, but it's simple and easy.
The thing I love about this costume idea is that it's so versatile. Whatever kind of fancy-looking fabric you have on hand (or can find at the last minute) is best.
Similar to a shepherd or Mary costume, drape the fabric around as a tunic and tie it with a gold belt or other fancy-looking cinches. Don't forget a coat of purple or gold shiny fabric!
Finally, use a head covering with elastic, or check out this tutorial for creating the perfect Wise Man hat. You can also grab these gold, Frankincense, and myrrh boxes to complete the costume.
Materials You'll Need: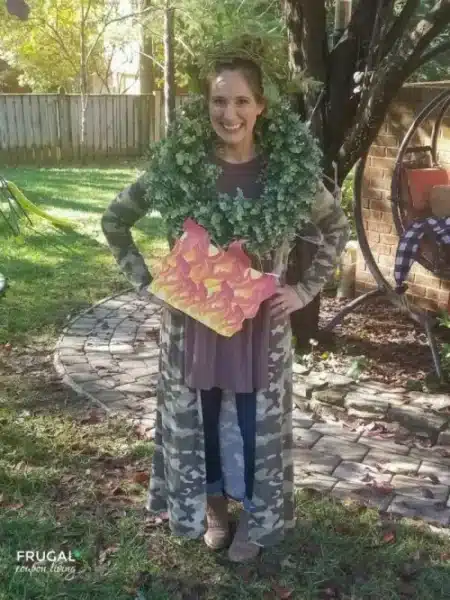 8. Burning Bush Costume
Who says kids are the only ones who can have fun on Halloween? Not me! I love this witty and unique Christian Halloween costume idea from Frugal Coupon Living that can be created with a household wreath.
Just grab some paper and draw flames (or grab this flame backdrop), then attach the flames to your wreath. Adding a camouflage or black cardigan will help your burning bush Christian Halloween costume stand out!
Finally, finish with a leaf headpiece and you're ready to party.
Materials You'll Need:

9. DIY Pillowcase Biblical Costume
This Christian Halloween costume takes some patience and creativity, but it's worth it!
Besides looking authentic and fun, this costume can be used for multiple events like homeschool co-ops, a Nativity play, or an Easter program.
To get started, you'll need a beige or neutral-colored pillowcase and a striped pillow sham. You will also need some trim for the pillowcases, sewing pins, fray check, scissors, and a disappearing ink marking pen.
Next, check out this easy-to-follow tutorial on how to make your pillowcase costumes. Then, grab some sandals and a shepherd staff, and that's it!
Materials You'll Need:
Related: Halloween as a Ministry Opportunity – 5 Creative Ideas
Short on Time? Buy These Christian Halloween Costumes for Kids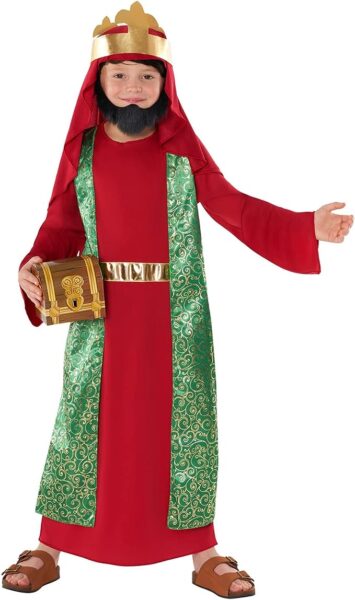 1. Wise Man or King
Here's an affordable Christian Halloween costume idea for a Bible King or Wise Man. This outfit features a jersey fabric robe, attached vest with metallic print, matching headdress, and golden crown accessory.
(Beard not included – but you can grab one similar here.) 
Whether it's an All Saints Day celebration or a Trunk-or-Treat party, this Christian Halloween costume makes the perfect King David, King Solomon, or Wise Man.
Grab Your Bible King or Wise Man Costume Here.

2.  Mary Costume
If you're going for the perfect Christian Halloween costume idea for girls, it has to be Mary.
This deluxe costume comes with a robe with an attached headpiece and a gown with an attached rope belt, which means no bulky pieces coming apart as you go trick-or-treating.
All you need is a baby doll Jesus to finish off the costume.
Grab Your Virgin Mary Costume Here.

3.  Moses with 10 Commandment Tablets
This Moses outfit will be the star of the show at your Christian Halloween costume party! This ensemble comes with a tan under robe, shiny striped over robe, and rope belt. Don't forget a gray or brown beard!
To make the "10 Commandments" tablet, simply purchase a sheet of styrofoam at your local craft store.
Trace the shape of the tablet using a marker, then cut the shape out with an exacto knife or hand saw.
Finally, mix black and white tempera paint until you reach the desired gray color and sponge on to create the "stone" look.
Materials You'll Need: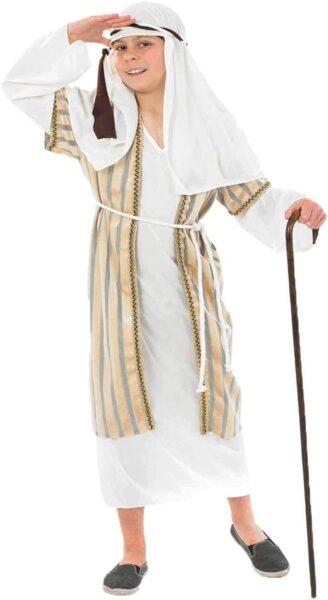 4. Child Shepherd
You can never have too many shepherds in your All Saints Day festivity or Nativity Halloween costume group!
This costume is easy to assemble and doesn't use any elaborate props or scratchy fake beards.
Just make sure to include the shepherd's staff (a hockey stick, or broom pole wrapped in brown duct tape will do) to distinguish this costume from Moses or Abraham from the Bible.
Then finish off with some comfy sandals or slip-on shoes and you're ready to go!
Grab Your Shepherd Costume Here.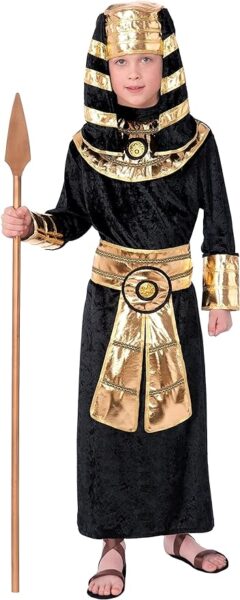 5. Child Pharoah
While not technically a "Christian" Halloween costume idea, Pharaoh was an important character from the Bible and someone that God used to save His people from Egypt.
If you have a kiddo who loves the story of the Exodus (Prince of Egypt anyone?), this is a must-have outfit to add to your trunk-or-treat or Christian Halloween festival.
This Pharaoh costume includes a full-length tunic with a decorative gold fabric collar and cuffs, a striped headpiece, and a metallic fabric belt.
To add special details to this costume, wear sandals and black eyeliner, then carry a gold scepter!  
Grab Your Pharaoh Costume here.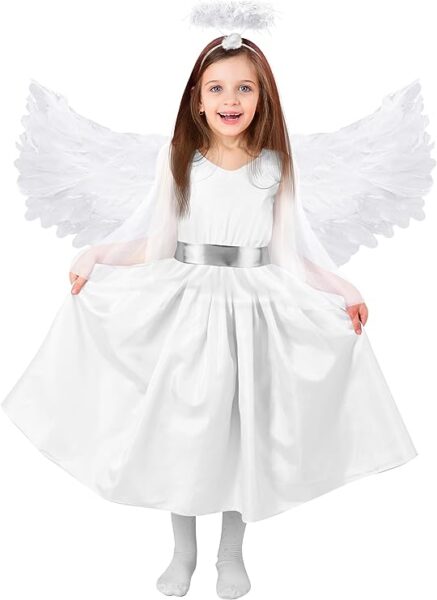 6.  Angel
No Christian Halloween costume party or All Saints Day celebration is complete without an angel! As an added bonus, this costume could be used again for your church's Nativity play in December.
This adorable costume includes white wings, a white dress with a silver belt, and a halo. All you need are some white tights and cute silver shoes to complete this look!
Grab your Angel Christian Halloween here.
Join the Fun with These Bible-Themed Christian Halloween Costumes for Adults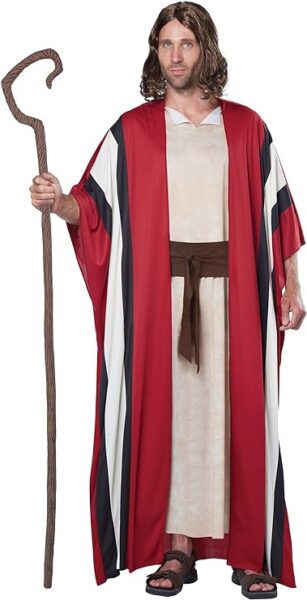 1.  Moses or Male Bible Costume
This Christian Halloween costume idea includes everything you need to pull off the perfect Moses or male patriarch from the Bible.
Featuring a texture-printed tunic, a striped red robe, and a decorative attached brown belt, all you need is some sandals and a staff!
Want to take this costume to the next level? Add a wig and/or beard to really stand out.
Grab Your Moses or Male Patriarch Costume here. 

2. Mary Costume
There's so much to love about this Mary Christian Halloween costume idea!
It's the perfect amount of detail and design without being too expensive or elaborate.
It can be customized to resemble a number of famous Saints for an All Saints Day celebration.
This particular version comes in two color options: white with a blue outer robe, or taupe with a turquoise outer robe, so you can pick the style that fits you best.
This Mary Christian Halloween costume can be used throughout the year for a Nativity play, Easter play, or VBS Bible character costume.
You will definitely get your money's worth!
Grab Your Virgin Mary Costume here.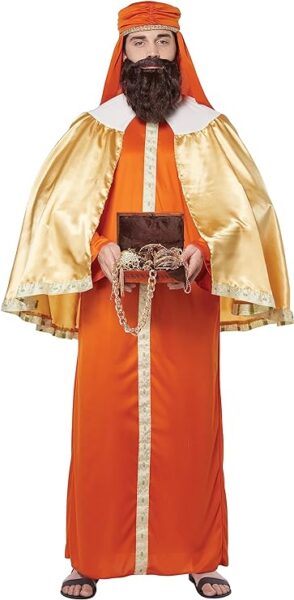 3.  Wise Man or King
Want to really stand out for your next costume party? Grab the ultimate King or Wise Man Christian Halloween costume!
This adult costume features an ankle-length orange robe with gold metallic detail along the front, a shiny gold tie-closure cape, and a matching orange head covering. (Beard not included.) 
Add some sandals and a treasure box, and this Christian Halloween costume is sure to win the award for best dressed at your next gathering.
Grab Your King or Wise Man Costume here.

4.  Woman from the Bible
While this costume is simple, it's extremely versatile and can be adapted to any All Saints Day or Christian Halloween costume party.
Whether it's Mary Magdalene, the woman at the well, Sarah (Abraham's wife), or Ruth, this costume fits the part perfectly with a long blue robe, rope belt, and white head covering.
Grab Your Woman from the Bible Costume Here.

5.  Pharaoh or Egyptian Guard
Looking for a unique family Christian Halloween costume idea? Recreate the story of Exodus!
You'll need one of these adult Pharaoh costumes which features a long black tunic, a gold foam belt with a symbol at the center front, and a long geometric panel with gold and turquoise accents.
There are also gold armbands and a Pharaoh headdress that falls around the shoulders. Combine this look with someone in a Moses costume, and everyone else can be Israelites or Egyptians.
Don't forget the add the plagues or miracles from the Exodus story- toy frogs, grasshoppers, or a toy snake for Moses to hold!
Grab Your Adult Pharaoh Costume Here.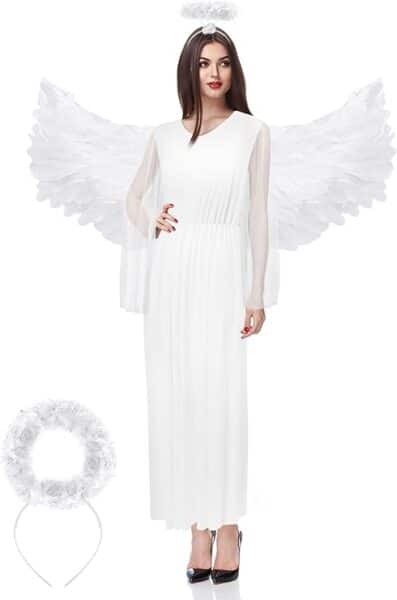 6. Angel
Mother-daughter outfits are so popular these days, so why not extend the fun to your Christian Halloween costume party? Try this adult angel costume today!
Your daughter (or any young girl in your family) will be so excited when they see you in this Christian Halloween costume featuring a white dress, feather wings, and a halo.
This modest and elegant look is perfect for your next trunk-or-treat festival or church Halloween gathering. Be sure to grab some shoes to complete your look!
Which Christian Halloween costumes have you done (or seen) in the past? What Christian Halloween costumes are you considering doing this year? Share in the comments below!