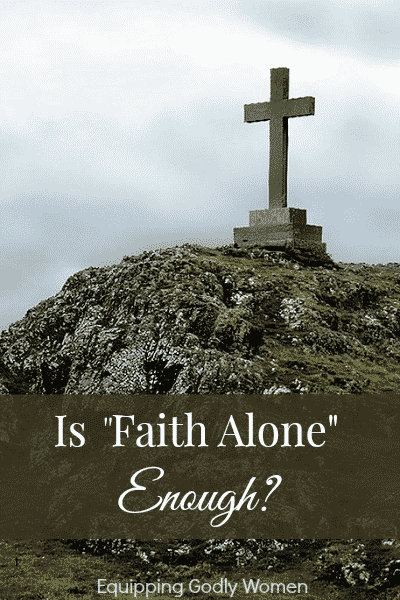 This post is post 4 in a series entitled Letting God Lead: My Journey Through Protestant and Catholic Beliefs. While you certainly can read this post by itself, I highly encourage you to check out the rest of the series as well. You can also find more about this series and a list of all of posts here. *This post contains affiliate links.
Of all of the issues I've been researching during My Journey Through Protestant and Catholic Beliefs, I think the issue of Faith vs. Works or Sola Fide is the one I've had to grapple with the most. Not because I have a hard time understanding or accepting the teachings of either side, but because it's such a huge, messy and complex issue–it's hard to really nail down.
What I mean is, with the Eucharist–it either is or is not the real Body and Blood. But with faith and works, figuring out exactly how the two mix together… and how much you need of both and why… well… it can get pretty tricky!
Protestant View: Faith Alone (Sola Fide)
Traditional Protestant belief (the way I was raised) would state that we are saved by faith ALONE. That while good works are nice and all, they have absolutely no bearing on our salvation. That we should do them, but if we don't, it won't affect our salvation at all.
As an analogy: When you get married, it is saying the words and signing the paper that actually make you married. Whether you are a good spouse or a bad spouse after the fact, it doesn't change the fact that you are married. Being a good spouse will make your life happier and easier, but it won't make you any more married than you were before.
Protestants base this belief off of Ephesians 2:8-9, which clearly states that we are saved by faith, not works.
"For by grace you have been saved through faith. And this is not your own doing; it is the gift of God, not a result of works, so that no one may boast."
Growing up, I never questioned this belief. After all, the verse is pretty clear and my analogy makes pretty good sense. But then I started on this journey, and I began to question everything.
Searching the Bible for Myself
So, in my questioning, I set out to search the Scriptures and see what the Bible REALLY says. At first I found a few verses that seemed to support the "faith alone" argument…
"For we hold that one is justified by faith apart from works of the law." –Romans 3:28
"For God so loved the world, that he gave his only Son, that whoever believes in him should not perish but have eternal life." –John 3:16
But then as I kept reading, I started to find more and more verses where some type of work or good deed was an integral part of the equation. The number was almost overwhelming.
"He will render to each one according to his works: to those who by patience in well-doing seek for glory and honor and immortality, he will give eternal life…For it is not the hearers of the law who are righteous before God, but the doers of the law who will be justified." –Romans 2:6-7, 13
"And behold, a man came up to him, saying, 'Teacher, what good deed must I do to have eternal life?' And he said to him, 'Why do you ask me about what is good? There is only one who is good. If you would enter life, keep the commandments.'" –Matthew 19:16-17
"And everyone who has left houses or brothers or sisters or father or mother or children or lands, for my name's sake, will receive a hundredfold and will inherit eternal life." –Matthew 19:29
And my favorite one of all…
"What good is it, my brothers, if someone says he has faith but does not have works? Can that faith save him?… So also faith by itself, if it does not have works, is dead… You believe that God is one; you do well. Even the demons believe—and shudder!…Was not Abraham our father justified by works when he offered up his son Isaac on the altar? You see that faith was active along with his works, and faith was completed by his works; and the Scripture was fulfilled that says, "Abraham believed God, and it was counted to him as righteousness"—and he was called a friend of God. You see that a person is justified by works and not by faith alone. And in the same way was not also Rahab the prostitute justified by works when she received the messengers and sent them out by another way? For as the body apart from the spirit is dead, so also faith apart from works is dead." –James 2:14, 17, 19, 21-26″
It's easy to look at one verse of the Bible and come up with one conclusion, but when you look at the rest in context, another picture begins to emerge. And I'd say these verses make it pretty clear–works have to be a part of the equation somehow.
So, I set out to find out how.
The Truth About "Faith Alone" (Sola Fide)
You may be surprised to hear… nowhere in the original translation of the Bible do any of the writers teach "faith alone." Rightly or wrongly, Martin Luther actually ADDED the word "alone" in his German translation of the Bible. It's not in the original language. The verses say we need faith, but they do NOT say that faith is all we need, and they do not say what type of faith we need.
The devil's in the details, right?
Clarification on Ephesians 2
What many people do not realize or understand about the text in Ephesians 2 is that Paul was NOT saying that NO works are necessary for salvation, but that you can't earn your salvation yourself by being a "good person."
If you start in verse 4, you read:
"But God, who is rich in mercy, because of the great love he had for us, even when we were dead in our transgressions, brought us to life with Christ (by grace you have been saved)." –Ephesians 2:4-5
Paul isn't talking about earning our ticket to heaven after we are already "saved;" he's talking about our ability to make the decision to follow Christ in the very first place. We don't choose Christ because we earned it through doing all the right things. God chose us and raised us up while we were still sinners. The fact that we are able to believe AT ALL and in the first place are both acts of grace–not things we earn.
But that doesn't mean we don't need to live up to our calling after the fact.
For an absolutely FANTASTIC explanation on this topic, I highly, highly recommend listening to this video clip of Francis Chan. He's non-denominational by the way, not Catholic, so I can't say that for sure that it is 100% Catholic-approved, but it seems spot-on to me.
(Fast Forward to 29 min, 30 seconds. The first half an hour is all internal budget stuff. Very interesting, but not really relevant)
So it IS faith that saves us, but not just any kind of faith. It's an active, living faith that goes on to produce good works. The works themselves don't save you, but they do show what kind of faith you have.
Clarification on Catholic Beliefs
Many people mistakenly believe that the Catholic Church teaches that people are saved by their works. This is not true. The Catholic church expressly denounces the idea that people can be saved by works, apart from faith. (They also denounce the idea that people can be saved by faith alone, apart from works.)
Because this is such a complex issue, I met with a Catholic priest to discuss the matter further, and we came to an agreement that was pretty much in line with what the video above states. That faith IS what saves us, but not just any kind of faith. It has to be an active, living faith that naturally results in good works. It doesn't matter for our salvation if we produce one or one hundred (or even zero) good works over the course of our lifetime, as long as we have the kind of faith that is growing and bearing fruit in our lives. It's not the number that matters, but the direction.
(We spoke about purgatory and indulgences briefly too, but I'll cover that in the post on purgatory, coming March 18th.)
And really, doesn't that just make sense? If you REALLY, TRULY believed in Jesus, wouldn't you naturally WANT to follow him? And of course, by follow Him, I mean keep his commandments and teachings.
After all, even the demons believe in God, so clearly just believing can't be enough. Or all the demons would be Christians and go to Heaven too–and that doesn't make any sense at all!
So at the end of the day it turns out that my original beliefs weren't so far off after all. Works don't save us–faith does–but that doesn't mean that works don't matter. Instead, our works are a really great indication of what kind of faith we have–and if we even have faith at all.
I'd love to hear your thoughts and opinions!! Leave me a note (or a book 🙂 ) in the comments section below!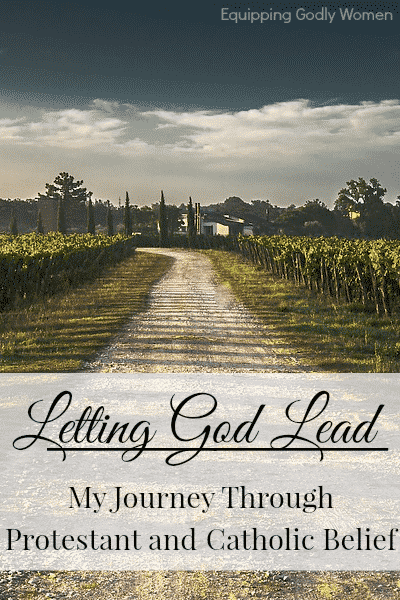 Enjoyed this post? Don't miss the rest of the posts in the series!
The Day I Realized My Religion Got it Wrong
10 Common Catholic Church Myths that Critics Believe
Is the Eucharist Really Just a Symbol?
Who has the Ultimate Authority? A Biblical Look at Sola Scriptura
A Brief Look at the History of Christianity
What All Christians Should Know About Priests, the Pope and Confession
What Do Catholics Really Believe About Mary, Saints and Statues?
Infant Baptism or Believer's Baptism? Which is Correct?
What is Purgatory? What are Indulgences?
Why Do Catholics….? Honest Answers to Your Burning Questions
Protestant and Catholic Beliefs Series Conclusion
Resources
I'm not asking you to believe because I say so. Please DON'T take my word for it! The purpose of this series is only to share what I've learned on my journey in order to inspire you to begin a journey of your own. Here are a few helpful resources to get you started.
*This post contains affiliate links, which means if you make a purchase, I may make a small commission at no additional cost to you. Thank you!
Catechism of the Catholic Church
Surprised by Truth: 11 Converts Give Biblical and Historical Reasons for Becoming Catholic by Patrick Madrid