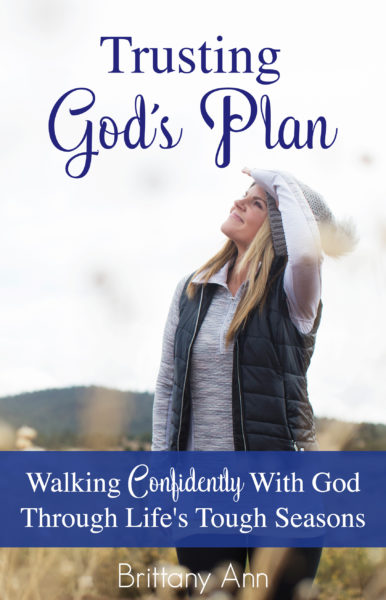 Do you ever struggle with Trusting God's Plan?
Maybe your marriage is really struggling lately or your kids are making poor life choices. Maybe you're struggling financially or you have health problems that are really taking a toll.
And all of it is leaving you wondering, "Where is God in all of this? What is He up to? When will He come through?"
If that's you, you are not forgotten and you are not alone. And the good news is, I have something special just for you.
Introducing: "Trusting God's Plan"
"Trusting God's Plan: Walking Confidently With God Through Life's Tough Seasons" is a book for women who are going through a tough season right now. For women who do believe in God, but who don't always know what He's up to. For women who want a strong, confident faith, but who sometimes struggle with worry, fear or uncertainty.
It's practical, encouraging, FULL of Biblical truth, and quite honestly, I truly believe it has the potential to be life-changing for those women who need it most.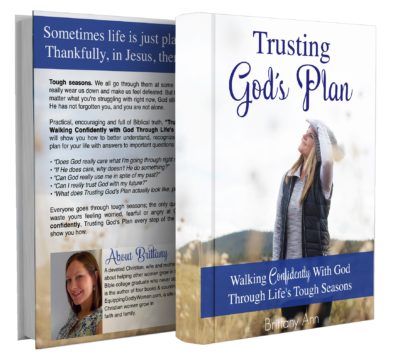 If this sounds like the kind of book you might be interested in reading, I'd love for you to click here to learn more about "Trusting God's Plan."
But even before you do that, there are three things you need to know:
1. "Trusting God's Plan" is on sale for ONE WEEK ONLY. Normally $9.99, I'm offering it for just 7.99 for launch week only. I don't put my products on sale often, so if you're even thinking about getting this one – grab it now while you still can – for less!
2. Also, I'm donating $1 to Food for the Hungry for every digital (PDF) copy sold now through next Monday! For those of you who haven't heard me talk about Food for the Hungry before, they are Christian non-profit that provides food, medical care and the hope of Jesus to people desperately in need of hope and help during their toughest seasons. Your purchase won't just help you in your tough season – it will help others in their toughest season as well!
3. And lastly, if you're going through a tough time right now, there is hope. This book has the potential to impact your life and grow your faith more than you ever imagined. The only question is – how bad do you want it? Are you happy in your current situation — worried, fearful, anxious? Or are you ready for a change? This book could be just the change you need. Why not take a chance?
Click the button below to learn more and grab your copy today.

The following two tabs change content below.
A devoted Christian, wife and mother, Brittany loves helping other women grow in these roles as well. When she isn't busy taking care of her growing family, you can find her at
Equipping Godly Women
, where she regularly shares tips, tricks and encouragement to help you be the amazing woman God created you to be. Brittany also has a thriving online community on
Facebook
as well.