What does the Bible say about divorce? Is divorce ever God's will? Get the truth about Biblical divorce here.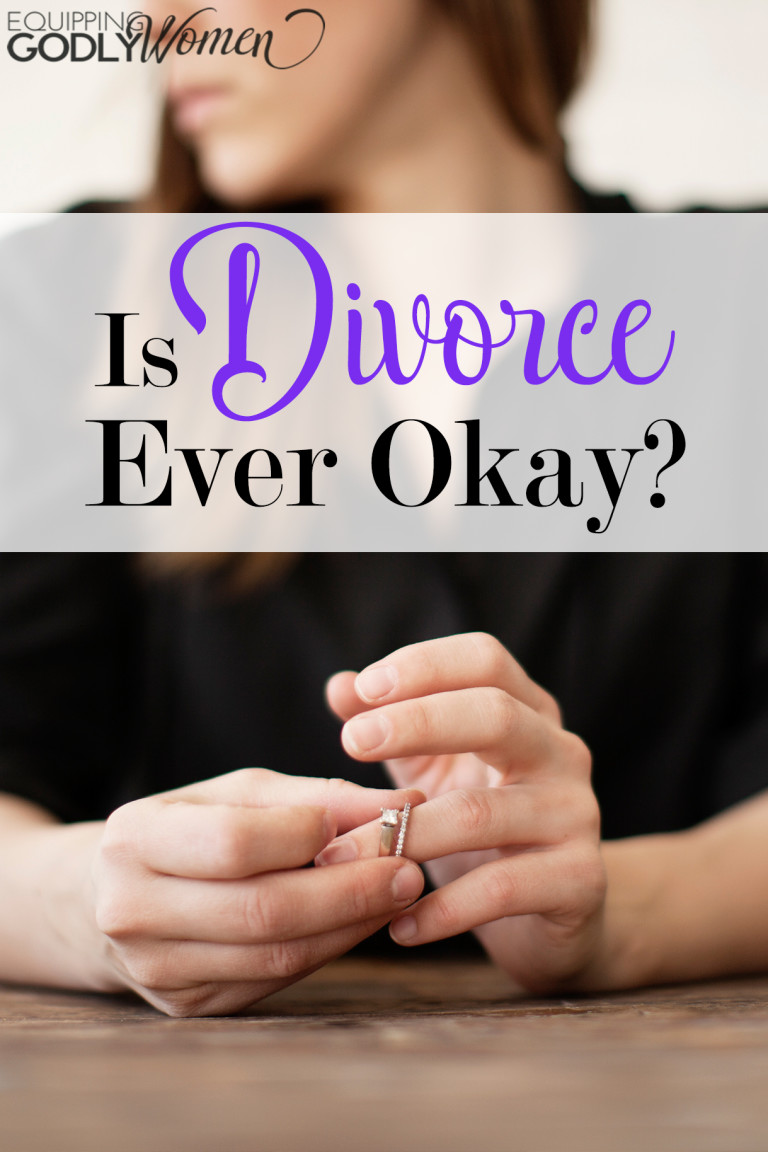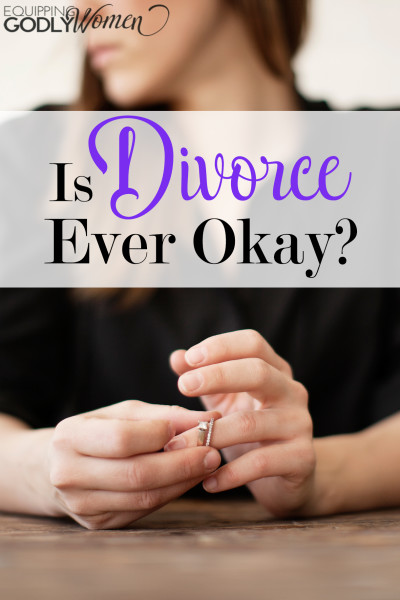 A few months ago, I was doing some research on how marriage should be a 50/50 kind of thing. You know… each doing our fair share.
The key take-away was that in a good, Godly marriage, you should stop worrying about whether or not your spouse is pulling HIS weight and focus instead on making sure YOU are the best spouse you can be.
After all, your actions are the only ones you can really control anyways. So you worry about you, and let God worry about your husband.
But what happens when your spouse doesn't hold up his end of the bargain? Like ever. For years. When do you say enough is enough?
You see, it's all well and good to say that Christian wives should be submissive and give without worry.
But serving a Godly husband who forgets to pick up his socks one too many times is a lot different than serving a husband who couldn't care less about God (or you) and who lives a lifestyle to prove it.
What then? Is divorce ever God's will?
*This article contains affiliate links. Please see my full disclosure policy for additional information.
As Christian women, we know all too well how God views divorce. Both the Old Testament (Malachi 2:16) and the New Testament (Matthew 19:6) make it quite plain: God hates divorce.
And the church–well, you don't have to be a divorced Christian yourself to understand that the news probably wouldn't be taken so favorably. While some churches are supportive enough to have Christian divorce support groups, more often than not, churches simply want to brush the issue under the rug and pretend like it doesn't exist. (Or worse.)
But what if divorce isn't the worst sin of all?
**Related: Want to Fix a Broken Marriage? 6 Things You Should Know
Is Divorce Ever God's Will?
Now, don't get me wrong. I'm definitely anti-divorce and I don't for a second want this to come across like me saying "Oh, divorce is no big deal. If you aren't happy, that's okay, God will understand."
Because, as I've written before… marriage isn't *supposed* to make you happy, and no, God won't "understand."
But I think there's another side to this story that the church isn't discussing. And I think it's time that we need to. And that's the women who are trying SO hard to be good wives, and SO hard to be good Christians, and SO hard to do the right thing that they cling to a broken marriage long after it's healthy to do so.
Allow me to explain…
Recently, a woman asked me,
My husband has always been a good provider, worked a job. Four years ago my husband started using prescription pain pills, more and more until he was a full blown addict. He blew through thousands of dollars. He lost several jobs and had not held one down for two years. He's racked up quite the charges on his criminal background. In and out of jail, but I'm still hanging on. He has stolen my debit card and cleaned out my account that was to pay bills…

I've worked 2 jobs for about 8 months now because he can't/won't find a job. Idk anymore. I've prayed for this man countless times, prayed for God to come back to our marriage. Not only do I work, I clean the house, cook, pay the bills, shop, gets the kids places (he lost his license DUi). Everything! He can't even pick up his towel after showering! How much can one take? At what point do I give up? He is not the leader of the home and doesn't set a good example for our teenagers. My head is going to explode.
And she's not the only one. All over this entire world there are women struggling to make the best out of a bad situation, asking themselves at night, "I don't know if I can take this anymore. Doesn't God care about me too??"
The short answer is: Yes. He does. 
And that's why God gave us marriage.
Actually, I believe there are three main reasons why God gave us marriage:
To sanctify us/make us holier
To present a picture of Christ and the church.
To provide a stable unit in which to grow a family.
Now, in a loving, Christ-centered marriage, all three of these things are accomplished. And in a marriage that's a little rocky, all three of these things are accomplished. But in marriages like the one described above, none of these things are happening. In fact, just the opposite.
The truth is, when wives allow their husbands to treat them poorly, they are essentially enabling their husbands to continue in sin.
And that's when it's appropriate to start asking, "Is divorce ever God's will?"
*Related: How to Respect Your Husband When He's a Jerk
Now, please hear me out, I am not saying this is the wife's fault AT ALL. The husband will be responsible to God for his actions. And I am not saying we shouldn't offer faithfulness and forgiveness and long-suffering because we absolutely should.
There are very few biblical reasons for divorce, and marriage reconciliation should be the goal in most cases.
*See Also: 6 Questions to Ask Yourself Before You Work on Your Marriage
But there DOES come a point when to allow the behavior to continue would be little more than encouraging the husband to continue sinning. And there does come a point when wives have the right and even the obligation to say "You are an adult. You have the right to ruin your own life. But you don't have the right to ruin mine or my children's."
But before we quickly jump on the Christian divorce train, we need to take a step back and check with the Bible.
What does the Bible say about Divorce?
What Does the Bible say about Divorce for Christians?
If you look in Scripture to try to figure out if divorce is ever God's will, the Bible does indicate that there are a few Biblical reasons for divorce. Not only in the Old Testament, but also in the New.
In fact, if we look up "What does the Bible say about Divorce?" we find that…
Matthew 19:9 states that sexual immorality is a legitimate, Biblical reason for divorce.
1 Corinthians 7 gives the option of separating (not divorce, but separation) without remarrying another.
And verse 15 allows for divorce in cases of abandonment by a non-believer:
But if the unbeliever leaves, let it be so. The brother or the sister is not bound in such circumstances; God has called us to live in peace. – 1 Corinthians 7:15
So, is divorce ever God's will? Yes, there are Biblical reasons for divorce, and there are times (though these are not the norm) when divorce may be the best, most Biblical option.
For instance: what if God's plan for your life includes…
saving you from a bad situation so you learn to rely fully on HIM?
setting an important example that will help save those around you?
teaching you to trust Him even when you don't know how the story ends?
letting your husband reach rock bottom because that's the only way He can get his attention?
Yes, Christian divorce is bad. Yes, God hates it. But it's not the only thing He hates.
He also hates to see your husband entangled in sin. And to see you broken and mistreated. And if divorce or separation is the only way to stop your husband from sinning through the way that he mistreats you, it may be the lesser of the two evils.
God won't lead you INTO sin, but if you're already in a tough situation, it may be His will for you to get out of it.
I love how this article by Sheila Wray Gregoire answers the question "Is Divorce ever God's will?"
Basically, her point is that a lot of the marriage advice out there is trite and shallow because we're too focused on preserving marriage at all costs, instead of focusing on glorifying God.
Yes, we should work hard to save our marriages. BUT having a good marriage isn't our #1 goal. Our #1 goal is to glorify God, and if staying in an abusive or unhealthy marriage is enabling sin and selfishness, that's a problem.
Romans 8:28 says "And we know that God causes all things to work together for good to those who love God, to those who are called according to His purpose."
ALL things.
Not just the nice things, not just the happy things, not just the Sunday School story things.
All things. 
We don't know what God's purpose is, but we can be assured that He does have one. And that even though we don't know why God allows suffering, that He always has a good reason.
So, if you are one of those women struggling in a terrible marriage who just doesn't know how you can hold on anymore, I'm so sorry. If you've prayed without ceasing and done EVERYTHING you can think of that a good Christian wife should do and it STILL hasn't helped, you're not alone.
I'm not going to tell you if you should or shouldn't get a divorce as a Christian. I don't know you, and that's not my place.
But I will tell you that God loves you and He has a plan for you, no matter how bleak things look now.
Please talk to a pastor or trusted Christian friend to help figure out what the best, most Godly course of action would be. Maybe you need counseling, maybe you need to hang in there a little longer, maybe there are some changes you didn't know you needed to make. Or maybe it's time to separate with the hope that that will ultimately lead to a wake-up call and true restoration.
But whatever you decide, know that you are not alone, that you are loved, and that there is hope.
Is divorce ever God's will? What do you think? I'd love for you to share your thoughts and verses in the comments below!
p.s. Is your husband's questionable Internet usage a factor in your situation? If so, you may want to look into the Internet accountability software Covenant Eyes, if he's up for it. It's a great way to hold each other and the rest of your family accountable for what you are doing online.