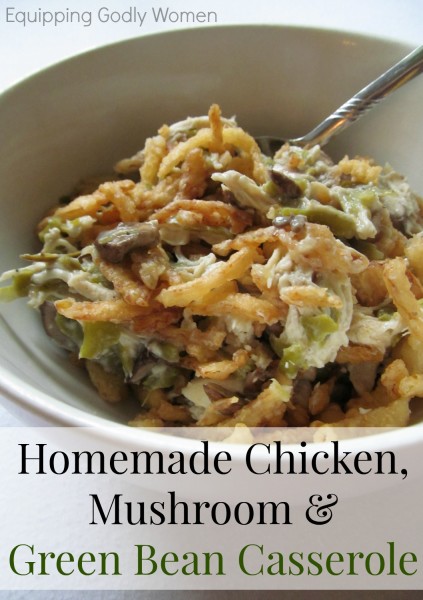 Do you ever have those evenings when you want something healthy and delicious for dinner, but you already know you won't have time to cook?
Maybe it's Wednesday nights when you're headed to church or Thursday nights when you're busy with the church softball league?
If so, this Crock Pot Chicken, Mushroom and Green Bean Casserole recipe is absolutely perfect.
Not only is it deliciously filling, but it is also incredibly easy as well.
I've actually been making this recipe for several years now, ever since my oldest was a baby, and it's always been one of my favorite chicken casserole recipes.
I got the recipe idea from Our Favorite Slow Cooker Recipes Cookbook, a cute little slow cooker cookbook my husband got me that I used all the time when we first got married.
The original recipe called for slightly fewer ingredients and didn't call for shredding the chicken, but I like the version my husband and I eventually ended up with much better! It's really yummy!
*This post contains affiliate links, which means if you make a purchase, I may make a small commission at no additional cost to you. This helps cover the many costs of running this site and allows me to help provide for my growing family. Thank you! 
Though I absolutely would still recommend checking out the Our Favorite Slow Cooker Recipes Cookbook if you're looking for good slow cooker recipes!
It's super small and cheap, which is great, and the recipes are all really easy and simple! Perfect for when you don't have a ton of time to make something fancy, but you still want to get a healthy (and cheap!) dinner on the table in a hurry!
Anyways, I would make this chicken and green bean casserole on nights I had to work, because I could prepare it in advance, and then it would be ready for my husband when dinner rolled around.
These days, though, I usually make it on a busy weeknight when I need to have dinner on the table fast. I just throw the chicken in on my lunch break, toss the rest of the ingredients in real fast when I get home, and it's ready by the time I'm ready to eat!
This recipe also works great as a Sunday dinner recipe too. You can get the bulk of the prep work done in the morning (or even the night before), and then it just takes about 30 minutes while you're getting changed out of your church clothes to finish up. It's very hands off.
No matter how many times I've made this recipe, my family never grows tired of it! It's fancy enough for a holiday get-together, yet simple enough for your average weeknight meal. It has plenty of nutritious veggies in it, but it tastes way more like comfort food than health food.
This recipe has morphed a lot over the years, thanks to tweaks both my husband and I have made. Now, it's better than ever. If you love good home cookin' – especially crock pot green bean casserole – you're going to love this Chicken, Mushroom and Green Bean Casserole recipe!
**Love this recipe? Be sure to also check out: 
10 Quick and Easy Sunday Dinner Ideas for After Church
20 Make Ahead Meals to Stock You Freezer Today
Chicken, Mushroom and Green Bean Casserole Recipe
Serves: 4-6
Total Cook Time: 3 – 3.5 Hours
Ingredients
3 chicken breasts
1 can cream of mushroom soup
2 cans green beans, drained
1.5 cups baby portobello mushrooms, diced
1 package french fried onions
Salt
Pepper
Garlic Powder
You'll Also Need: 
Directions
Place chicken breasts in slow cooker. Sprinkle with salt, pepper and garlic powder. Set on High for 2.5 to 3 hours.
Once the chicken is no longer pink, remove it to a plate or bowl and shred it with two forks. Drain the juices from the slow cooker.
Return the shredded chicken to the slow cooker. Add soup, green beans and mushrooms. Stir.
Sprinkle french fried onions over top of green bean casserole. Cook on High for 30 more minutes.
Enjoy!
Be sure to check out Our Favorite Slow Cooker Recipes Cookbook for more quick, easy and delicious slow cooker recipes!