As a Christian parent, do you have an adult child living a sinful lifestyle? Here's some practical advice on how to parent grown children living in sin.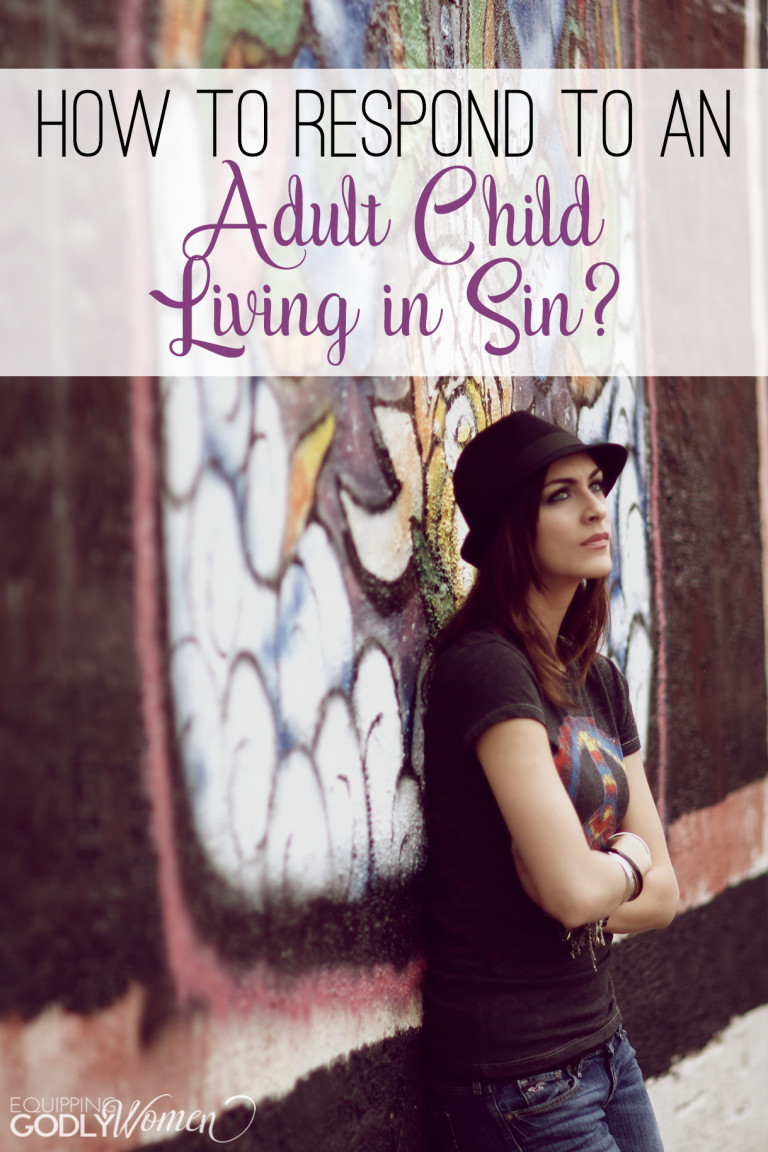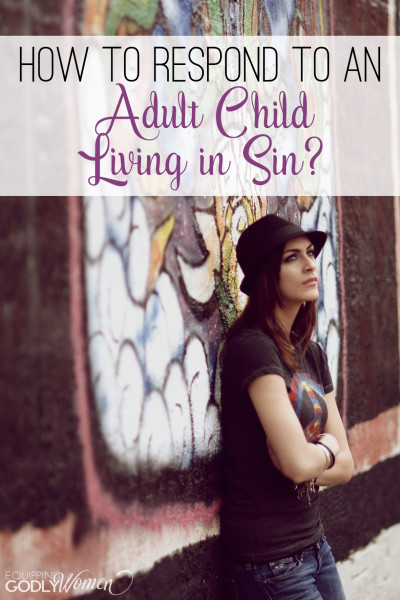 A few weeks ago, I received an email from a reader who was very upset.
Her adult child has chosen to follow a sinful lifestyle and she wanted to know how to parent grown children Biblically.
She didn't want to alienate her daughter, but she didn't want to just sit by either. So she emailed me for advice.
As sad as it is, I'm sure this reader is far from alone in her frustration. Dealing with adult children can be very difficult for many of us.
No matter how wonderful or terrible we all are as Christian parents, when our children reach the adult stage and go out on their own, their choices are theirs to make, and they don't always make the right ones.
When your grown child makes bad decisions… as a Christian, you definitely want to make the right ones!
To help you make the right choices, I thought I'd share the advice I gave this worried mama, just in case any of you are going through something similar. Hopefully it helps.
How to Parent Grown Children Living in Sin
1. Consider their Spiritual Standing
First of all, when understanding how to parent grown children living in sin, I think it's important to make a distinction between a Christian caught in sin and a non-Christian caught in sin. This was the first question I asked, and it's the first question you should ask as well.
(And I don't just mean, did you raise them in the church or are they baptized. I mean, are they a true, practicing Christian?)
If your child isn't a Christian and they aren't honoring God with their choices–well, that's kind of to be expected, isn't it? How can you/why would you make God your #1 priority if you aren't even sure He exists in the first place? After all, even Christians mess up quite frequently, and we have the Holy Spirit.
Yes, Christians should judge, but don't you think it's just a little unfair to expect non-Christians to get things right all the time if we can't even manage to do it as Christians?
If your child doesn't even know God, then knowing God needs to be the first concern, not the sin. Either way, the steps are the same.
2. Pray
I put this as step #2, but honestly, it's not a step you can't just do once and check it off the list. If you've been praying for your child since before he or she was born, you aren't going to stop now that they are adults–or anytime soon.
Whenever we recognize that we have made a bad choice in life, we pray about it. When your grown child makes bad decisions, they may or may not recognize it, so praying for them is one of the best things you can do.
There are prayers that every Christian momma should pray over her kids. Pray that you will have the wisdom to approach the subject at the right time and in the right way. Pray that your heart will be humbled and your motives pure. Pray that your child's heart will be open to listen to wise counsel and that your child will see the sin for what it truly is. Pray that the situation would work itself out quickly and that God would be honored through all of it.
Pray what you will, but pray!
*By the way – if you have a child who really needs your prayer, this printable prayer book will help.
Related Video: Should You Confront Friends/Family Making Poor Choices?
3. Discuss
You may wonder if it's your place to say something about your child's sinful lifestyle. It absolutely is! Not only is judging the sin the loving thing to do sometimes, but as your child's mother, you are in a unique place of influence.
In figuring out how to parent grown children living in sin, it is your JOB to notice and care. Your child expects (or should expect) you to notice and care.
Please notice, however, that I said "discuss," not "lecture," "forbid," "scold" or "threaten." Your job is only to have a mature, grown-up conversation. Find out what is going on (as much as you are able). Find out your child's thoughts on the matter and share yours when appropriate and in a loving way.
*See Also: 7 Common Parenting Mistakes You Need to Stop Making Now
When parenting adult children, it's okay to be concerned and to share your beliefs and frustrations. It is not okay to lay down the law. Do way more listening than talking (if you can), and ask honest questions rather than simply stating your views. Learn more and find out what's really going on before you start in with the consequences. (Plus, there is always a chance that you are the one in the wrong, as painful as that may be to hear…)
p.s. Do you have a sense something is going on but you aren't sure what and your child won't tell you? If they still live at home, you may want to try an internet accountability software tool like Covenant Eyes. This is a great way to hold each other accountable and get real information–not just what your child wants you to believe. 
4. Speak to a Pastor or Trusted Friend
What does the Bible say about parenting adults? Even though your child is now an adult, you are still the parent. The Bible gives us insight on how to parent grown children in reminding us that we are still to be honored. Time has no limits on this command.
"Honor your father and your mother, that your days may be long in the land that the Lord your God is giving you."

–Exodus 20:12
But when your grown child makes bad decisions, and you can't seem to get through to them, what then?
"If your brother or sister sins, go and point out their fault, just between the two of you. If they listen to you, you have won them over. But if they will not listen, take one or two others along, so that 'every matter may be established by the testimony of two or three witnesses.' If they still refuse to listen, tell it to the church; and if they refuse to listen even to the church, treat them as you would a pagan or a tax collector."

–Matthew 18:15-17
While the above verses outline what we should do when a fellow Christian is caught up in sin, I believe they also apply to adult children, Christian or not. If your child refuses to listen to you, you may need to ask a trusted third party to help intervene.
Of course, you should never share personal information with the wrong motives. But if you have a pastor or trusted friend whose opinion your child values, it may be wise to ask for their help.
5. Let it Go
Once you've shared your opinion on the situation (in a loving way), there really is nothing else to say. Your child is an adult now and free to make his or her own decisions, even if you don't agree. There are some things only the Holy Spirit can do and you aren't the Holy Spirit.
When faced with how to parent adult children, letting go is not an easy step. But you can pray, you can love, you can be concerned. You just can't make the decision for them. (And if you try, it will likely backfire.)
6. Set Boundaries
In learning how to parent grown children living in sin, setting boundaries may be needed. Just because you can't change your child's behavior doesn't mean you have to allow or enable it, however.
For example, you can set the rule that your child is not allowed to have their boyfriend or girlfriend stay the night at your house when they come to visit. You may set the rule that you won't help out financially as long as they are using their money irresponsibly. You may even make the rule that your child is not allowed to visit as long as he or she continues to make poor choices (though I wouldn't recommend it!).
Even my six year old knows that actions have consequences. You'll need to decide what they are in your family. (I don't mean this to be used in a manipulative way at all, so please don't do that.)
Side note — The BEST resource I've found for figuring out where your boundaries should be once your children are grown, and how to set boundaries, is the book "Boundaries: When to Say Yes, How to Say No To Take Control of Your Life" by Henry Cloud and John Townsend.
In this very popular New York Times bestseller, Drs. Cloud and Townsend offer a TON of great Biblical insight on what behaviors are appropriate and not, how to set boundaries, and how to stick up for yourself without being a jerk OR a pushover in the process.
If you ever wonder, "How do I set limits and still be a loving person?" "Where should those limits be?" or "How can I learn to say no without feeling so guilty," this book will absolutely help.
I've recommended it to quite a few people now, and I know you'll really enjoy it and benefit from it too.
*This post contains affiliate links, which means if you make a purchase, I may make a small commission at no additional cost to you. This helps cover the many costs of running this site and allows me to help provide for my growing family. Thank you!
7. Love
If you are confused about how to parent grown children, one thing that shouldn't be too confusing is to simply love them.
Just like tip #2, this tip is one that can't be confined to an ordered list. Every interaction when parenting adult children should be driven by and characterized by love. The point of these steps isn't to manipulate your child into doing things your way, but to love your child by helping them make the right decisions.
*Related: Are Your Christian Children Prepared for the Real World?
Insist on your own way and your child is likely to tune you out. Approach your child with love, humility and gentleness, however, and your child just may be won over, either now or in the future.
No matter how wonderful of a job we do raising our children, figuring out how to parent grown children who aren't making the best decisions is not easy.
Our children are bound to make mistakes both big and small and some will inevitably walk away. Instead of beating yourself up with guilt or beating your child up with shame, use these seven tips to approach your child in a loving, Christ-like manner. Hopefully they will help, but if not, just remember: God isn't done with them yet. 
Have you ever had to deal with parenting adult children living in sin? Do you have any advice to offer readers on how to parent grown children living in sin?