A guest post by Rachel Newcomb of Smart Mom Smart Ideas.
Are your children talking about back to school yet? Are they excited about school starting? Does the first day of school make your children nervous and concerned?
As a mom, I have concerns about back to school, too. I pray my children will live their Christian faith at school.
One way I encourage the Christian faith of my children is to memorize character-building Bible verses.
Here are 10 Back to School Bible verses to memorize together that focus on character traits children need for the school year.
During the school year, my children will make many choices and I will not be able to guide them. These character-focused Bible verses give children help to make the right choices with the challenges they face every day at school.
10 Back to School Bible Verses to Memorize to With Your Children
1. I Thessalonians 5:15 – Show Kindness to Others
"See that no one repays anyone evil for evil, but always seek to do good to one another and to everyone"
Always being kind to others is hard for children. It's so easy when someone says or does something unkind to just respond by saying or doing something unkind back.
If you have 2 or more kids, you have probably noticed how quickly frustration rises when one of them says an unkind word.
When a friend at school or sibling is unkind or says something hurtful, this is a great opportunity to remember we don't react with unkindness, but with kindness just as I Thessalonians 5:15 teaches us.
2. Proverbs 12:22 – Be Honest
"Lying lips are an abomination to the Lord, but those who act faithfully are his delight"
We want to always tell the truth and emphasize telling the truth even if we think we might get in trouble.
We all make mistakes sometimes. It's important not to cover mistakes, but to admit our mistakes and learn from our mistakes.
3. Galatians 6:2 – Help Others
"Bear another's burdens, and so fulfill the law of Christ."
At school, it's easy to see ways you can help your friends. It can be simple like helping carry a friend's books or sharing a book. It could be helping understand an assignment.
Encourage your children as they go through their day to look for ways to help others. Even holding a door open for someone might make them smile and show them friendship.
Recommend for you: How to Strengthen the Moral Character of Our Kids Through Prayer
4. James 4:17 – Do What's Right
"So whoever knows to do the right thing to do and fails to do it, for him it is sin."
At school, our kids are around many other kids. Sometimes other kids will suggest doing the wrong thing like cheating on homework, being mean, bullying another child or lying to a teacher.
I love this Bible verse because even when I am not with my children every minute, they have a guide. If they remember James 4:17, they know what to do. They should always just do the right thing.
5. Ephesians 4:32 – Be Forgiving
"Be kind one to another, tenderhearted, forgiving one another, as God in Christ forgave you."
The first verse I mentioned was I Thessalonians 5:15 on being kind. Sadly, sometimes in life friends will be unkind to us. Even if others hurt us with unkind words and actions, we can still be forgiving as Ephesians 4:32 shows us.
6. Proverbs 13:20 – Choose the Right Friends
"Whoever walks with the wise becomes wise, but the companion of fools will suffer harm."
The friends we choose in life are so important. We want to encourage our children to choose friends that love Jesus and do right.
This Bible reminds us that when we spend our time with wise people, we become wiser, but bad friends lead us away from Jesus and can cause us to make bad decisions.
7. Joshua 1:9 – Be Confident and Determined
"Have I not commanded you? Be strong and courageous. Do not be frightened, and do not be dismayed, for the Lord your God is with you wherever you go."
Some days school is scary. Some children are stressed by tests and quizzes. Some children are afraid to meet new people.
If your child is feeling nervous about school, remind them to be brave and they have nothing to fear because Jesus is always with them.
8. Ecclesiastes 9:10 – Work Hard and Do Your Best
"Whatever your hand finds to do, do it with your might…."
As parents, we want our children to do well in school. This Bible verse is the perfect encouragement to always do your best.
We have this Bible verse framed on the wall in our homeschool room. It's a great reminder that all day during school for your favorite subject or your not so favorite subject, always do your best.
You might also like: Want to Raise World Changers? Do These Five Things
9. Hebrews 13:17 – Be Obedient
"Obey your leaders and submit to them, for they are keeping watch over your souls, as those who will have to give an account. Let them do this with joy and not with groaning, for that would be of no advantage to you."
Children often question why they have to obey. This verse explains the importance of obedience. Leaders have to give an account and they are keeping watch over you.
Remind your children even if they don't agree, it's important to always obey parents, teachers, and leaders in their lives.
10. II Timothy 1:7 – Have Self-Control
"For God gave us a spirit not of fear but of power and love and self-control."
One of the hardest lessons in school is self-control. It's hard for children to sit still all day focusing on lessons and completing assignments when they would rather play outside and run around.
As school starts, remind your children to have self-control. Behaving with self-control will be different for every child. Some will need to work on keeping their hands to themselves, others will have to work on sitting still.
Learning self-control as a child will be one of the most valuable life lessons for your child when they become an adult.
Once you memorize these Bible verses with your children, as examples happen throughout the school year apply the lessons of the Bible verses to everyday life. Praise your child for great decisions and good outcomes and discuss better future outcomes when necessary based on these Bible principles.
I'd love to hear from you: What Bible verses have you memorized with your children that build Christian character and your children help them during the school year?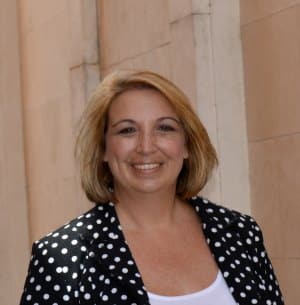 Rachel Newcomb is a Christian wife and mom to 3 kids. She blogs at Smart Mom Smart Ideas where she writes to help Christian moms organize their homes, balance family life and grow their faith. She enjoys reading, writing, and spending time with family.