Homeschool vs public school? Private school vs public school? Which education option is right for your family? This guide co-written by Gina of GinaMPoirier.com and Brittany of EquippingGodlyWomen.com will help you decide which education option is right for your family.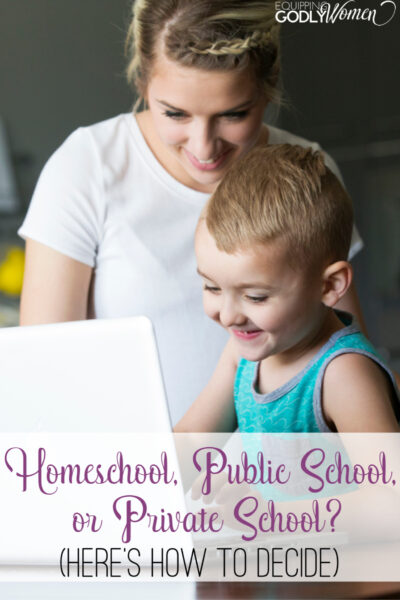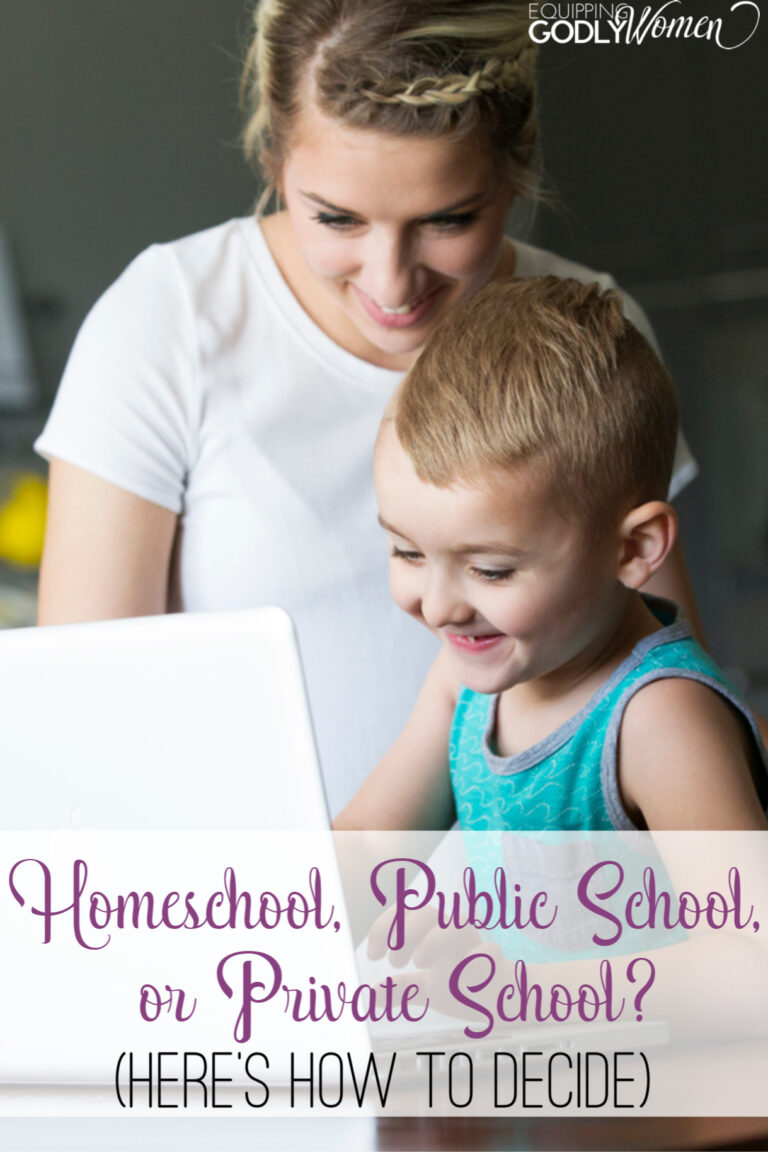 "Will you consider homeschooling?"
Gina: Even before my husband and I were married, it was important to him that we start talking about our kids' education.
We weren't planning on having babies right away and their school days would be even further in the future. But he wanted to know upfront if I would be willing to homeschool our kids.
This question was certainly not what I was expecting.
I had attended public school. He had been homeschooled. I had no idea where to begin! But, true to my promise, I started researching the homeschool vs public school possibilities when our kids were little.
Ultimately, I decided to try homeschooling and have stuck with it for six years with three kids (now in fifth, third and first grade).
Brittany: Like Gina, I also grew up going to public school, and it was a very positive experience for me. When I was younger, I just assumed that someday I would send my kids to public school as well.
I even got my degree in Elementary Education so I could be a public school teacher too!
My husband did ask once if I ever wanted to homeschool our kids. After all, I am a trained teacher, so we were both confident that I could do a great job.
I did research homeschool vs public school, but as our family grew and we got to know each other and our distinct personalities, we knew: Homeschooling is not the right option for our family.
Instead, our children go to a private Christian school during the school year, and I homeschool them during the summer to help them retain their learning. This combination works really well for our family!
In the current climate of social distancing with unknown implications in the coming months, many parents are reconsidering their school choices. There are a lot of pros and cons of homeschool, public school and private school. And while some people clearly know what they want for their family, it's not always a clear-cut decision—even within the same household!
We've compiled the pros and cons of these schooling options to help you consider what's best right now for your family.
*This post contains affiliate links, which means if you make a purchase, I may make a small commission at no additional cost to you. This helps cover the many costs of running this site and allows me to help provide for my growing family. Thank you!
How Can You Find (and Follow!) God's Will For Your Children's Education?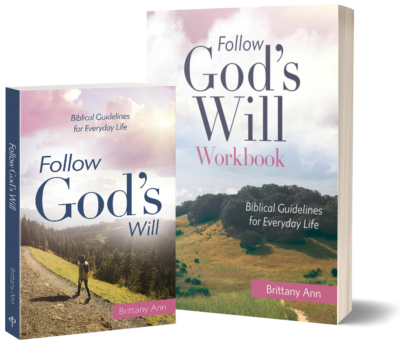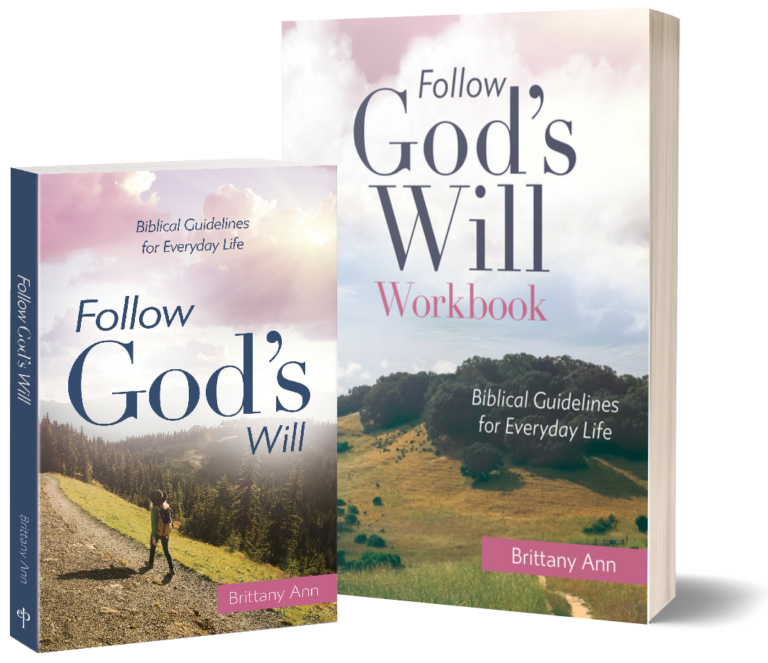 Your children's education is about more than just where they will learn reading and math — it's also about your needs as a mother and wife (and maybe teacher!), and your family's culture and values.
It can feel overwhelming to think of all the possible outcomes of your choice for your kids' education. How can you know if you are following God's will or your own?
My newest book offers encouraging guidance and practical tips that you can use today, as you discern what is God's will for your children's education. 
Practical, encouraging, and full of biblical truth, Follow God's Will: Biblical Guidelines for Everyday Life (along with the Follow God's Will companion workbook) is designed to help you answer questions including:
What does God want me to do?
How do I apply the Bible's instructions to my life today?
Where is God calling me personally?
How can I make a difference right where I am?
How should I navigate relationships with those who think, act, or believe differently than I do?
And so many more!
Want to start reading for free?
Simply enter your first name and email below, and I'll send you an exclusive "first-peek" right away, right to your inbox!
Pros and Cons of Homeschooling
Gina: After six years of homeschooling, I've become very familiar with the many options available and the pros and cons of homeschool. I've have built my confidence, discovered my preferred educational philosophy, found a community and a curriculum I love, and identified my kids' individual learning styles. I love homeschooling, but I also recognize that it's not a good fit for everyone.
Here are the pros and cons of homeschooling you need to consider:
Pros of Homeschooling:
You are in charge of your child's learning. Being a homeschooling parent is somewhat like providing your child with private tutoring. You can adjust your curriculum and teaching approach to their learning style and pace. This is especially beneficial for kids who have learning disabilities, or are ahead or lagging behind their peers. There is less pressure to "keep up" and less time wasted in class since you don't have to cater to a large group. You also have more freedom to explore your child's personal interests.
You can build your homeschooling schedule around your family's needs. Imagine getting up in the morning and not being in a rush to make it to school dropoff because you can start school whenever you want. Whether you prefer year-round school, travel school, or one of the many other options, you have the freedom and flexibility to make your school schedule work for your unique situation.
You can prioritize your family's values. Educating with a biblical worldview is a huge reason many Christian families decide to homeschool. If you're concerned about the material and values that a public school education promotes, homeschooling is a viable alternative.
You have more opportunity to build family relationships. When your kids are at home most if not all of the day, you have more opportunities to strengthen family relationships, from parent to child and also child to child. While there are also more opportunities to argue and get on each other's nerves, homeschooling families tend to be close and connected due to all of the time their members spend together.
You can protect your children from negative social influences. Bullying and peer pressure are problems all kids can face in a classroom environment. While you can't shelter kids forever, keeping in the home more does limit some exposure to negative influences.
These benefits of homeschooling are great options for families to think about when choosing homeschool vs public school vs private school.
Cons of Homeschooling:
It's a huge commitment for parents. I'm not going to lie; there have been days when I would look longingly at the school bus and wonder whether I was really cut out for this. As a homeschooling parent, you are sacrificing much of your free time and other interests in order to prioritize your children's education. It's important to recognize that commitment and do what it takes to stick with it.
It can be expensive. This may come as a surprise, but when you add up the cost of supplies, curriculum and fees for co-ops and enrichment activities (not to mention extracurriculars), you can easily spend hundreds, or thousands, of dollars per child per year. There's also the cost you may incur from not being able to work (or work more hours) if you would have otherwise been able to.
There may be fewer elective options. Especially as your child gets older, you may find that they aren't able to participate in certain activities and classes they might be interested in. These might include school sports and certain performing arts.
It's possible for kids to fall through the cracks. While most homeschool parents are dedicated to providing quality education (homeschool students typically score higher than average on standardized tests), it's possible that they aren't able to provide all of the resources their children need to succeed academically. Depending on where you live, you may or may not have access to special education, college and career preparation, and other specialized resources. Some parents might also have difficulty teaching core concepts.
Kids have less peer-to-peer social interaction and "real-world" exposure. This is a common concern about homeschooling, as students will not have the same opportunities as kids in classroom environments to interact and work with their peers for several hours a day. It's debatable how damaging this can be in the long-run, as many homeschool students are involved in daily social interaction in other ways, including co-ops, extracurriculars, volunteering, playgroups and employment when they're old enough. If socialization is a concern for you but you're still interested in the benefits of homeschooling, you will have the make the effort to provide social interaction and real-world experience outside of the home.
Pros and Cons of Public School
Gina: Both of us attended public school and thrived. So while it may not be an ideal choice for everyone, both of us can attest that you can go to public school and be a well-educated, faithful Christian as an adult.
Brittany: Personally, I loved public education because it really highlighted my faith and helped it grow. When I attended a Christian college (where everyone believed the same thing), it was easy to take my faith for granted. It didn't feel as "real." Attending public high school forced me to know what I believe and why, it gave me opportunities to share my faith with others, and it helped me develop confidence to share God's Word with people who don't agree.
Obviously, you have to balance that with the very real risks of public education. (You have to know your kids.) But it was a very positive experience for me.
Pros of Public School
The teachers are qualified. All public school teachers are required to have undergraduate degrees, and many have additional certifications. While a degree doesn't guarantee an excellent teacher, it does guarantee someone who is trained as an educator.
There may be more resources available. Since public schools are large organizations that are funded by the government, they may have more access to a wide range of resources to meet students' needs than other options. This is especially important for kids who may require special education and individualized attention for learning disabilities and special needs. What's more, students may have more opportunities to participate in more activities like sports and the arts.
Kids get exposure to the real world and social experiences. Kids in public schools will naturally have more exposure to a more diverse population than they would in a private school or homeschool. They'll get real-world experience in dealing with difficult situations and aren't as likely to be surprised by the challenges of the real world after they graduate. They also have more opportunities to stand up on their own Christian faith rather than that of their parents or teachers.
It's free(ish)! While any parent can tell you that supplies and fees can get quite pricey, public school is still less expensive than the alternatives. Plus, it gives parents the option to work while the kids are at school.
These amazing benefits of public school are good to consider when researching homeschool vs public school vs private school.
Cons of Public School
Classes are not taught from a biblical worldview. This can be a big hang-up for Christian families who are concerned about what is being taught and how it is affecting their children.
Classroom sizes are large. The larger a class is, the more difficult it is for a teacher to focus on each student and address their educational needs. Depending on what resources a particular school has, some students will be left behind and others will be bored and understimulated.
There are more negative social influences. Bullying, peer pressure and negative messaging can come from anywhere in a child's life, but they are especially prevalent in public schools. The problems can be worse in large student populations that are difficult for teachers to regulate.
It's driven by standardized testing. While accountability for school districts and teachers may be necessary for some amount of quality control, many schools' number one focus is getting students to pass tests. This can be frustrating for teachers and students alike and can suck the joy and creativity out of the learning environment.
The quality can vary significantly. Public schools are not one-size-fits-all across the country. There are many excellent public schools and many terrible ones. There are also excellent teachers and terrible ones within the same school. Whether a public school is beneficial for your family may depend on where you live.
Related reading:  Five Prayers Every Christian Momma Should Pray for Her Kids
Pros and Cons of Private School
Brittany: For some, private school may feel like the "best of both worlds." Your children get to go to school with other children and receive a quality education but without quite the same level of "risk" as public schools. Not all private schools are Christian (many are, but not all), but it may be easier to find a close-knit community of loving teachers who truly care about your kids in a private school than a large public school.
Pros of Private School:
The quality of education is high. While there's no guarantee, chances are that if you're willing to pay significantly for private school tuition, the school should be offering high-quality education. Good private schools have smaller class sizes, highly qualified instructors and a range of options for students.
Kids have positive social influences. While bullying, peer pressure and negative influences aren't entirely avoidable, you may find less of them in a private Christian school. Your children may have more exposure to kids from Christian families that share your values.
Parents can leave their kids with caretakers they trust. If you as a parent need to work during school hours or care for other children, you might feel more confident leaving your school-aged kid under the supervision of a Christian-led organization instead of under the supervision of government-run schools.
These benefits of private school can help guide you decide which is best for your family: homeschool vs public school vs private school.
Cons of Private School:
It's expensive. You can spend thousands of dollars per child per year on private school tuition. While prices vary and sometimes scholarship opportunities are available, private school isn't even an option for many families due to the expense.
It's not an impenetrable bubble. While private elementary schools and private high schools may be Christian, not everyone who attends is. And not everyone who considers themselves a Christian cares to act like it either. Especially when they have uncles and older cousins and friends from their neighborhood who make a rebellious lifestyle look so cool.
It may not prepare students for the "real world." What happens to your kids when they graduate from a private Christian school and head off to a secular college? Suddenly, the rule book is thrown out the window, everything is different, they're a little disoriented (and probably a little insecure because while they're technically adults, it sure doesn't feel like it at 18!), and not everyone around them is looking out for their best interests.
Resources may be limited. While you might find highly qualified instructors in a private school, it may not have all the resources that a public school would simply because it is a smaller organization. If your child has a specialized need or has certain interests, the options might be limited in a private school.
Brittany: Personally, we LOVE both the Private Christian preschool our children attended and the Private Catholic school they attend now. The teachers are wonderful, and we trust them to not only help our children get an education but also turn into good people.
No Christian school is perfect. Even in the great Catholic school our children attend, our kids have been exposed to plenty of things I don't agree with — both from the students AND the teachers. You'll have that at any school. But it's been a really positive experience for us overall.
Benefits of Christian Education:
Your children will receive religious education classes. Sunday School is great, but it tends to be a mix mash of random lessons and Bible stories. A quality Christian school will provide your children with a great framework for truly understanding the Bible, including major stories, verses and themes, as well as Christian theology and history.
The curriculum won't contradict your religious worldview. It's crazy how much anti-Biblical content can find its way into public school textbooks–even in the lower grades! Christian school curriculum undergoes a screening process before selection, however, so you're far less likely to see questionable material pop up in your first grader's homework.
Related reading: 10 Back to School Bible Verses to Memorize with Your Children
How to Decide: Homeschool vs Public School vs Private School
Gina: It can be tough deciding which education options are best for your family. You may find that what is best for one child isn't the best for another, and you may not stick to the same option from kindergarten through twelfth grade.
Choosing between homeschool, public school and private school should be done prayerfully, and the decision probably needs to be revisited regularly as your kids get older. But here are some questions that can help you be more confident in whatever you decide.
Questions to Ask Yourself:
What are your top priorities in your kids' education?
What do you hope for your kids by the time they graduate?
What are you as a parent willing to commit to when it comes to your kids' education (financially and with your time and energy)?
How important is a biblical worldview in your kids' education?
What are the social, emotional and spiritual needs of your children and where will they be met?
Are you and your spouse (if applicable) in agreement? If not, where can you make compromises?
Discover God's Will for Your Home and for Your Children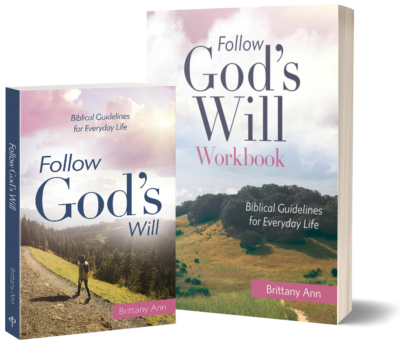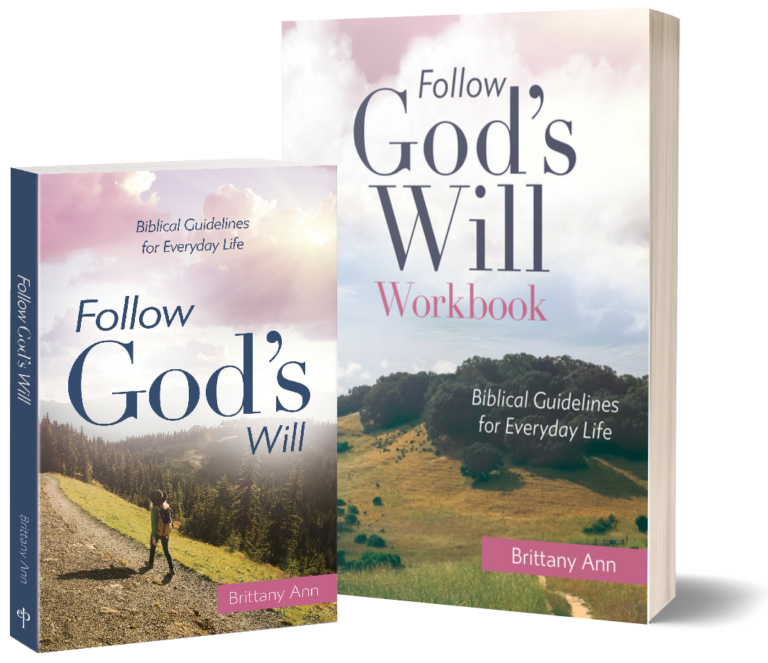 How can you follow God's will for your family when faced with life's big questions? How can you hear God's voice and follow His will as a mother in all the busyness and noise of school, sports, friends, and growing?
I share my experience with these questions in my brand new book, Follow God's Will: Biblical Guidelines for Everyday Life, along with the Follow God's Will companion workbook.
Practical, encouraging, and full of biblical truth, Follow God's Will is designed to help you answer questions including:
What does God want me to do?
How do I apply the Bible's instructions to my life today?
Where is God calling me personally?
How can I make a difference right where I am?
How should I navigate relationships with those who think, act, or believe differently than I do?
And so many more!
Want to start reading for free?
Simply enter your first name and email below, and I'll send you an exclusive "first-peek" right away, right to your inbox!
When you consider Homeschool vs Public School vs Private School – which education option sounds most appealing to you and why? If your choice has been narrowed down to Homeschool vs Private School – which do you think you will choose and why?