Looking for additional resources to help you grow in Christian faith and family? Well, you're in luck! Today I'm sharing 10 of the best websites for Christian women!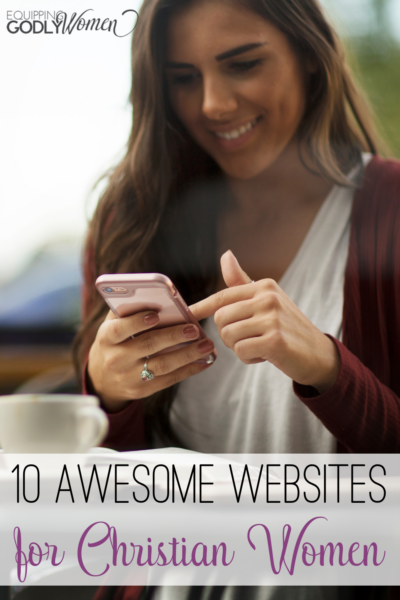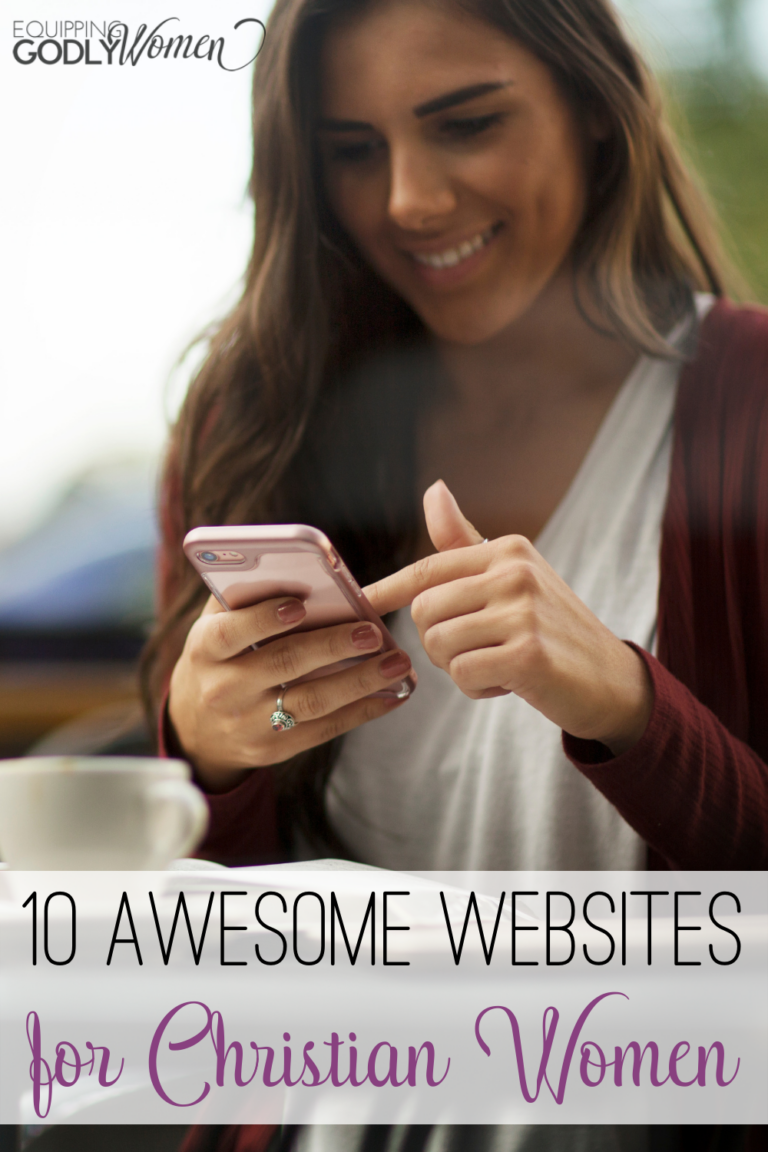 Being a Godly woman is a lot of things, but "easy" isn't usually one of them.
After all, if we could just wake up and "Be Holy because I am Holy," we would. But it's not quite that easy.
If we want to learn how to be a Godly woman, we need encouragement, and we need resources from female Christian writers we can trust.
When it comes to growing in your faith, the absolute BEST resources are the most obvious–church, your Bible, prayer….
But if you are really committed to growing in your faith and in your love of the Lord, you can't just stop there.
*Related: 7  Best Bible Study Apps for Christian Women – All Free! 
Luckily for you, there are tons of Christian websites for women out there that can help as well.
And below, I've compiled 10 of the best ones just for you!
So whether you want to grow in your faith, strengthen your marriage, or raise great kids, one of these top Christian websites for women is sure to offer you just the advice and encouragement you need from female Christian writers you'll love!
Now, I'll warn you… this list of Christian websites for women is totally biased…
I didn't come up with these websites using some complicated algorithm or by researching every single Christian women website in existence.
Rather, these are simply 10 great websites for Christian women that I personally love, that I just know you'll love too!
See also: 12 Must Read-Blogs for Christian Women and Christian YouTubers You'll Wish You Were Following
10 Awesome Websites for Christian Women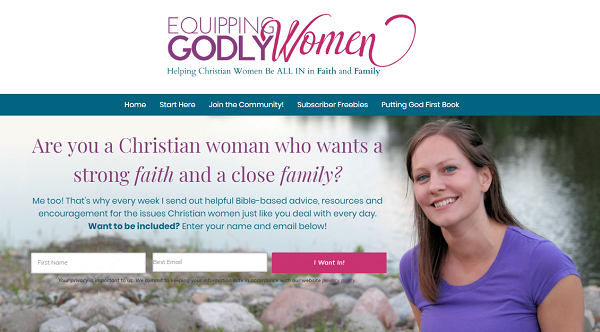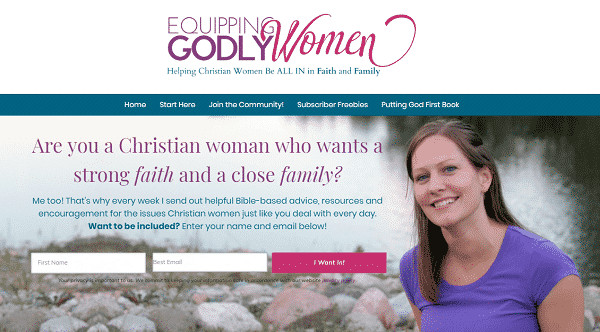 1. Equipping Godly Women
Of course you know I couldn't write an article about my favorite Christian women websites without including Equipping Godly Women!
This site has TONS of really practical and encouraging blog posts to help you be the amazing Godly Christian, wife and mother God created you to be, no matter what you're dealing with right now.
Whether your husband watches porn and you're not sure how to respond, you need help dealing with toxic family members Biblically, you want to be the perfect proverbs 31 woman or you simply want to learn how to read the Bible more consistently, Equipping Godly Women can help!
My best advice? You absolutely want to join the email community. 
When you do, not only will you get FREE GIFTS, but you'll get twice weekly emails chock full of encouragement and super practical tips and advice to help you be the amazing Godly woman God created you to be (and so much more). You can get all the details here or simply Join below!
** Don't Miss: Free Printables for Christian Women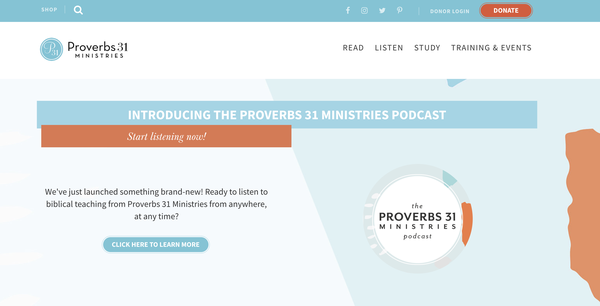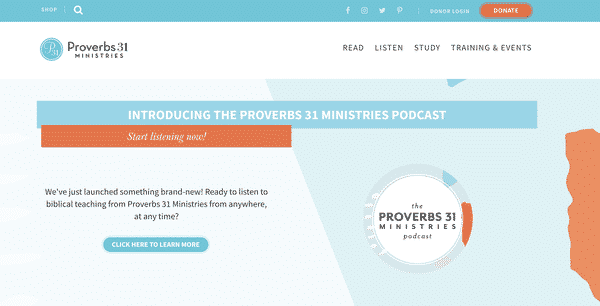 2. Proverbs 31 Ministries
Led by New York Times Best Seller Author, Lysa Terkeurst, the Proverbs 31 website is a great study tool for Christian women. Lysa and many other talented female Christian writers work together to provide women with quality resources. The website offers daily devotions, a resource library, podcasts, and online Bible studies. In addition, Proverbs 31 has a handy app called the First 5 app. Having quality devotionals at the convenience of a cellphone, is meant to encourage women to spend the first 5 minutes of their day with God.


3. (in)courage
This website is meant to not only encourage Christian women, but to also support them living in courage, in Christ. As a large contributor blog, there is always a variety of articles written by a variety of female Christian writers. (in)courage focuses on the topics of encouragement, courage, and friendship. In addition, the website links to a large online shop with lots of gifts and resources for Christian women. From study Bibles and books, to t-shirts and cards, they really have it all!

4. She Reads Truth
What started as a few strangers, has grown into a large community of women looking to dive into the Word of God. She Reads Truth strives to fill every page of their website with the living gospel. They offer tools such as daily Bible reading communities, a very active Instagram community, and their very own SheReadsTruth Bible, to help women fill their lives with truth. At She Reads Truth, they view the Word of God as a gift and want to share that with as many people as possible, making this one of the best websites for Christian women looking to read the Bible daily.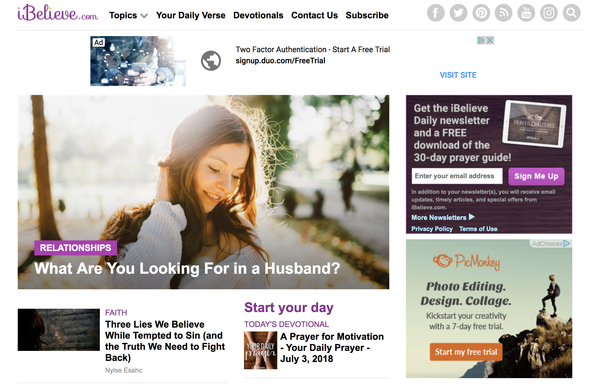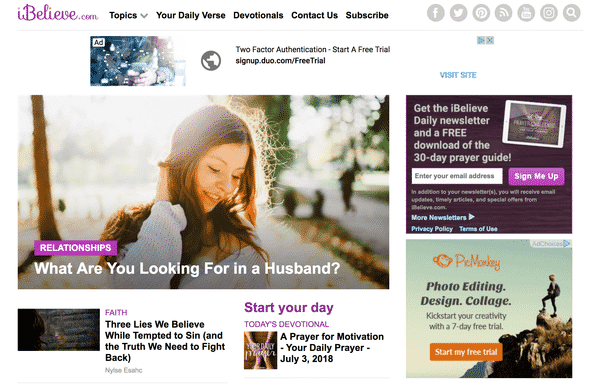 5. iBelieve
The iBelieve website offers tons of interesting and helpful articles for Christian women. With articles for every stage of life, they still offer a lot for wives and mothers specifically. They focus on a wide variety of topics too. On this website you can find articles on faith, relationships, motherhood, beauty and health, career and calling, and even food and home. Who doesn't love a one stop website to find articles on anything they're looking for?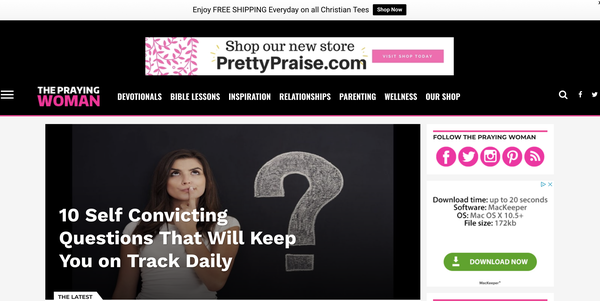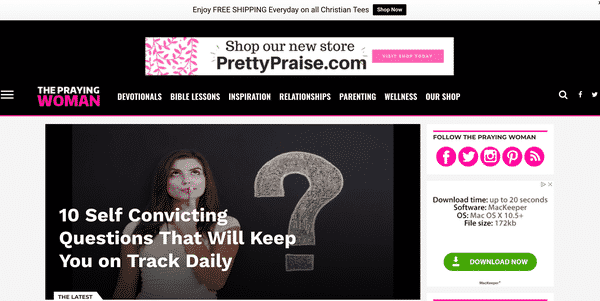 6. The Praying Woman
Similar to iBelieve, The Praying Woman offers a variety of articles for a variety of Christian women. In addition to articles on relationships, parenting, and wellness, this website also offers resources such as devotionals and Bible lessons. This is a great place to find helpful and inspiring articles. Not to mention, they have a shop with a wide variety of cute shirts for Christian women!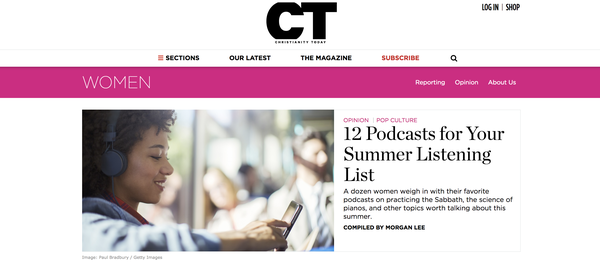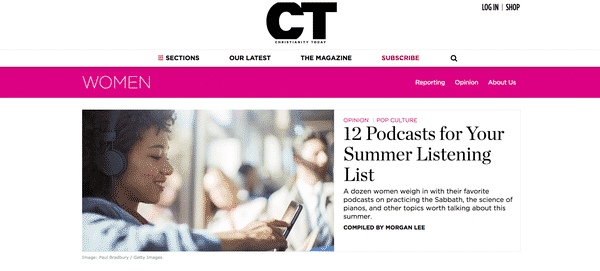 7. CTWomen
CTWomen is a division of the well-known ChristianityToday, focused just on women's issues. ChristianityToday provides Christian response to today's top politics. One of my favorite websites for Christian women, these articles are interesting and informative. Geared more for the analytical side in us all, and with more of a worldview approach, you can find both reporting and opinion articles.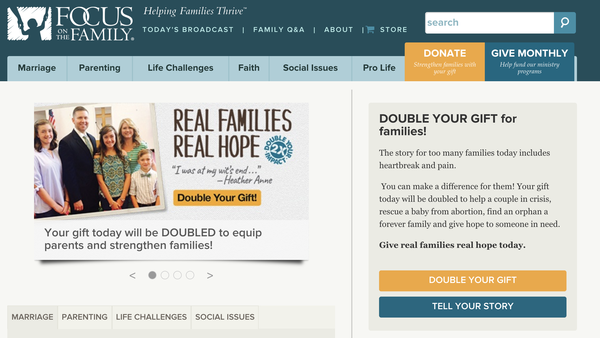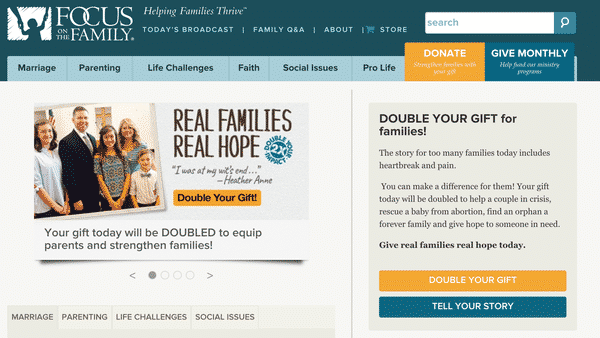 8. Focus on the Family
If you couldn't guess, this website is about focusing on the family. While it is not geared towards women specifically, there are lots of resources to help women grow in faith, and well, family. As a non-profit organization, Focus on the Family uses donations to support families and encourage them through the gospel. Their website, however, is a great resource to strengthen your family. In addition to articles on marriage, parenting, and faith, they also offer powerful articles on how to face life's challenges.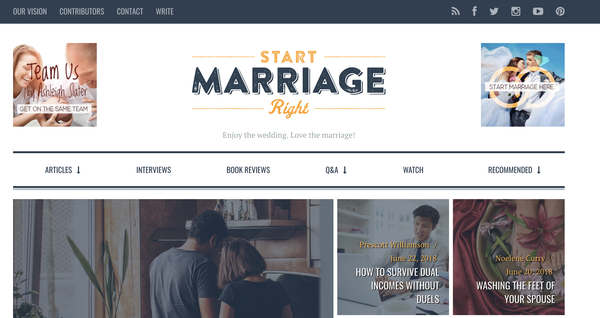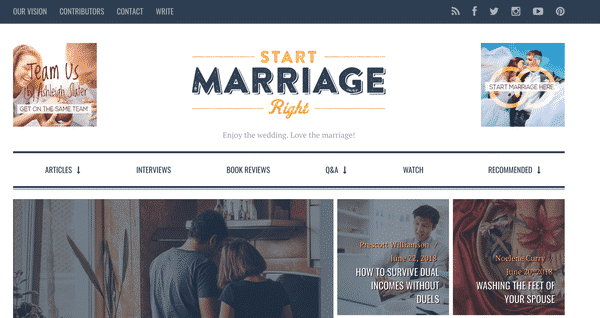 9. Start Marriage Right
It is easy to get sucked in to this website with all that they have to offer! Start Marriage Right has a ton of great articles on marriage topics such as, communication, sex, and money. And despite the name, they are not all geared to marriages that are just getting started. In addition, the website has a place for book reviews, Q&A, and recommendations. If you make your way to the recommendations tab, you can find recipes, books, and more great websites recommended for Christian women just like you! Start Marriage Right makes sure that your growth isn't limited to just their website.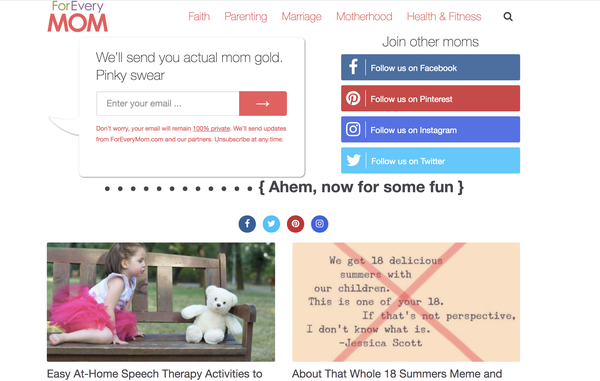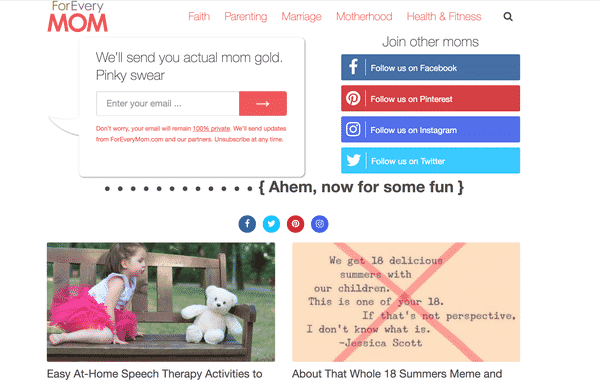 10. For Every Mom
For Every Mom is a great Christian website for moms at any place in life. With articles ranging from faith and health and fitness, to marriage and motherhood, there is bound to be something helpful for anyone. They feature articles with helpful tricks and tips as well as true stories of other wives and moms. No matter what, you can always find something inspiring and applicable written by female Christian bloggers who understand exactly what you're going through.
Do you read any of these websites for Christian women on a regular basis? Which Christian websites for women are YOUR favorites? Tell me in the comments below!