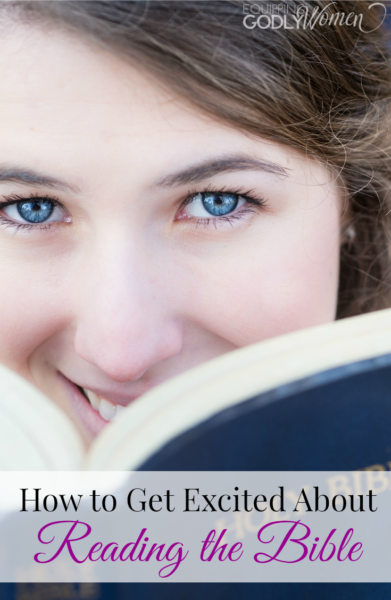 I remember exactly two things about a couple who used to babysit my brothers and I when we were younger.
1. The approximate location of their house.
2. That the man's favorite book was the Bible.
I thought it was so weird when he told us that. Of alllll the books in the world, why would he choose the Bible as his favorite? Sure, I was a Christian who loved Jesus and went to church regularly, but I don't think I would have picked the dusty ol' Bible as my favorite.
But he was completely serious.
"It has everything you could ever want in it," he said. "Action, romance… you name it–the Bible's got it."
Interesting…
Well, twenty some odd years later and I can honestly say that the Bible is my favorite book too. Not really because it contains every genre, but because it truly is an exciting, true story that still has a major impact on all of our lives today.
Struggling to Keep a
Daily Quiet Time?
Learn the super simple 5-minute trick
that will change that for good!
So, a few weeks ago, I received a really great question from a reader, and I'm sure it's one a LOT of people deal with. She writes:
Not sure if you get a lot of questions but I could sure use some advice. I want to read the Bible. There are certain books I love. A lot of the Bible I haven't read. Not because I don't want to, but because I can't get into it. I've always had a hard time getting into the Word.

I know I need the Word. I want to be able to pick up the Bible and read without hesitation. How do I do that?  A lot of times it feels like a chore or like I am always reading the same thing. I want to go deeper, but again, have always struggled to do so.
Dear reader (and anyone else who can relate): you are not alone! The Bible may be the world's best selling and most widely distributed book, but that doesn't mean it's easy to read, especially some parts of it. (I'm looking at you, Leviticus)
Still, you're right that reading it–and enjoying reading it–is important, so here are a few tips to help you do just that.
**This post contains affiliate links, which means if you make a purchase, I may make a small commission at no additional cost to you. This helps cover the many costs of running this site and helps me provide for my growing family. Thanks so much!
1. Find the Right Motivation
First, figure out why you want to read the Bible in the first place. Is it just because you think you "should" or to say that you've done it? Those reasons alone probably aren't going to be motivating enough to make it through the tough parts.
Instead, find a motivation that matters. Read to discover more about God. Read to learn more about yourself and your religious ancestry. Read to spot patterns and timeless truths. You'll get a lot more out of it when you're looking for the right things.
2. Journal Your Way Through It
If you really want to get involved and go deeper with the Bible, journaling your way through it is a great way to do so. This doesn't have to be complicated. Simply grab a notebook, put today's date at the top, record the verses you read, and then write a little bit.
3. Use a Good Reading Plan
For most people, the worst thing you can do is simply to start in Genesis and try to plow your way through. While Genesis starts off strong, you'll probably only make it a few books in before you start to lose motivation.
A better choice would be to follow a specific reading plan like one of the many plans you can find on The Bible App by YouVersion.
The most popular Bible reading app, The Bible app has a ton of great features that make reading the Bible easier and more enjoyable. In addition to their extensive reading plan collection, they also offer text highlighting and notetaking, video and audio versions, tons of translations, and even a kid's Bible app.
If you're just looking for a good plan, though, The Bible app has TONS of different reading plans, including chronological plans, topical plans, and devotional plans. Some plans are as short as 4-5 days if you just want to try it out, or, if you're feeling ambitious, you could even do a "read the Bible in 1-year" plan.
Not only can you get more out of your readings when you read through a certain plan, but you're less likely to get bogged down in the rough parts. (Hint: Save Leviticus for last.)
Click here to browse available reading plans.
4. Make Sure You Understand What You're Reading
Reading your Bible will only help you if you actually understand what you're reading, however. And unfortunately, that's often easier said that done.
If you feel like you're reading words but they aren't really coming alive for you, but might benefit from a course like Bible Study Methods: 7 Ways in 7 Days by Arabah Joy. I took this course myself not too long ago, and it was really good! Not only is it full of some really terrific information, but I really love how Arabah makes the text really come to life. You can just see her excitement as she dives into the text, and it will definitely help you get excited too.
Whether you're brand new to reading your Bible and you don't know where to start, or you've been reading it for a long while and it's getting boring and stale, this course will definitely help. I would highly recommend!
You can learn more about the course here
5. Put Yourself in the Story
Another suggestion you might want to try is simply putting yourself in the story. Imagine: If you were alive in that time, how would you have reacted? What would you have done the same or differently? Would you have made the same choices? What fears or frustrations would you have dealt with?
And most importantly, how does this apply to your life today?
While you won't have all the details (they lived in a different time than we do today), this exercise can really help the Biblical texts come to life right before your eyes.
6. Take Your Time
The Bible has been around nearly 2,000 years now. It's not going anywhere anytime soon. Don't feel like you have to sit down and read a significant portion all in one sitting. Personally, when I really want to study the Bible, I read very short sections at a time–especially if it's the New Testament where there is just SO much packed into each section.
Rather than trying to quickly take a lot in at once, take it slow. Read just a small portion at a time and really study it before moving on. Use a concordance to look up similar words across multiple contexts to get a fuller picture. Read articles on the topics. Try to see things from a variety of different viewpoints and to consider multiple angles.
The Bible is complex. No need to rush or put undue pressure on yourself.
Do you look forward to reading your Bible or is it something you do just because you "should?" What tips do you have for making your Bible time more productive, meaningful or enjoyable?
The following two tabs change content below.
A devoted Christian, wife and mother, Brittany loves helping other women grow in these roles as well. When she isn't busy taking care of her growing family, you can find her at
Equipping Godly Women
, where she regularly shares tips, tricks and encouragement to help you be the amazing woman God created you to be. Brittany also has a thriving online community on
Facebook
as well.